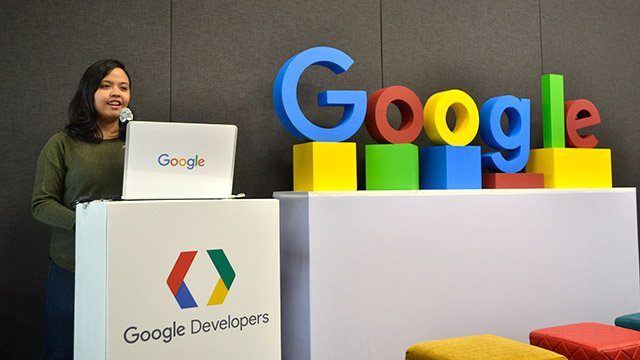 Developer Julia Mechavez learned to code at a young age 
Google Philippines has long made it clear that it is committed to supporting Filipino developers, especially since the country is ripe for possibilities and one of the fastest growing economies in the world.
According to Ken Lingan, country manager of Google Philippines, the Philippine online market is set to grow year-on-year and the online economy is set to reach at $10 billion in 10 years. Because of this, the company believes that developers, who help cultivate the digital ecosystem, are the driving force of the way the internet is shaped.
ADVERTISEMENT - CONTINUE READING BELOW
"Our intention is to create a space for the future and innovation," Lingan said. "Developers in the Philippines are in the forefront of innovation."
Lingan was also pleased to report that they are already working with telcos to make data management easier. Currently, they are doing tests which will eventually remove data as a barrier to install new apps since they have found out that Filipino users have the highest desire to download apps in Southeast Asia.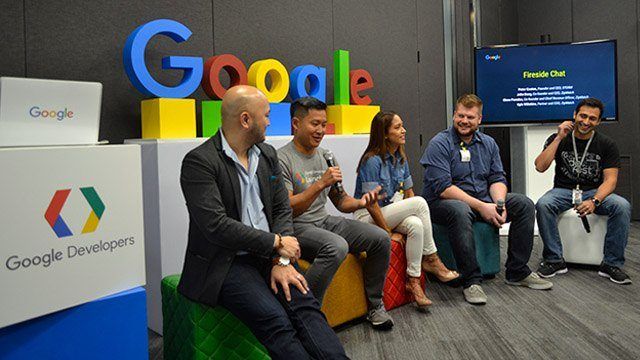 ADVERTISEMENT - CONTINUE READING BELOW
(Left to right) Peter Cauton, Founder and CEO of HR technology firm STORM, John Dang, CEO and Co-Founder of ZipMatch, Chow Paredes, Co-Founder and Chief Revenue Officer of ZipMatch, Kyle Wiltshire, COO and Partner at ZipMatch, Sami Kizilbash, Google Developer Relations Program Manager for Southeast Asia 
Google also has several initiatives to help Filipino developers reach and surpass their potential and inspire a new generation of coders, including a mentorship trip to Silicon Valley.
Launchpad Accelerator
The Launchpad Accelerator is a mentorship-based program focused on helping tech startups build successful companies. Participants receive $50,000 of equity-free investment, credits for Google products, support, and the chance to get to work closely with Google for six months.
The first Filipino startup that was invited to this program was ZipMatch, an online real estate marketplace. The company was accepted as part of the third class in 2016, joining other promising startups from Brazil, Indonesia, Mexico, Argentina, Colombia, Thailand and Vietnam.
ADVERTISEMENT - CONTINUE READING BELOW
Around 30 startups, including ZipMatch, attended the two-week boot camp training program at Google's dedicated Launchpad Space in San Francisco, California. Three members of the Zipmatch team went to the all-expense paid trip to Silicon Valley, which includes 1:1 mentorship from a network of over 300 Googlers.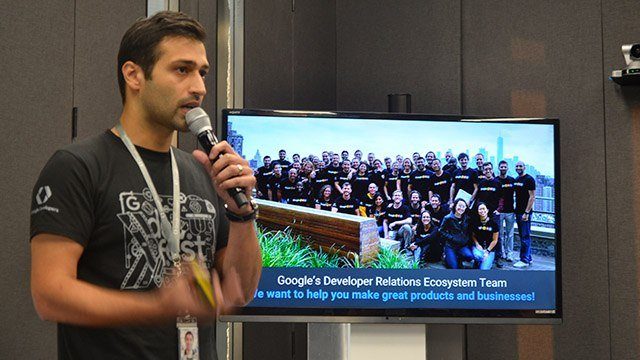 Sami Kizilbash, Google Developer Relations Program Manager for Southeast Asia talks about the opportunities that await startups with the Launchpad Accelerator program
ADVERTISEMENT - CONTINUE READING BELOW
For Chow Paredes, co-founder and chief revenue officer of ZipMatch, the experience was refreshing because they had the chance to take a look at their business as a whole.
"The program is not just about the technical side of the business but it also talks about the challenges of being an entrepreneur," she said.
John Dang, co-founder and CEO of ZipMatch, also appreciated the sense of community and openness of the mentors and fellow startups.
"When you hear good advice, you know," he said.
The program is always on the lookout for the next promising Filipino startup to join its succeeding classes and is specifically targeting companies that already have a product and are primed to scale.
Sami Kizilbash, Google's Developer Relations Program Manager for Southeast Asia, relayed their plan to expand to more countries.
"We are focused on startups who have gone to a certain point in their local ecosystem. Those who have shaken the foundation of the ecosystem," he said.
ADVERTISEMENT - CONTINUE READING BELOW
Interested applicants should first fill out the application form. After Google has evaluated the applications, finalists will be asked to take part in a one-hour video conference or a face-to-face interview with a Google team member.
Once accepted, the startup's journey will begin with the Launchpad Accelerator team performing an intensive evaluation of the startup, followed by the two-week visit to the Google HQ in Silicon Valley. After that, mentorship will be ongoing and there will be a series of regional events in which these startups can participate, leading up to a graduation.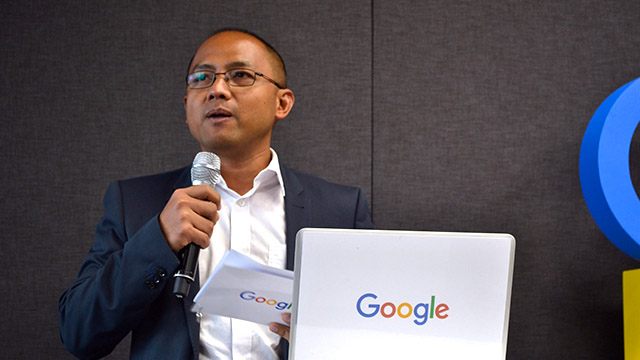 ADVERTISEMENT - CONTINUE READING BELOW
Google Philippines Country Manager Ken Lingan talks about the role of developers in emerging markets
"It's competitive but not very competitive at this point," explained Kizilbash as he expressed his desire for more Filipinos to be part of the program.
Culture of learning and community
Aside from the Launchpad Accelerator, Google Philippines is making sure that the developer community in the Philippines still has a lot of opportunities to learn and network. One of these is the Developer Lounge, where the company invites several leading Filipino developers to share their insights and stories.
One of the invited speakers at the most recent meetup was Julia Mechavez, a Cebuana core web developer and one of the heads of Women Techmakers, Google Developer Group. She told her story of how her father influenced her how to code at a young age and how she found herself giving inspirational talks to fellow developers at different summits.
ADVERTISEMENT - CONTINUE READING BELOW
"Don't be scared to be scared," she told the audience. "Ask questions. Every time I'm scared of doing something it actually leads to something good."
Another invited speaker was Albert Padin, chief technology officer at Symph. He started using Google AppEngine in 2008 and eventually conducted his first public workshop just three years after. The third speaker was Ralph Vincent Regalado, an assistant professor at De La Salle Unversity Manila and Google Developer Group Community Manager.
All the speakers encouraged their fellow developers to join communities and to never stop learning.
"I realized that there is learning outside school so I encourage my students to join hackathons. Join conferences, meet-ups and immerse themselves," said Regalado.
"If you want to go fast, go alone. If you want to go far, go together—not with just the team but with the whole community," added Padin.
Peter Cauton, founder and CEO of HR technology firm STORM and a Launchpad Accelerator Mentor, also gave his advice to developers and schools, one of which was to update their curriculum and to learn more languages and not stick to just one. 
ADVERTISEMENT - CONTINUE READING BELOW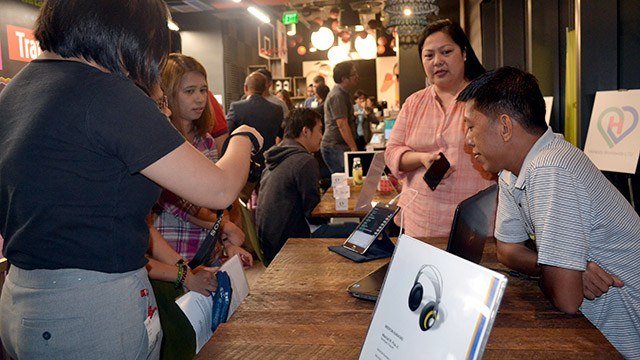 Filipino developers showcase their products and services during the Developer Lounge of Google Philippines
Aside from the inspirational talks, they also invited startups to showcase their products. There was Valenice Balace of social dating app Peekawoo, Derrick Mapagu of the Flippy Bottle Extreme game, Philip Cheang and Thomas Dy of commuting site Sakay.ph and Marcial M. Pua Jr. who invented the Midifun Karaoke offline singalong app.
ADVERTISEMENT - CONTINUE READING BELOW
Related story: Uber Partners with PH Startup in First-of-its-Kind Venture
Interested developers who want to attend events such as these and other relevant activities just need to get in touch with their local Google Developer Group.
Gail Tan, head of communications and public affairs at Google Philippines said that they host events such as the Developer Lounge to be able to share the journeys of different professional developers in the country.
Kizilbash added that they always like to know how their platforms, projects and services benefit developers.
"We're proud that they're able to give back by sharing their stories," he said. "Regardless of the level of their professional skills, we want to underscore how they've grown to become coaches, mentors and role models for others." 
*****
Nicai is the marketing head of Rising Tide, a technology solutions company. She is also the Manila Bureau Manager of Probe Media Foundation's Mulat Pinoy-Kabataan News Network and a regular contributor for SPOT.ph. Follow her on Twitter @nicaideguzman, and LinkedIn.
ADVERTISEMENT - CONTINUE READING BELOW