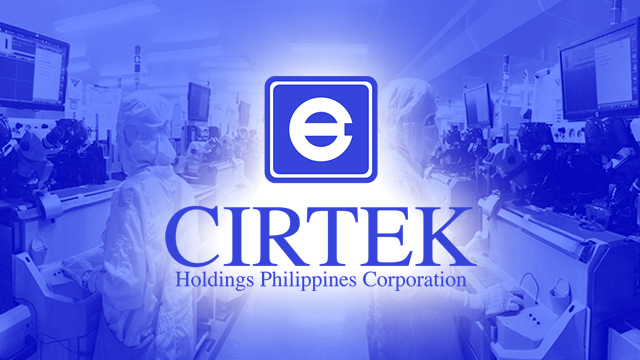 Listed electronics manufacturing firm Cirtek Holdings Philippines Corp. is offering up to 140 million dollar-denominated preferred shares with a fixed annual dividend rate of 6.125 percent. Each share is priced at $1, and interested investors can purchase these shares with a minimum investment of $1,000. Additional investments can be made in multiples of $100.
Established in 1984, Cirtek's main business is in the production and sale of electronics and technology products such as antennas, circuits and semiconductors. It reported consolidated revenues of $74.3 million in 2016, a 24.8-percent increase from the year before. Net income rose by a third to $7.1 million from $5.3 million.
ADVERTISEMENT - CONTINUE READING BELOW
Though the company began making semiconductor devices, it has since expanded to manufacturing base station antennas, which accounted for about 41 percent of Cirtek's revenues in the first half of 2017. The devices are used in microwave/wireless solutions for carrier and private data networks in industries ranging from mobile service providers to education, enterprise, government and healthcare.
It has more than 70 major and regular customers spread across the United States, Europe and Asia. In March 2016, it began commercial shipments to Quintel, a leading innovator of efficient and space-saving base station antennas used for cellular networks, which accounted for about a fourth of the company's total revenues.
Proceeds from the share sale will be used to fund financial obligations with banks, strategic acquisitions of assets, working capital requirements, capital expenditures and research and development. The company earlier reported it is planning to earmark $15 million for capital expenditures, including the expansion of its fourth manufacturing facility.
ADVERTISEMENT - CONTINUE READING BELOW
Though the annual dividend rate on Cirtek's preferred shares is fixed, and may seem comparable to coupon rates on bonds or interest rates on bank deposits, there are important differences that potential investors should bear in mind.
While interest rates on bank deposits are usually lower, deposits up to Php500,000 enjoy insurance protection from the state insurer and are thus deemed safer forms of investment compared to preferred shares or bonds. In contrast, preferred shares, like bonds, are not insured.
Compared to bond issuers who are required to pay interest earnings to bond holders or risk being declared in default, preferred share issuers enjoy some flexibility in deferring a dividend payment though this is added to future dividend declarations.
According to the offer terms: "If for any reason, the Issuer's Board does not declare a dividend on the Preferred B-2 Shares for a Dividend Period, the Issuer will not pay a dividend for that Dividend Period. However, on any future Dividend Payment Date on which dividends are declared, holders of the Preferred B-2 Shares must receive the dividends due them on such Dividend Payment Date as well as all dividends accrued and unpaid to the holders of the Preferred B-2 Shares prior to such Dividend Period."
ADVERTISEMENT - CONTINUE READING BELOW
The maturity date of most bonds as well as time deposits is fixed, giving investors a clear idea when they can get their principal or original placement back. Cirtek's preferred shares can be redeemed anytime by the company after the fifth year so long as they give a 30-60 day notice to the holders of the preferred shares.
Cirtek's share offer marks the second time a listed company in the Philippines has offered dollar-denominated securities (DDS), following a new ruling by the Securities and Exchange Commission approved last December 2016. The first DDS to be offered was from food processing firm Del Monte Pacific, which sold $200 million worth of preferred shares last March.
Related story: A New Way to Invest Your Forex: Dollar-Denominated Securities (DDS)
BPI Capital Corp. serves as the sole issue manager and bookrunner of the share offer. It also functions as a joint lead underwriter together with RCBC Capital Corp.
ADVERTISEMENT - CONTINUE READING BELOW
The share offer will last until Wednesday, November 29, 2017. Interested investors are encouraged to view the full details of the share offer in the Philippine Stock Exchange EDGE website.
*****
Lorenzo Kyle Subido is a staff writer of Entrepreneur PH