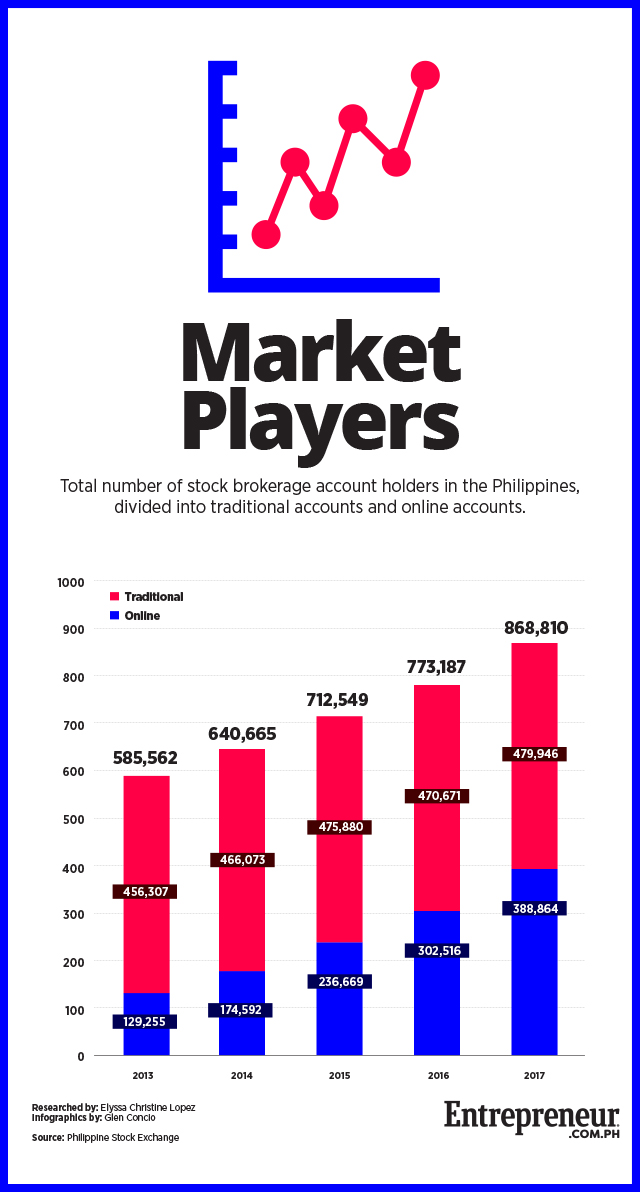 With affordable minimum placements and fees, and a variety of providers to choose from, more Filipinos are opting to invest in the stock market through online trading systems, the Philippine Stock Exchange (PSE) reported.
In a press release posted on its website on Monday, June 4, the PSE said online stock market accounts grew by 29 percent to 388,864 in 2017 from 302,516 in 2016. In contrast, traditional brokerage accounts rose by only two percent from 470,671 to 479,946 from 2016 to 2017.
ADVERTISEMENT - CONTINUE READING BELOW
The total number of stock market accounts, which include online and traditional, has enjoyed a 12-percent year-on-year growth from 773,187 in 2016, to 868,810.
As a result of the surge in online stock brokerage accounts, the proportion of online accounts have doubled from only 22.1 percent in 2013 to 44.8 percent last year. In contrast, the proportion of traditional accounts fell from 77.9 percent in 2013 to only 55.2 percent in 2017.
Though online accounts still constitute less than traditional accounts, they make up most of the 95,623 increase in stock brokerage accounts opened last year. Around 90.3 percent of the increase in broker accounts in 2017 consisted of online trading accounts.
"Clearly, more and more investors now prefer to trade and invest in the stock market through online trading systems," PSE President and CEO Ramon S. Monzon said in a press release. "We hope to further grow the number of stockbrokerage firms that offer online trading services so that the stock market becomes even more accessible to everyone."
ADVERTISEMENT - CONTINUE READING BELOW
Currently, there are 25 online brokerage firms registered in the PSE.
Most online brokerage firms only require a minimum amount of Php5,000 as a starting capital when investing in stocks through their platforms, with cheaper processing fees compared to traditional brokers. In contrast, traditional accounts require at least Php10,000 to Php25,000 as minimum placements. The accessibility and convenience provided by online brokerage firms also make them more attractive to traders even to non-digital natives.
According to the PSE, 53.7 percent of online retail investors belong to the 30-to-44 age group, followed by young millennials, or those 18 to 29 years old, at 22.5 percent. Those who are aged 45 to 59 own 17.9 percent of total online investor accounts and those 60 and above make up for the rest of investor pie.
Amid the growth in online account holders, trading activity in online platforms has also risen, making up 11 percent of the total trading value in 2017 up from 9.3 percent in the previous year. Value turnover from online accounts also grew by 12.9 percent to Php372.06 billion from Php329.64 billion in 2016.
ADVERTISEMENT - CONTINUE READING BELOW
More than half of online account holders earn less than Php500,000 a year. Around 26.5 percent earn between Php500,000 to Php1 million annually while 15.8 percent earn more than Php1 million a year.
Monzon said the PSE has a lot of room to grow, especially as most online retail investors are based in Metro Manila.
"Admittedly, we have more ground to cover. We hope that through our continued market education initiatives as well as the marketing efforts of our accredited stockbrokers, we will be able to encourage more individuals, based here or abroad, to invest in our stock market," Monzon said.
Around 52.4 percent of online account holders are from Metro Manila, 29 percent came from Luzon while 14.7 percent came from the rest of the country. Those overseas attributed 4.4 percent of the total.
*****
Elyssa Christine Lopez is a staff writer of Entrepreneur PH. Follow her on Twitter @elyssalopz