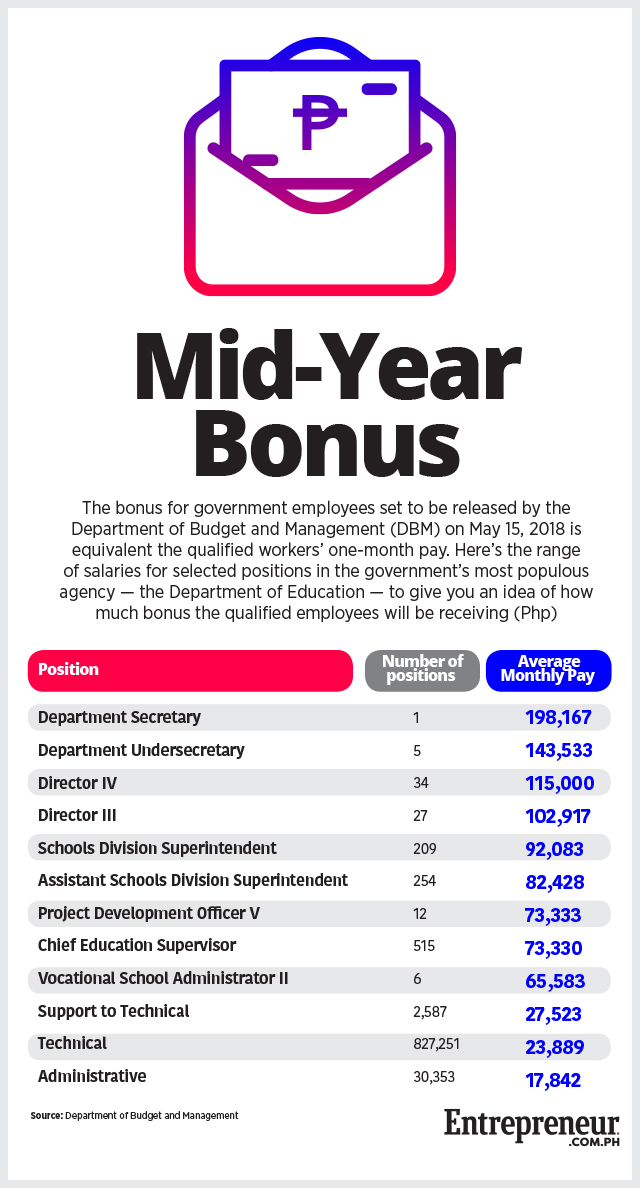 Since 2015, government employees have consistently ranked among some of the happiest in the workforce, according to the Job Happiness Index Report of online jobs portal, JobStreet Philippines. For the past three years, civil servants have rated their job satisfaction over 5 in a scale of one to 10, with 10 indicating "extremely happy".
ADVERTISEMENT - CONTINUE READING BELOW
Perhaps one reason for that is the May 9 announcement made by Budget Secretary Benjamin Diokno that more than 1.5 million qualified government workers will start receiving their mid-year bonuses for the year by May 15. The bonuses are equivalent to state employees' monthly pay. He added that the government allocated about Php36.2 billion for the civil servants' mid-year bonuses.
For a government employee to qualify for the special benefit, one must have served for at least a total or an aggregate of four months from July 1, 2017 to May 15, 2018; obtained at least a satisfactory performance rating in the applicable performance appraisal period and must still be in government service as of May 15, 2018.
The mid-year bonus is just one of the additional benefits that government employees are entitled to, according to Executive Order No. 201, issued in 2016. The EO modified the government workers' salary schedules and authorized the granting of additional benefits.
Apart from that, there is also the year-end bonus equivalent to their monthly salary plus a cash gift of Php5,000 each. In addition, outstanding government workers belonging to departments, agencies and units that performed well are also entitled to the so-called enhanced performance-based bonus equivalent to a maximum of two months' worth of pay.
ADVERTISEMENT - CONTINUE READING BELOW
So, just how much are government employees going to receive as mid-year bonus on May 15th?
Since it's difficult to check out the monthly pay of all jobs available in the government, we took a look at selected positions at the most populous government agency, the Department of Education. The data we gathered from the Department of Budget and Management's 2018 Staffing Summary are summarized in the infographic on this page. For the selected positions at the education department, the infographic shows the number of personnel to be hired and the average monthly salary, which we derived by dividing the budgetary allocation for that position by the number of personnel for that position.
With a mid-year bonus due on May 15th, it's no doubt an incentive to come back to work after a three-day weekend on account of the special holiday on Monday, May 14, the day of the Barangay and Sangguniang Kabataan (SK) polls.
ADVERTISEMENT - CONTINUE READING BELOW
*****
Elyssa Christine Lopez is Entrepreneur Philippines' staff writer.