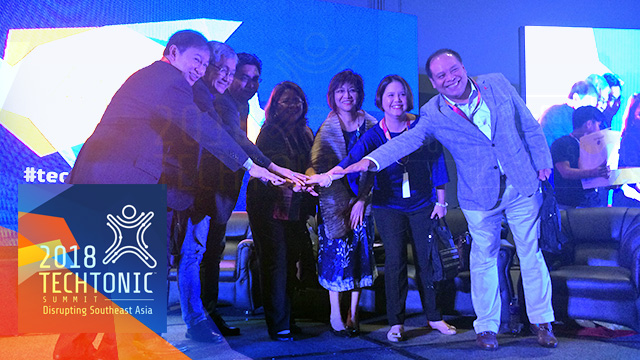 Officials and participants of Techtonic 2018 pledged to help local startups during the Summit held at the SMX Convention Center last June 22-23
Apart from a promise among the speakers and participants to see each other again in a future summit, seldom does a business conference come up with a clear program of action.
ADVERTISEMENT - CONTINUE READING BELOW
Techtonic Summit 2018, which was held last June 22 and 23 at the SMX Convention Center in Pasay City, is surprisingly different.
Even before the end of the first panel discussion on the first day, there was already some clarity on what the stakeholders, especially those from government and the private investors, should do in the next year or two.
"Let's choose five, maybe 10 startups that we will, in the next 12 months… really help to turn into the first global unicorns for the Philippines," suggested Jojo Flores, co-founder and COO of local startup incubator LaunchGarage.
He was responding to the moderator's line of questioning on why the funding dealflow for startups in the Philippines remains quite meager especially when compared to other large Southeast Asian economies.
Indeed, a study by Malaysia-based Catcha Group, the company behind video streaming website iflix, revealed that the Philippines does not have any homegrown high-value technology company, or a Philippine startup worth at least $100 million. In contrast, Malaysia, Vietnam and Thailand have several hundred-million-dollar companies, while Indonesia and Singapore both have several unicorns, or startups valued at $1 billion or more.
ADVERTISEMENT - CONTINUE READING BELOW
But rather than blame the usual suspects for the sluggish pace of startup growth in the Philippines, Flores and his fellow discussants in the panel titled "This Is Not A Drill—Get Ready For The Big One!" focused on what can be done to accelerate the rise of high-value tech startups in the country.
"This mindset challenge that we have, I think, can be drastically changed if we have a real-life model to follow," said Flores. "What we're still lacking in the Philippines is that poster child."
Related story: PH One of the "Greatest Tech Opportunities in the World" says iflix Co-Founder
To address this, Flores proposed to the panel to choose a few companies that both the government and private sector would support and turn into the country's "poster children" for tech startups. "Let's choose five startups that we have currently in the Philippines that we will really help… and our goal is to turn the startup into our first unicorn."
ADVERTISEMENT - CONTINUE READING BELOW
Readily, the rest of the panel—Diane Eustaquio from startup incubator IdeaSpace Foundation, Undersecretary Nora Terrado from the Department of Trade and Industry (DTI), Undersecretary Rowena Guevara from the Department of Science and Technology (DOST) and Undersecretary Monchito Ibrahim from the Department of Information and Communications Technology (DICT)—agreed wholeheartedly.
Terrado added that the DTI already has a vision that by 2020, the Philippines should have 20 startups that are on their way to become billion-dollar firms. She added that at least 50 percent of these should have closed Series B funding rounds or have already achieved unicorn status by then. She linked it to the DTI's already existing Startup Ecosystem Development Program, adding that this can be the next phase of the department's project.
"If this community will be more ambitious with us, then we can support it," said Terrado, to general applause from the audience, indicating widespread support for the idea.
ADVERTISEMENT - CONTINUE READING BELOW
At the sidelines of the event, Flores further described what he is looking for in these startups.
"They have to have a solid team, a really cool technology that has a fair advantage over competition and traction," Flores told Entrepreneur Philippines. He added on his challenge: "I think if we do that, then it's going to be easier for us to inspire other startups to embark on that journey."
The 2018 Techtonic Summit was touted as the largest gathering of Southeast Asia's startups in the Philippines. It was organized by PMCM Events Management, Original Pitch Venture Capital, QBO Innovation Hub, XS by XS and LiquidMinds. Entrepreneur Philippines was a media partner of the event.
*****
Lorenzo Kyle Subido is a staff writer of Entrepreneur PH