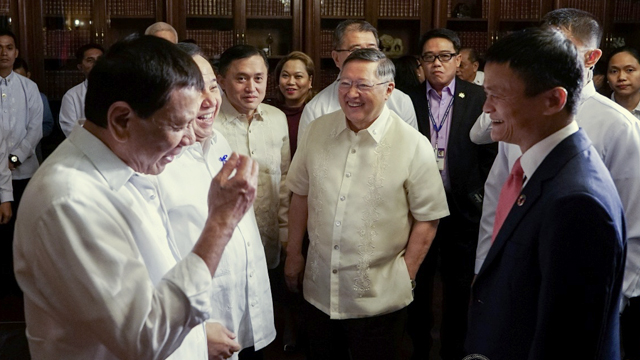 Finance Secretary Carlos Dominguez is set to meet with Alibaba founder and Chinese billionaire tycoon Jack Ma in Hangzhou, China for discussions on financial regulations in the midst of e-commerce growth on February 1.
"We will look at the financial regulations in China and explore how we can tap digital technologies to empower our MSMEs (micro, small and medium enterprises), especially those in the countryside, the same way that Jack Ma did to help small enterprises in China gain a foothold in the global e-commerce industry," Dominguez said in statement released on January 29.
Ma is the founder of online conglomerate Alibaba Group Holding Ltd., which operates various e-commerce platforms such as Taobao Marketplace, Tmall.com and Alibaba.com. The sites connect small entrepreneurs to millions of customers in China and overseas, helping them sell goods in massive volumes. Alibaba also has investments in online marketplace Lazada, which operates in the country. Over the years, Alibaba has also delved into cloud computing and data management under Alibaba Cloud Computing and fintech solutions under Alipay.
ADVERTISEMENT - CONTINUE READING BELOW
In October 2017, Ma visited the country for a day to help launch Globe Telecom's fintech solutions provider, Mynt. Ma's Ant Financial has a stake in the company. It was during this visit that Dominguez and Ma briefly met as the latter paid a courtesy visit to President Rodrigo Duterte in the Malacañan Palace.
Related story: "I Tried to Test PH Internet, It's No Good," and Other Notable Quotes from Jack Ma at DLSU 
Dominguez said Ma invited the Philippine officials "to hold more extensive discussions on how to ensure an 'enabling financial regulatory environment' for e-commerce growth in the Philippines, with MSMEs as the primary beneficiaries."
On various occasions, the Bangko Sentral ng Pilipinas has said it aims to have 20 percent of total transactions nationwide to be done online by 2020. A study conducted by Google and Temasek also revealed that the Philippine market for e-commerce is set to hit $19 billion by 2025.
While Dominguez did not lay out any concrete plans in place, the China visit may help forge a partnership between Ma and the government as the former is keen to "assist the country to create a cashless society."
Dominguez also added that the Duterte administration aims to "launch a digital payment system that enable Filipinos to sell and buy online and easily tap credit facilities even with limited loan histories."
Along with select finance and central bank officials, Dominguez will also attend a three-day lecture series at Alibaba Business School, an educational institution that offers crash courses on various aspects of online entrepreneurship from big data to e-commerce. The school is a joint venture of the Alibaba Group and Hangzhou Normal University.
ADVERTISEMENT - CONTINUE READING BELOW
*****
Elyssa Christine lopez is a staff writer of Entrepreneur PH. Follow her on Twitter @elyssalopz