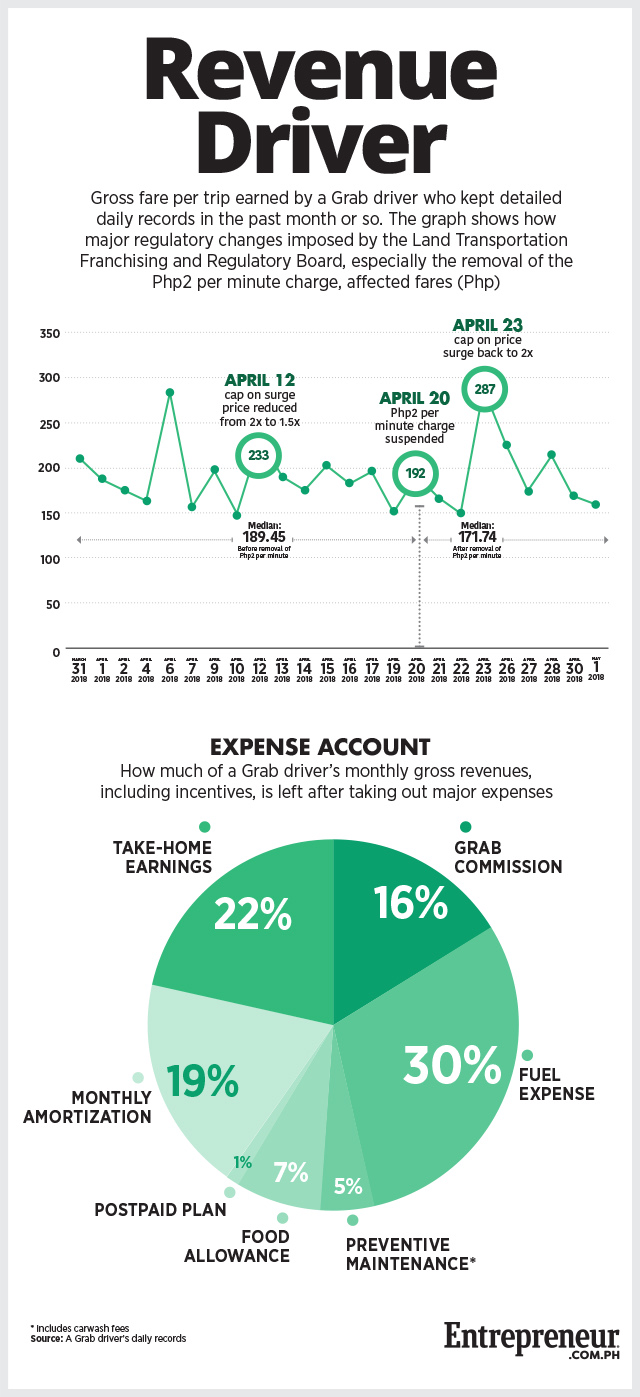 In explaining why it has become harder of late for Grab customers in Metro Manila to book a ride, the company's Philippine country head, Brian Cu, cited the 18.6 percent reduction in available cars—from 43,000 to 35,000—due mainly to delays in the accreditation of vehicles that were formerly affiliated with Uber.
ADVERTISEMENT - CONTINUE READING BELOW
Of the 19,000 transport network vehicles that operated under Uber, only 11,000 have transferred to Grab, he revealed. Bulk of the 8,000 difference—or 6,000 to be exact—are not part of the LTFRB's audited master list, dissuading their drivers from providing transport services, he said.
However, Cu also alluded to another factor that is contributing to the reduction in available cars. "Driver numbers continue to drop as uncertainty in maintaining sustainable livelihood increases. With the recent suspension of the Php2 per minute fare, a lot of drivers and operators fear they won't be able to provide for their families and car maintenance expenses," explained Cu in a statement.
To understand more how recent government actions have impacted Grab drivers, Entrepreneur Philippines interviewed two of them to find out if their income from ride-sharing has changed significantly.
Cirilo, a 39-year-old former operations manager at a business process outsourcing firm, said higher fuel prices have sharply cut his take-home pay. He asked us not to mention his surname.
ADVERTISEMENT - CONTINUE READING BELOW
When he first started driving for Grab three years ago, he typically grossed Php2,500 a day after working for 12 hours and took home around Php1,200 in net earnings. But when the Tax Reform for Acceleration and Inclusion (TRAIN) law was implemented early this year, it took a toll on his expenses and earnings.
"Before TRAIN, ang gasolina ko daily siguro mga nasa Php700 to Php800. Pumasok TRAIN law, ang Php800 ko na gasolina umakyat s'ya ng hanggang, on average, mga Php1,000. So 'yung Php1,200 na binibigay ko sa misis ko nagingPhp800 na lang. (Before TRAIN I used to spend Php800 for gasoline expenses daily. After TRAIN was implemented, that escalated to an average of Php1,000. So the Php1,200 net earnings that I used to give my wife daily was reduced to just Php800)," he told Entrepreneur Philippines.
The same goes for Jacqueline, a 40-year-old former restaurant manager who also refused to give her family name. She started driving for Grab 10 months ago, earning around Php3,500 gross a day. She would hit the road around 4 p.m. and return home by 4 a.m., taking home around Php1,400 net income every day, which she said is "more than enough" for her and her mother's daily expenses.
ADVERTISEMENT - CONTINUE READING BELOW
These days, however, she's just able to bring home around Php500 to Php1,000 net earnings from a whole night's work.
The TRAIN law was not the only factor that affected Cirilo and Jacqueline's earnings. Last April 20, the Land Transportation Franchising and Regulatory Board (LTFRB) suspended Grab's Php2 per minute charge, which is a key component of Grab's fare structure.
"Ang nangyayari, kailangan kong habaan 'yung oras ko. So from 7 a.m. to 8 or 9 p.m., nag-eextend ako hanggang 12 midnight. (What happens is I extend my driving hours until 12 midnight)," Cirilo said.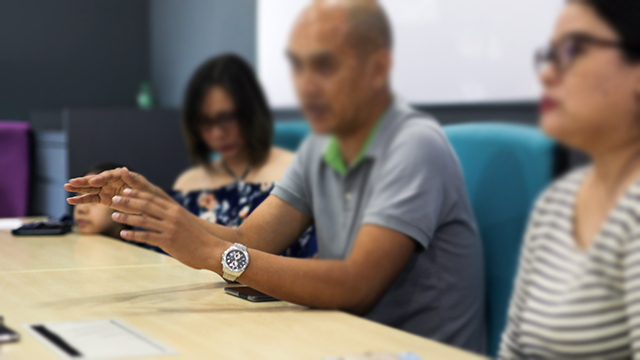 ADVERTISEMENT - CONTINUE READING BELOW
Drivers interviewed by Entrepreneur Philippines said they have had to work longer hours and pay more for gas to earn as much as they used to  
He explained that based on his calculations, he should be grossing Php2,500 to cover his daily expenses such as food and gas, as well as the budget for his car's monthly amortization and his family's daily needs. "From 10 to 12 hours, [it became] 15 to 18 hours a day. From 100 to 120 kilometers sa isang araw, naging 180 to 200 kilometers," he added.
Cirilo shared a month-long record of his daily gross earnings, number of trips and expenses. We summarized the results in the infographic on this page, which shows his daily gross fare per trip in the past 30 days or so. In general, the data supports his contention that the removal of the Php2 per minute charge cut his earnings, forcing him to do more trips per day. The infographic also shows the major expenses in operating a ride-sharing vehicle and how much net earnings he ends up with after a month. (See infographic)
ADVERTISEMENT - CONTINUE READING BELOW
Cu agrees that government's regulations have indeed negatively affected Grab drivers' earnings. He estimates that after the TRAIN law went into effect, drivers should be making at least Php340 per hour to be able to shoulder the additional cost of gasoline.
However, because of the freezing of the Php2 per minute charge, more drivers fail to hit this target. "Sixty percent of drivers today make the ideal fare, [but] before all these regulatory impositions on pricing, 91 percent were making the Php300 per hour," he said.
Cu explained that the Php2 per minute charge is crucial to Grab's pricing scheme because they rely more on the base fare and less on surge rates. "We've always been priced higher than taxis. We even intentionally priced ourselves higher than Uber," he said, saying that while Uber surges their prices up to five times, Grab's surge only increases up to two times. This was because they saw surge pricing only as a "bonus" while the Php2 per minute contributes to the drivers' actual income.
ADVERTISEMENT - CONTINUE READING BELOW
With LTFRB's suspension of the Php2 per minute charge, however, Cu said it directly affected the drivers' daily earnings. "Tinira mo 'yung sweldo eh, 'di 'yung bonus. (You hurt the salary itself, not just the bonus)," he said.
Anton Bautista, Grab Philippines' Strategy and Special Projects head, explained further: "For example, a driver works for 10 hours. Out of the 10, they're on trips for eight hours. So eight hours is equivalent to 480 minutes, 480 times two is 960. So that means they lost [almost] Php1,000 a day from their fares. It's very big. The math is really not there."
Still, drivers like Cirilo and Jacqueline say they're willing to stay with Grab because they believe in the company's operations already. "It's not about the time, it's about the service that you give and the objective you believe that, at the end of the day, it will all go well, it will all return back to what it was before," Cirilo said.
ADVERTISEMENT - CONTINUE READING BELOW
As for the government's attempts to regulate Grab's business, Cu has one thing to say: "If you regulate it like a taxi, you will end up having taxi—which is what we wanted to fix. Gusto mo hindi mag-asal taxi pero gusto mo lahat ng patakaran katulad nung sa taxi. Paano na? (You want to have a service better than taxis, but you regulate it like taxis. What happens now?)"
*This story was updated to add additional expense items in the infographic on the Grab driver's expenditures on May 4, 2018.
Related story: (LOOK) How Grab PH Fares Moved in the Past 2 Weeks in Response to LTFRB Orders

*****
Pauline Macaraeg is Entrepreneur PH's data journslist. Follow her on Twitter @paulinemacaraeg