Passenger fares have gone down an average of two percent since Grab's acquisition of Uber in the region, Grab officials said during a press conference on Wednesday, April 18.
Grab Philippines Country Head Brian Cu presented data showing how fares have gone down in a majority of the most popular pick-up and dropoff points in Metro Manila since Grab acquired Uber's business in the region in late March.
"On average, fares have gone down by two percent," Cu said. "Yes, it's surging more often, kasi walang kotse (because there are no cars), but it's surging less."
Last week, the Land Transportation Franchising and Regulatory Board (LTFRB) ordered Grab to lower its surge pricing cap from 2 to 1.5.
But based on their data, fares have actually gone up in eight out of the 20 most common dropoff and pick-up points in Metro Manila. This has led to numerous complaints on social media from riders who say fares on their regular routes have increased since Uber deactivated its service in the country.
ADVERTISEMENT - CONTINUE READING BELOW
Nag try ako magbook ng Grab. Mej matagal at super mahal. Like di kinaya ng lower middle class heart ko na almost a third of my daily rate ang presyo.

Antay na lang ako UV. Mas maliit ang kaltas due to late compared sa Grab fare.

— Kristine 💞💦 (@kadgonzaga) April 16, 2018
OA sa mahal ng @grabph fare. Haha! Dati noong may @Uber pa, i only need to pay 130-160 pho going to ATC or to Church. Now, a ride going to the same place is 295-300 php... Nope! I think in time less people will use Grab.

— ALDUB AMBASSADOR (@IAmWholeHearted) April 14, 2018
Sad to see @Uber stop operations in the Philippines. When really tired, I take UBEr. What used to be trips that cost about 300 - 400, I'm paying now an average of 600 - 700 on @grabph

— Gregorio Larrazabal 🇵🇭 (@GoyYLarrazabal) April 16, 2018
Passengers have also reported increased cancellations from Grab drivers and the general unavailability of Grab rides.
Grab said demand for rides went up by as much as 70 percent after Uber's acquisition, compared to a 40-percent increase in supply, which represents the number of vehicles that have migrated from Uber to Grab.
Cu admitted that unallocated bookings—or unserved demand, meaning requests for rides that have gone unfulfilled—have increased since the acquisition, but clarified that this wasn't because drivers were rejecting the requests.
"It's not because walang gustong tumanggap (no one wants to accept), it's because walang kotseng (there are no cars) available in that area para tumanggap (to accept)," Cu said. "That's because unallocated bookings have gone up sharply after the acquisition."
Cu added that, contrary to social media reports, both passenger and driver cancellations have actually gone down.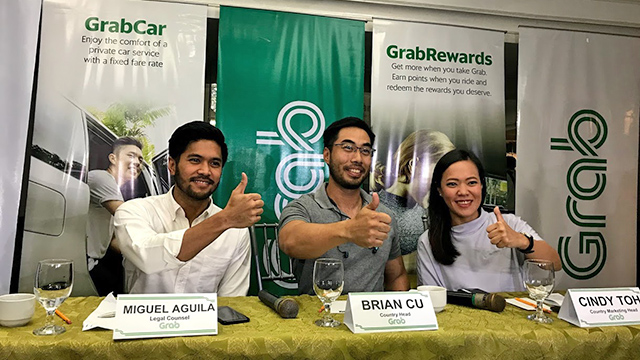 ADVERTISEMENT - CONTINUE READING BELOW
Grab officials at the press conference (from left) Miguel Aguila, legal counsel; Brian Cu, country head; and Cindy Toh, country marketing head
"Yung sa passenger cancellations, it's gone down because wala na yung nagbu-book nang sabay (Grab and Uber)," Cu said. (They don't book Grab ad Uber simultaneously anymore). "Driver cancellation has also gone down. So it's improving on the passenger and driver level because of the little steps that we've been taking, which we have yet to announce. But the bigger issue here is unallocated bookings. Kulang pa rin ang (We still don't have enough) cars to meet the demand."
No illegal fares
Grab also took the opportunity to clarify certain issues during the press conference, foremost of which was the Php2 per minute travel charge that party-list representative Jericho Nograles said Grab was illegally charging its riders.
"We would like to set the record straight—we are not charging any illegal fares," said Grab's legal councel Miguel Aguila. "Our fares are legal because under Department Order 2015-011 of the Department of Transportation, 'fares are set by the TNCs (transport network companies) and is subject to oversight by the LTFRB in cases of abnormal disruptions from the market.'
"What this means is that Grab can legally set fares on our own," he added. "We don't need to file a petition and we don't need an approval from the LTFRB."
Aguila added that Grab decided to impose a Php2 per minute charge to normalize the fares for its drivers and ensure that the business was sustainable in the face of the traffic situation in Metro Manila.
ADVERTISEMENT - CONTINUE READING BELOW
Cu further added that 80 percent of the additional Php2 per minute component goes directly to the driver as additional income, while the remaining 20 percent goes to Grab in the form of commissions but is funneled back to the drivers in the form of incentives and to passengers in the form of promos.
The country head, however, admitted that the company did not inform passengers of the Php2 per minute charge when it was first implemented in June 2017. Instead, what passengers are shown is the total fixed fare.
"There's nothing illegal with failing to update the information," Cu said. 
Despite Cu's pronouncements that driver cancellations have gone down, Grab officials still responded to numerous complaints on social media about it. 
Wow dalawang beses na nagcancel yung Grab driver sakin tapos yung next na nabook ko 15 mins ago nag aantay 😌😡😌😡😌🙈😌🙈

— Ven (@vrbablen) April 17, 2018
Nakakainis yung grab driver!! Naghihintay lang ata na ako na mag cancel. Ngayong oras pa talaga nag iinis 😒😒😒😒😒😒😒😒😒😒😒😒😒😒😒😒😒💪

— Ligayaaaaaaa 💞💞 (@dissligaya) April 16, 2018
Booked a grab and the driver canceled nung sinabi kong "wait pababa na po".😅 Kuya, wala pa pong 1min hihintayin nyo. Jusko.

— Nicole Alonzo 아기 (@mygongchanbaby) April 17, 2018
3 grab drivers canceled on me in a span of 15 minutes. Basura talaga grab mahal na nga, arte pa ng mga driver

— Judd Rojas (@JuddRojas) April 14, 2018
A Reddit user even detailed her experience with a driver who waited for her to cancel the trip. 
Country Marketing Head Cindy Toh said the company is implementing stricter measures that would address driver cancellations.
"This is not a behavior that we tolerate," she said.
Finally, Cu said the company has filed a motion for partial reconsideration and manifestation to the Philippine Competition Commission (PCC)'s order for Grab to explain why it chose to discontinue operating Uber. The PCC required Grab to continue operating the platform in its Interim Measures Order.
"The decision to discontinue funding is in compliance with a cease-and-desist order of LTFRB prohibiting Uber app's operations effective April 16," Aguila said. "Non-compliance exposes Grab and its employees to fines and/or imprisonment."
*****
Paul John Caña is the managing editor of Entrepreneur PH
ADVERTISEMENT - CONTINUE READING BELOW