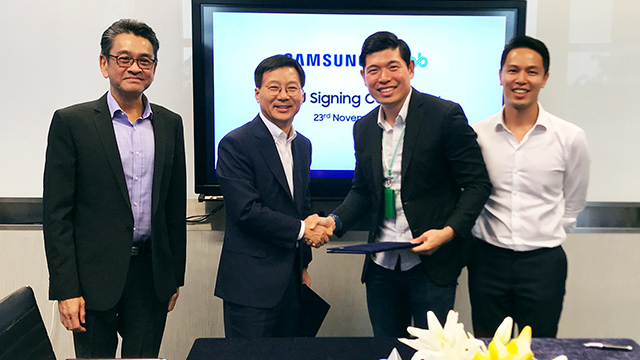 Lee Sangchul, president and CEO of Samsung Electronics SEA and Oceania, and Anthony Tan, Group CEO and Co-founder of Grab, shake hands after signing MOU
Southeast Asian ride-hailing platform Grab has teamed up with Korean electronics giant Samsung to provide a variety of new services for its drivers and users, the company announced in a press release last January 30. The two companies signed a multi-year memorandum of understanding (MOU) "to drive digital inclusion in Southeast Asia," Grab said.
ADVERTISEMENT - CONTINUE READING BELOW
Among these new services is a micro-financing program for Grab's over 2.3 million drivers across the region. Through the program, drivers will be able to secure a micro-loan from Grab's partner banks in order to purchase and finance their smartphones or other devices from Samsung.
Grab initially soft-launched the program in Myanmar in the fourth quarter of 2017, claiming that "more than 1,400 drivers in Myanmar have benefited from this program." 
The program is seen to address the lack of financial access among many Southeast Asian markets, including the Philippines. Data from the Bangko Sentral ng Pilipinas show that 86 percent of Filipino households are considered "unbanked" or do not have a savings account. As these unbanked individuals do not have a credit footprint, they will not be able to easily secure loans from banking institutions.
"Southeast Asia is home to the world's fastest growing emerging markets, yet many in the smaller towns and cities do not have easy access to the growing digital economy," said Anthony Tan, co-founder and CEO of Grab. "Mobile technology can bridge the infrastructural divide and make economic growth more inclusive."
ADVERTISEMENT - CONTINUE READING BELOW
Aside from the micro-financing program, Grab will also be rolling out services to improve customer experience across its markets as well as a new "infotainment" service within its vehicles, all powered by Samsung devices. The two companies are also looking into a mobile payments solution to "expand into Southeast Asia's fragmented mobile payments ecosystem."
Established in 2012, Grab's ride-hailing app has been downloaded over 77 million times across Southeast Asia. It currently operates in eight countries and processes over 3.5 million rides a day across the region.
*****
Lorenzo Kyle Subido is a staff writer of Entrepreneur PH