Grab Group CEO and co-founder Anthony Tan speaking at the Grab event in Singapore on July 10
Southeast Asian ride-hailing giant Grab unveiled an on-demand grocery delivery service in Singapore as it seeks to expand beyond its core business and become an "everyday super-app" for essential services such as transport booking, finance and logistics.
ADVERTISEMENT - CONTINUE READING BELOW
The move is in line with the Singapore-based startup's vision to transform locations where it operates into "smart cities," where transactions and mobility will be seamless through the use of just one app.
On Tuesday, July 10, Grab rolled out GrabFresh, the latest addition to the in-app services the company offers. It is an on-demand grocery delivery service in partnership with HappyFresh, an e-commerce startup based in Jakarta. The service is still in beta mode this month and will officially launch in Thailand and Malaysia by the end of the year.
"Over the past six years, we've worked hard to improve our technology and expand our reach. We've gone from offering our tech as a booking platform for taxi operators, to providing a fleet of delivery drivers for e-commerce companies. It's now time to take what we're really good at to a select group of partners—and eventually make our platform open to the wider Southeast Asia ecosystem," said Grab Group CEO & co-founder Anthony Tan in a statement.
ADVERTISEMENT - CONTINUE READING BELOW
To make this all happen, Grab is currently looking for partners for its GrabPlatform, an open platform made up of a suite of various application programming interfaces (APIs) that will integrate the merchants' services with Grab. It is scheduled to fully launch by 2019.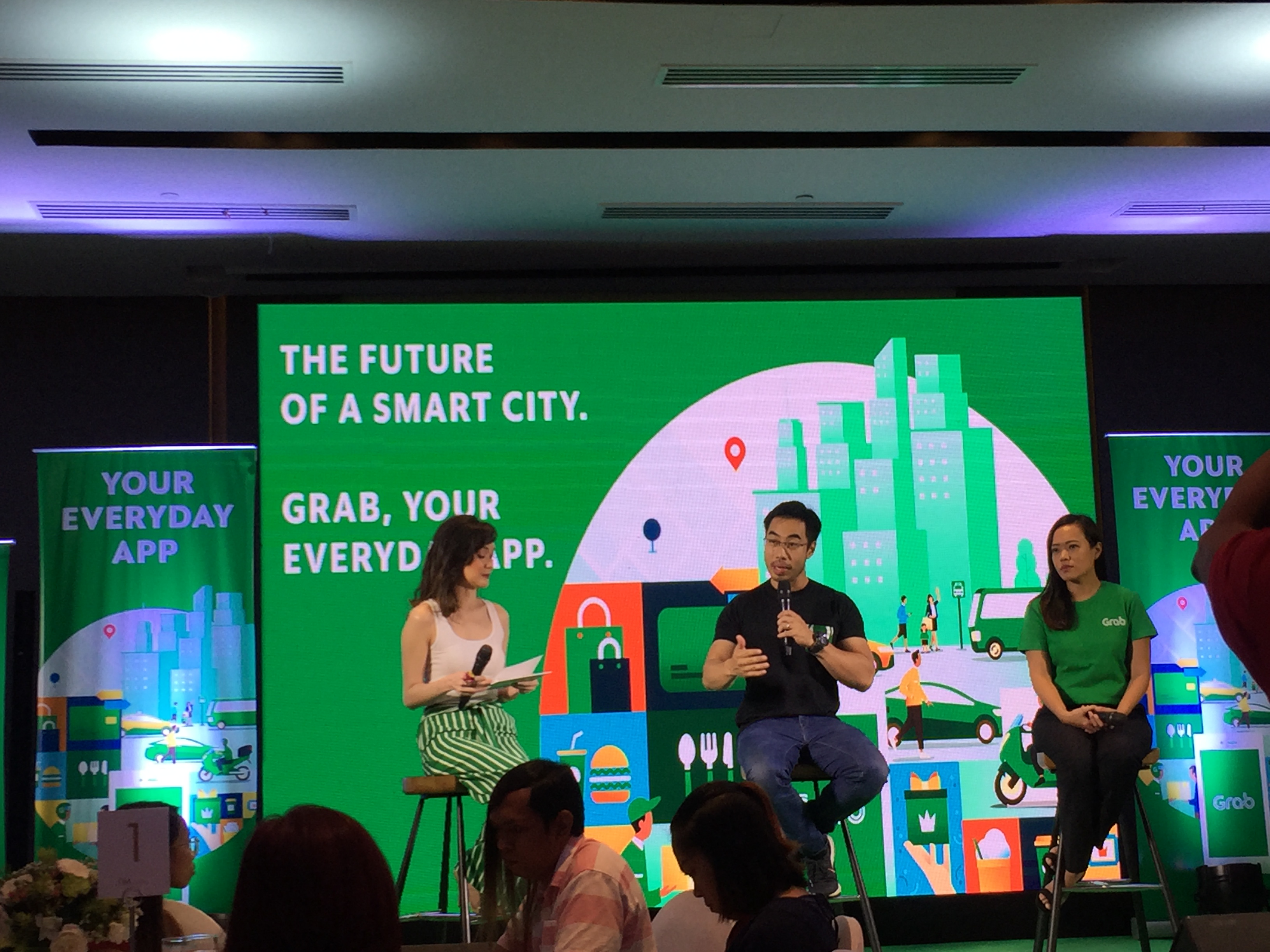 Brian Cu and Cindy Toh during the Grab PH event last July 5
ADVERTISEMENT - CONTINUE READING BELOW
Grab Philippines Country Head Brian Cu and Country Marketing Head Cindy Toh have already unveiled the initial look of the local version of the everyday super app last July 5 at the I'M Hotel in Makati. Grab says the completely transformed app will be available in the country by the third quarter of 2018.
As part of this transformation, Grab Philippines recently beta-launched GrabFood, its on-demand food delivery service, and GrabAssistant, a service where customers can ask the riders to buy items or queue in lines for them. They have also integrated Grab Daily in their app, a lifestyle feed especially directed for users who are stuck in traffic.
Grab Philippines also revealed that they have applied for an e-money license from the central bank as an initiative to make transactions and experiences seamless as part of the "smart cities" scheme. "The heart of our financial services will be our e-wallet platform, which is currently processed getting an e-money license with the BSP," Cu said.
ADVERTISEMENT - CONTINUE READING BELOW
In the meantime, Grab Philippines is pushing for its GrabPay platform, which Toh described as "the thing that will lock in the entire ecosystem."
Grab Philippines also has plans to offer financial services in the future. These would take in the form of micro-financing for their drivers, where they would be given access to loans and credit, and other fintech offerings such as electronic payments and rewards systems for the users.
"We always look at it in two sides: one side is the people using the app as the recipient of the service, and the other side will be those providing the service. [For the drivers], these services will provide them income-generating opportunities. Second, it would give them access to credit," Cu said. "At the same time, on the other side, [it would] give access to services in a simple press of a button to consumers who want convenience, who wants speed," he added.
ADVERTISEMENT - CONTINUE READING BELOW
Cu revealed that through this financial services initiative, drivers would be able to start building credit scores through their driving performance--how often they drive, how well they drive, how good of a service they provide. "And then later on we can move on to micro-investments, where the money that they earn and leave in the wallet, they can choose to invest that in short-term [investment] and earn interest," Cu added.
ADVERTISEMENT - CONTINUE READING BELOW
Aside from financial services, Grab Philippines also plans to launch a multi-modal transportation service where users can book several vehicle types for the duration of their entire commute. Cu explained that right now, people often use Grab either for just their first, middle or last-mile needs. He said the aim is to eliminate the use of cars in the country's major highways by tapping bigger vehicle providers such as shuttles or buses and making them available on-demand, which could reduce traffic. "Multi-modal has been a dream of Grab over the last few years," Cu added.
However, Grab Philippines officials admitted there is no firmed-up timeline for the rest of the planned verticals in the country yet.
"There's no exact timeline for the financial services. It depends on what the research will show and our dealings with regulators as well," Toh admitted. To add to this, Cu said: "Until we get a freer hand in franchising shuttles, until we have regulations in place that will allow us to do [these services], it's very difficult."
ADVERTISEMENT - CONTINUE READING BELOW
Screenshot of Grab's super app interface
Grab revealed it has crossed two billion rides across Southeast Asia on July 7, 2018, and that it is now the leading mobile payments platform in the region. And despite consistent profit losses in its local subsidiary, Grab is confident that it will be the first Southeast Asian company to hit $1 billion in revenues by yearend.
ADVERTISEMENT - CONTINUE READING BELOW
*****
Pauline Macaraeg is Entrepreneur PH's data journalist. Glen Concio is Entrepreneur PH's art director