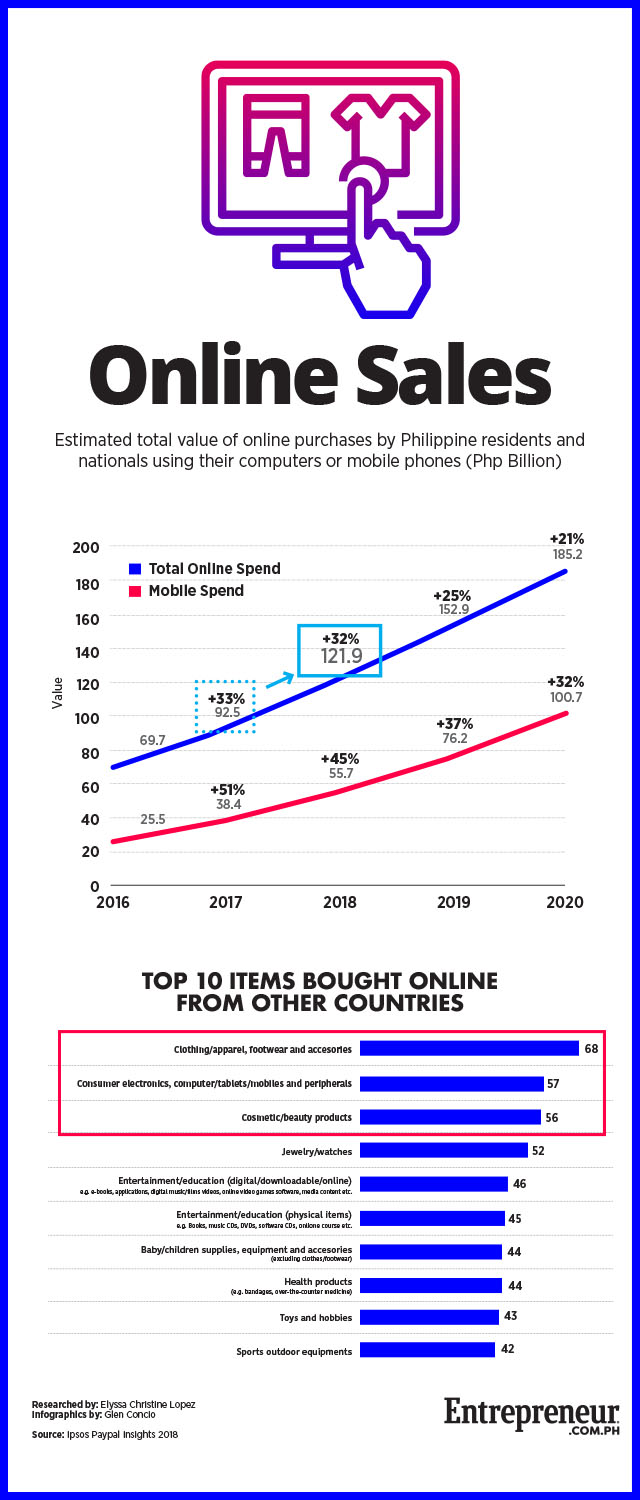 Filipinos are forecast to spend Php121.9 billion online this year, up by 32 percent from Php92.5 billion in 2017, a study conducted by PayPal showed.
In a press briefing on Wednesday, June 27, PayPal Southeast Asia Head of Strategic Partnerships Abhinav Kumar presented the PayPal Cross-Border Consumer Research 2018 for Philippines, a study on online shopping habits of consumers. A total of 1,006 Filipinos took part in the survey.
"The estimated growth is based on future intention of cross-border shoppers and online shoppers who have not," Kumar said.
The 2017 figure is slightly less than the estimate made by statistics portal Statista on the amount of revenues local e-commerce sites would earn in 2017, which it pegged at $1.2 billion. Still, the factors that compel Filipinos to shop online remain similar to other consumer studies conducted about the market.
Convenience, variety of online platforms and faster shipping process are among the top reasons cited by those surveyed as the drivers of their expected increase in online shopping. In 2017 alone, PayPal estimated that a Filipino online shopper spent an average of Php3,663. The number is based on the assumption that a fourth of the country's total population or 25.3 million Filipinos shopped online.
ADVERTISEMENT - CONTINUE READING BELOW
The survey also found that half of Filipinos shopped from online sites based in other countries at least once last year, with the US as the top-ranking destination of the goods they bought online, the value of which is estimated to have reached Php9.6 billion.
After the US, the second most preferred offshore destination for Filipino online shoppers is Hong Kong, where they bought Php4.9 billion worth of goods last year. It is followed by Japan, which sold Php4.03 billion worth of goods to Filipino online shoppers.
Fashion items, such as clothing and shoes, consumer electronics and cosmetics were found to be the most shopped items of Filipinos who chose to purchase goods in international e-commerce platforms in 2017. But the top product categories that Filipinos would most likely spend on for this year showed a different shopping preference.
"When we asked [in the survey] on what categories they see their online spend would increase in, we saw high incidence of daily use case products, the essentials," Kumar said. "This includes cross-border and domestic shopping."
Groceries, food and drinks emerged as the items likely to experience the highest growth in sales online, followed by household goods and children's supplies.
With the expected increase in online shopping of Filipinos, PayPal also urged local merchants to take advantage of the e-commerce boom and start to grow their presence online.
"What merchants can do is to look at the top barriers as to why [some] consumers do not want to buy online and if they are able to address these concerns in whatever way then I'm sure they'll go a long way in closing online sales," Kumar said.
ADVERTISEMENT - CONTINUE READING BELOW
Trends in online retailing in the Philippines will be discussed at the National Retail Conference and Stores Asia Expo on August 9-10 at the SMX Convention Center in Pasay City. Entrepreneur Philippines is a media sponsor. Click here for more information.
*****
Elyssa Christine Lopez is a staff writer of Entrepreneur PH. Follow her on Twitter @elyssalopz