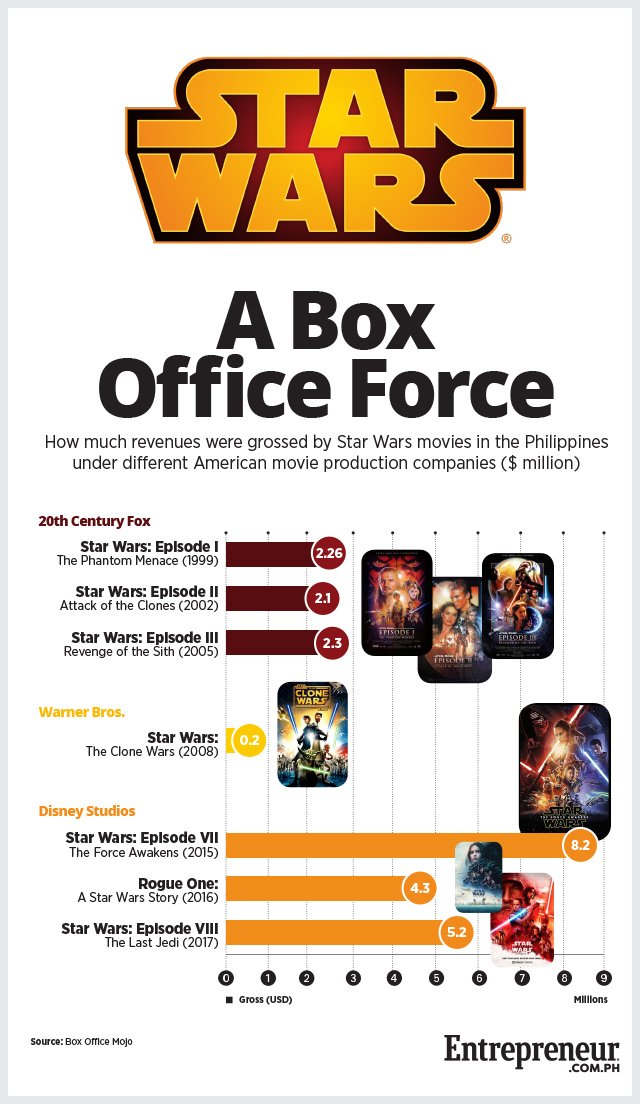 Star Wars films have been part of many Filipinos' childhood, starting with the first movie in 1977 to the latest, The Last Jedi, released in December 2017. This week, a new movie set in the Star Wars universe called Solo, which focuses on the adventures of a young Han Solo, opens in theaters around the world. 
ADVERTISEMENT - CONTINUE READING BELOW
In 2012, The Walt Disney Company reportedly bought Star Wars creator George Lucas' production company, Lucasfilm, for $4 billion. Since then, all Star Wars films have been distributed by Walt Disney Studios Motion Pictures.
Since the acquisition, Disney has been pretty active in promoting the franchise. It has released two of the sequel trilogy movies and one anthology film in just three years. The Force Awakens was released in December 2015, followed by Rogue One: A Star Wars Story in December 2016.  The Last Jedi then hit the theaters in December 2017.
Among the three, The Force Awakens grossed the highest with $8.2 million in the Philippines. This is almost twice than Rogue One's sales of $4.3 million. The Last Jedi, on the other hand, grossed the second highest with $5.2 million.
The figures came from Box Office Mojo, the official database of box office figures of Amazon-owned International Movie Database (IMDb).
Solo: A Star Wars Story hits the theaters this May. The last installment of the Star Wars sequel trilogy, Episode IX, is scheduled to premier on December 2019.
ADVERTISEMENT - CONTINUE READING BELOW
*****
Pauline Macaraeg is Entrepreneur PH's data journalist