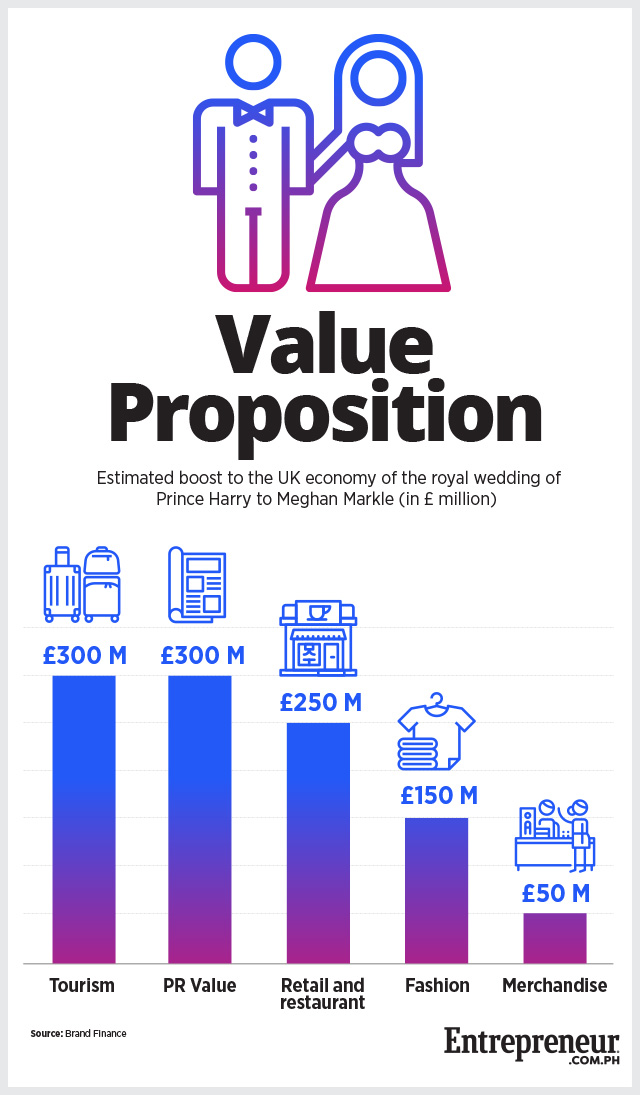 Some may fret about the hefty £32-million cost of the Royal Wedding of Prince Harry and Meghan Markle. But it turns out the expense, most of which was borne by British taxpayers, were well worth it because of the huge returns to the economy of the United Kingdom.
According to pre-wedding estimates by business valuation and consultancy firm Brand Finance, the Duke and Duchess of Sussex's royal wedding will bring in £1.05 billion ($1.4 billion or Php73.9 billion) in additional revenues to a number of industries in the British economy.
ADVERTISEMENT - CONTINUE READING BELOW
The tourism industry, notably hotels and other forms of accommodation, is expected to enjoy the most impact, reaching £300 million. "The economic impact analysis is based on a predicted three-percent uplift in non-business visits from the USA, and a 2.5-percent uplift in non-business visits from the rest of the world," said Brand Finance in a press release.
The attention the royal couple has attracted from international media is also creating public relations value for the United Kingdom, estimated to be worth around £300 million.
Meanwhile, the couple's fans likely spent a total of £250 million on food and drinks while waiting for or watching the event. They are seen to spend another $50 million for commemorative merchandise
Like the Duchess of Cambridge, Kate Middleton, Markle's fashion style also attracted fans to closely watch her sartorial choices. Brand Finance estimated her outfits alone will generate £150 million worth of clothing sales for the brands she will wear.
ADVERTISEMENT - CONTINUE READING BELOW
Related story: How Rich is Prince Harry Compared to Other Royals in the UK and the World?
*****
Elyssa Christine Lopez is a staff writer of Entrepreneur PH. Follow her on Twitter @elyssalopz