<>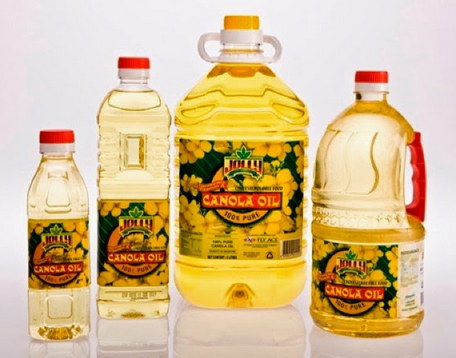 Without a doubt, we are living in the age of healthier food. That is why healthier options to the usual cooking ingredients are now widely available in the market.
If you think that dishes with fried ingredients or those with cooking oil are bad for your health, think again. Jolly Heart Mate Canola Oil is a heart-healthy, versatile, and value-for-money cooking oil. You may have already heard that Canola Oil is among the healthiest cooking oils available, thanks to its lower saturated fat (Bad Fat) content and higher monounsaturated fat (Good Fat) content.
Moreover, Jolly Canola Oil has omega 3 and 6, which are known to be ideal for the human heart. The oil has pale golden color, light texture, and neutral taste so that consumers can use it for almost any dish. And because of its high smoking point, it is very ideal for frying. Thus, it is 'Better for the Heart, Better for the Budget.'
If you want to learn how to cook a few heart-healthy dishes using Jolly Canola Oil, tune in to GMA-7's '
Sarap Diva
' on January 24 and 31, from 9:40 a.m. to 10:25 a.m. Singer, actress, and TV host Regine Velasquez-Alcasid will dish out two recipes: Pamplina, which is a Spanish-influenced soup dish, and Pork Steak with Mushroom Bits, which can make for a really tasty meal.
Pork steak with mushroom bits
Ingredients: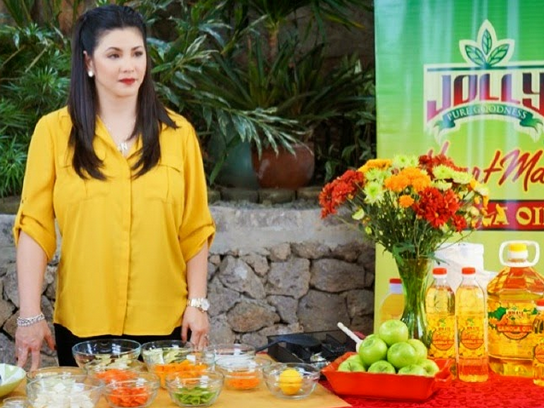 •    1 kg pork steak, cut into small cubes
•    1/2 cup soy sauce
•    salt and pepper to taste
•    1 tablespoons of ground paprika
•    2 tablespoons of Jolly Canola Oil
•    2-3 tablespoons of chopped garlic
•    2 cans Jolly Button Mushroom Whole, cut in half
•    1/2 cup red wine
•    2 tablespoons of butter
garnish with some toasted garlic and chopped parsley
Procedures:
1. Season pork steak in soy sauce, salt, and pepper, then set aside.
2. Preheat a pan with some Jolly Canola Oil and cook the pork cubes until slightly brown in color.
3. Remove from pan. Toss in the chopped garlic and Jolly Button Mushrooms. Sautee then season with some salt, pepper, and ground paprika.
4. Deglaze with the red wine then simmer until sauce is slightly thick.
5. Mix in the cooked pork and cold butter.
6. Transfer to a plate then garnish with some toasted garlic and chopped parsley.
ADVERTISEMENT - CONTINUE READING BELOW