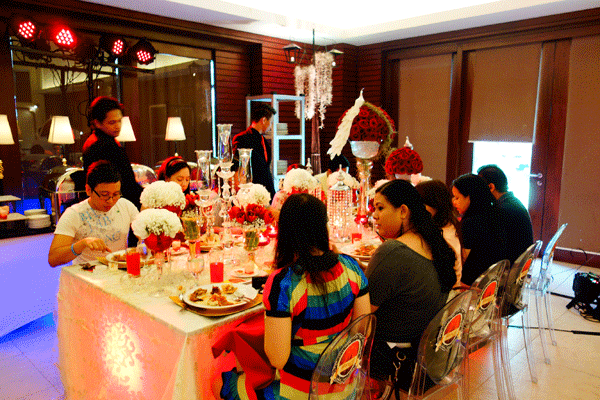 For two people in love, the wedding proposal is just the beginning. Saying "I do" is now big business. Anybody who has ever attended a wedding or helped out in one knows how complicated and expensive it can get. It needs careful planning to pull off a wedding that you will remember for the rest of your life while not breaking the bank.
ADVERTISEMENT - CONTINUE READING BELOW
After the beautiful bride, wedding guests will always remember the food that was served. Last September 1, online bridal resource, BridalBook , held a grand tasting event featuring fourteen of the country's top caterers and suppliers. Tasteful Tastings was held at the The Blue Leaf Events Pavilion in Taguig City. Couples attended the taste test event along with friends and family to help them decide which caterer to pick. Always remember, food is a huge expense when planning a wedding. Catering packages can cost as low as P250 a person for a budget caterer to as high as P2,000 for a fancy one. Try multiplying that by 150 to 200 guests, which is the average number of guests at a wedding nowadays, and you will get an idea how much money people spend. So be sure to choose one according to your budget and taste
More than anything, the caterers at the event were entrepreneurs competing in a crowded niche. Each catering booth was presented in a specific style to make it stand out from the rest. Be it swanky French furniture to quaint pastel tablecloth or wall fixtures made from distressed wood. To stay competitive, some even offered as much as 20 percent discounts for guests that booked their services on the day of the event. Don't forget to read the fine print and ask about specifics. Some caterers will charge more per person but will include freebies like videos, makeup or styling with their food packages. There is also the value added tax (VAT). Some prices were quoted exclusive of VAT.

ADVERTISEMENT - CONTINUE READING BELOW
If you want to enter this lucrative industry as a supplier, read our article on wedding business ideas to try here.
Are you looking for wedding suppliers? Check out listings here.