Under Balci's leadership, Lazada has grown to become the Philippines' number one e-commerce platform
There is reason to celebrate Lazada's sixth anniversary. It is currently the most popular e-commerce platform in the country, attracting over 60 million unique visitors monthly and placing it in the top 10 most visited websites and number one by far among online shopping sites. Based on a report by the iPrice group, the company is leading in terms of search interest and social media presence. It also has the biggest social media community out of all the other local e-commerce companies.
Related story: What are the Most Popular E-commerce Platforms in the Philippines?
For Balci, all this is well beyond their wildest expectations for the company when they were starting out just six years ago.
"When you do the business model and the forecast, you always have at least three scenarios: base case, moderate case and best case," Balci says. "When I look at Lazada today, I think compared to our first forecast we are doing better than our best case, so we are significantly doing better than what we had envisioned."
ADVERTISEMENT - CONTINUE READING BELOW
In terms of market share, Balci says that back then, they could have only dreamed of the market share that Lazada is enjoying today. Although he declined to mention actual numbers, various reports peg Lazada's slice of the local e-commerce market at a commanding 91 percent as of the first quarter of last year.
One other signifier of Lazada's favorable prospects is Alibaba's investment of $1 billion in 2016. In mid-March this year, the Chinese e-commerce giant announced that Alibaba was investing an additional $2 billion into Lazada, which would increase its stake in the company from 83 percent to an undisclosed but certainly bigger slice.
Balci says the plan is to spend the money in three key areas. The first is logistics infrastructure, which means key investments to beef up their logistics and delivery arm, Lazada Express.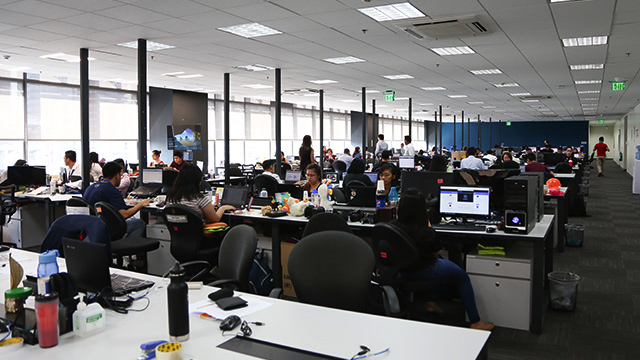 ADVERTISEMENT - CONTINUE READING BELOW
Lazada Philippines now has about 3,000 employees and will soon add a new warehouse in Davao to its two existing warehouses in Manila and Cebu 
The second is technology. "As you can imagine, we pivoted the company several times, and it's very difficult for the infrastructure to follow," he says. "It's a combination of different tools. We have been working on this project called Voyager over the last six months and it ended (in late March). Alibaba completely rewrote the whole Lazada infrastructure, and now we are starting to add additional features on top of that."
He mentions a new chat feature that links brands and sellers within the Lazada ecosystem. "It's not groundbreaking but it's something that we wanted to try," Balci says.
The third area is Lazada's marketplace, the company's main business.
"We will continue investing in the marketplace and find ways to enable our merchants better and give them the best tools and the best services so they can increase their services on Lazada."
ADVERTISEMENT - CONTINUE READING BELOW
From a department store to a shopping mall
Because Balci has been with the team that built the company from the ground up, he is well aware of the precise steps they took in order to grow Lazada to what it is today. He recalls the initial plan to try and replicate the successes of European and American-modeled e-commerce companies in the Philippines, but they had to adapt after realizing the infrastructure and cultural landscape in the country was markedly different than what they had experienced before in the US and in Europe.
He cited three specific considerations that the company immediately addressed—logistics, payments and connectivity.
"Very quickly, we transformed the company and the idea into a different version of e-commerce," he says. "First, rather than using local third-party logistics companies (TPLC), we started our own, Lazada Express. Second, rather than accepting credit cards or Paypal, we focused heavily on building the first nationwide cash-on-delivery network. And third, rather than relying on a desktop website, we focused very heavily on the mobile ecosystem."
ADVERTISEMENT - CONTINUE READING BELOW
Initially focusing on electronics, the company naturally evolved to becoming a general retail e-commerce company and, eventually, into a marketplace platform.
"The change is similar to turning a department store into a shopping mall," he says.
Later on, Lazada added cross-border trade, or offering products from outside the Philippines.