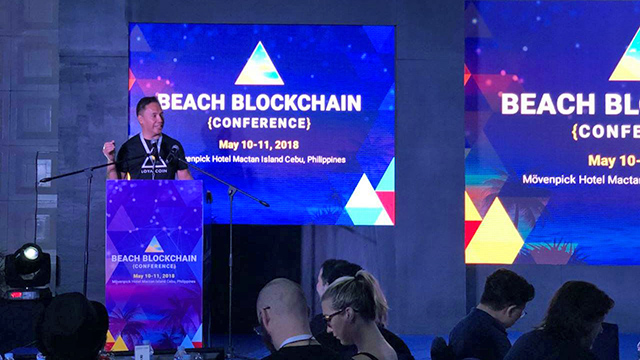 Patrick Palacios, CEO of Appsolutely, speaks at the Beach Blockchain Conference in Cebu, which was attended by over 250 people from all over the world
"An ICO is the best gift to an entrepreneur because [even] without any connections, you're able to expand globally and have the chance to become a billion-dollar company."
ADVERTISEMENT - CONTINUE READING BELOW
That was how Patrick Palacios, founder and CEO of Philippine-based loyalty startup Appsolutely, summed up the importance of initial coin offerings (ICOs) for his company during a talk at Enderun's Fintech & Blockchain Innovation Summit last March. He spoke about his experiences in conducting the ICO, wherein his company sold virtual utility tokens called LoyalCoin that customers use to access the company's blockchain-enabled rewards platform.
Founded in 2013, Appsolutely started as a developer of mobile applications that help businesses boost customer engagement and loyalty by optimizing their rewards programs. Among their early clients were Taiwanese milk tea chain Gong Cha, which saw customer participation in the loyalty program jump 150 percent within a year after Appsolutely built a rewards program for them.
Related story: PH Tech Firm Launching Blockchain-Powered Rewards Platform in the US and Thailand
One of the key factors for Appsolutely's early success was its proprietary technology that expanded the app's functionality whether customers were online or offline—a crucial problem in the Philippines where most smartphone users still rely on prepaid data plans and connect to the Internet only intermittently. Today, it has signed up at least 30 corporate customers, including Petron Corp., the country's biggest petroleum refiner and retailer. It has also expanded its menu of services to include digital marketing, e-commerce, websites, mobile apps and blockchain development.
ADVERTISEMENT - CONTINUE READING BELOW
Appsolutely also pioneered the use of blockchain technology to revolutionize customer rewards programs in the Philippines. In 2017, it built LoyalCoin, a virtual currency or token that customers can earn by participating in its client merchants' rewards program.
This makes it possible to "universalize" rewards by allowing customers to earn LoyalCoin from one brand and use it to buy stuff from other Appsolutely partners. In addition, LoyalCoin also allows users to exchange their rewards for other digital assets or virtual currencies such as Bitcoin and Ethereum, or to send rewards to and receive them from users with LoyalCoin.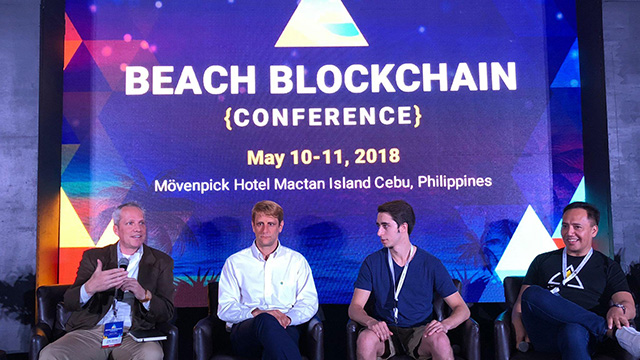 ADVERTISEMENT - CONTINUE READING BELOW
The Beach Blockchain Conference featured a roster of international speakers such as (from left): Jeff Berwick, founder of The Dollar Vigilante; Jeff McDonald, former vice president of NEM Foundation; and Nicholas Merten, the man behind the DataDash YouTube channel
Appsolutely launched the LoyalCoin ICO in November 2017 and concluded the sale on February 2018, when it reached its hard cap. At the Beach Blockchain Conference, a two-day event held in Cebu spearheaded by Appsolutely itself, Palacios announced that the company was able to raise $15 million worth of virtual currency from the sale of the tokens that will now be used by its clients to reward loyal customers.
Related story: PH Blockchain Startup Appsolutely Launches Initial Coin Offering to Sell Over $34-M Worth of Digital Tokens
"Imagine me, I don't have any connections," the 50-year-old CEO told the audience of over 250 people at the Beach Blockchain Conference. "You have to be based in the West Coast, in Silicon Valley to be funded. [But] we're here in Southeast Asia, in a third-world country with no access to capital. All of a sudden, I now have $15 million."
ADVERTISEMENT - CONTINUE READING BELOW
In both the Enderun summit and the Appsolutely conference, Palacios shared key insights from the LoyalCoin ICO with the aim of inspiring his fellow entrepreneurs to participate in the cryptocurrency industry. Here are four of his biggest learnings and tips:
1. Have a clear differentiator
As with all businesses, Palacios highlighted the importance of having one's business stand out from the rest. The LoyalCoin ICO was one of over 900 token sales held in 2017, so it was important for the startup to play to its unique strengths to make it an attractive option for crypto investors.
"We started not with the objective of running an ICO, but we have an objective of solving the problem of the loyalty industry, which is expiring points not being able to be used anywhere," said Palacios. "So what we did was we leveraged our five-year relationships with all the merchants (we had)."
Since Appsolutely was established back in 2013, it had already gained a significant amount of traction from developing white-label loyalty programs by the time it held its ICO. For Palacios, having large retailers and listed companies as merchants solidified the company's value proposition both as a legitimate business and as experts in the loyalty and rewards space.
ADVERTISEMENT - CONTINUE READING BELOW
"If you look at the multi-billion-dollar [cryptocurrency] companies at CoinMarketCap, probably 80 percent of them don't have a working product," revealed Palacios. "What we have to offer is that our cryptocurrency is backed by actual merchants."
2. Find the right partners
Revolutionizing the loyalty industry is no easy feat, so Palacios made sure that LoyalCoin was partnering with the right companies that would help them grow the company.
On the technology side, Appsolutely is using the technology of NEM, the blockchain platform developer behind the XEM virtual currency. Appsolutely was originally going to use the Ethereum platform as the underlying technology of LoyalCoin, but the company ultimately chose to work with NEM due to its scalability and solid community.
"This was probably the best decision we ever made because we (now) have the support of the NEM community globally," Palacios said of the partnership with NEM.
Related story: Coming soon: PH Blockchain Education and Incubation Hub for Students and Entrepreneurs
ADVERTISEMENT - CONTINUE READING BELOW
Appsolutely has also been securing critical partnerships on the merchant side to expand LoyalCoin's network of partner brands globally. One of these major partners is Snipp Interactive, a Canada-based digital marketing firm listed in NASDAQ that boasts large clients such as L'Oreal and Kellogg's, which is seen to bolster LoyalCoin's expansion in the North American market.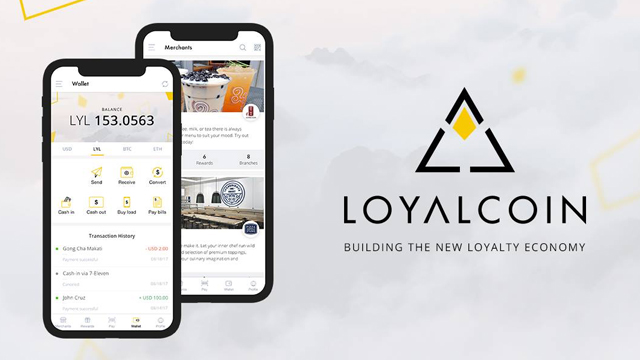 ADVERTISEMENT - CONTINUE READING BELOW
LoyalCoin's ICO reached its hard cap last February, where Appsolutely was able to raise around $15 million worth of virtual tokens
As well, at the Beach Blockchain Conference, Appsolutely announced its partnership with local listed firm Cebu Air Inc., integrating the airline's GetGo rewards program with the LoyalCoin token. Palacios revealed that this was the first of several major retail partners that LoyalCoin will be rolling out over the course of the year.
Related story: Cebu Pacific Firms Up Rewards Partnership with PH Virtual Currency Pioneer
3. Be strict and fair with your audience
For Palacios, one of the most important elements of a successful ICO is the community you build around it. Called "Loyalists," he highlighted that Appsolutely made sure that they were strict but fair with its community at all times.
"I haven't seen a (more) passionate group of people that are defending us and just talking about LoyalCoin all day," shared Palacios.
ADVERTISEMENT - CONTINUE READING BELOW
But building that community didn't come without roadblocks. When Appsolutely launched its ICO last November, the surge on the price of Bitcoin, Ethereum and XEM—the three cryptocurrencies Appsolutely accepted for purchase of LoyalCoin—hadn't happened yet.
But a month later, Bitcoin's $7,000 price in November grew to almost $20,000, while both Ethereum and XEM experienced four-fold and five-fold price growth. While that increased the value of its community's contributions, Appsolutely decided to lower the price of LoyalCoin to attract more investors.
"When we adjusted the prices and we made them lower, our early investors screamed really loud and said, 'Hey, what about us?' Now you're incentivizing the late investors with more LoyalCoin. But us, your early investors, you're not being loyal,'" said Palacios. "All of a sudden, people were complaining, were ripping us apart on Telegram and sending us nasty messages."
After hearing the community voice out their complaints, the Appsolutely team decided that the early investors would be credited LoyalCoin based on the adjusted rates. These investors were given more LoyalCoin based on their initial investment, and Appsolutely did so for free.
ADVERTISEMENT - CONTINUE READING BELOW
"We probably lost $1.2 million to $2 million because of that, but we believe that it was the right thing to do," said Palacios. "We did that, and our investors appreciated it, so it had a really good will."
Today, Appsolutely's global community consists of over 14,000 members on Telegram, a messaging platform popular among companies holding ICOs. These channels are based in five countries, namely Russia, Japan, South Korea, India and the US. Palacios also revealed that they received the largest investment from buyers based in Japan and Korea.
4. Work hard, but have fun while you're at it
To promote LoyalCoin, Palacios and the Appsolutely team went on a roadshow that involved speaking in conferences and holding meet-ups with the community. These were held not only in key cities around the country such as Cebu, Davao, Baguio and Tuguegarao, but also in a number of large locations around the world such as Singapore, Japan, Thailand, the UK and the US.
ADVERTISEMENT - CONTINUE READING BELOW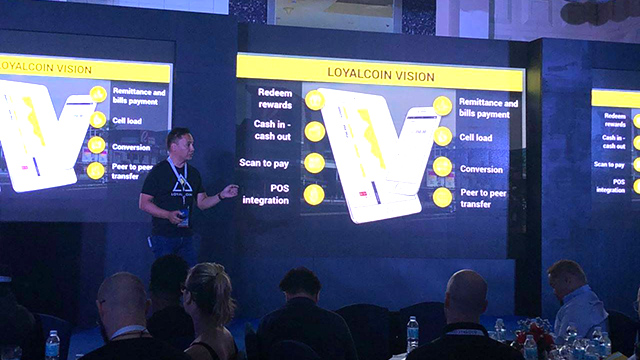 LoyalCoin aims to build a global ecosystem of merchants where you can earn and redeem rewards with a single platform
"When you're running an ICO, it's really essential that you work your ass off," said Palacios. "It's not enough that you just do digital marketing [or] pay the YouTube influencers. You have to go out there, meet people and build your community."
ADVERTISEMENT - CONTINUE READING BELOW
But he reiterated that while the entire process can be daunting, entrepreneurs should have fun while doing it. Not only did the ICO take the Appsolutely team around the world, but it also enabled the company to hold its very own blockchain conference in Cebu.
"I think running an ICO is a once-in-a-lifetime experience, and it was probably one of the best moments of my life," said Palacios.
*****
Lorenzo Kyle Subido is a staff writer of Entrepreneur PH. He was a guest of Appsolutely Inc. at the Beach Blockchain Conference in Cebu.