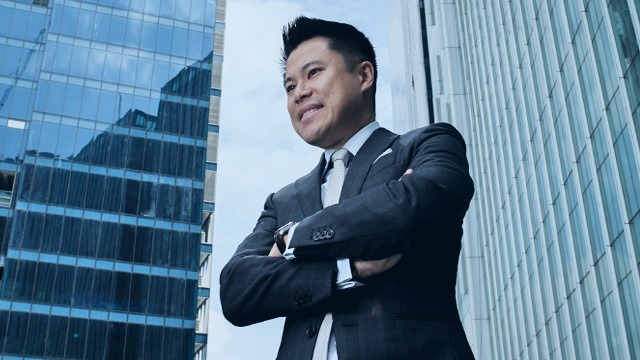 Kevin Tan is overseeing Megaworld's recurring income business but is playing a larger role in other key components of Alliance Global, the holding company chaired by his father, Andrew Tan
Kevin Tan, the eldest son of Megaworld's Andrew Tan, has been involved in the family business since his early 20s, but he is slowly expanding his role beyond the real estate business in recent years.
ADVERTISEMENT - CONTINUE READING BELOW
The 37-year-old Tan is on the cover of this month's Esquire Philippines, and in it he opens up about developing a closer professional relationship with his father and his deepening involvement in other aspects of the family business.
"You have to earn your credibility through the years," he told the magazine. "(My father) will never agree with me all the time but I think (he does) more now than before, definitely. There's a lot more constructive exchanges between us in the last five years, I would say."
As senior vice president of Megaworld and head of its lifestyle malls, Tan is in charge of the company's recurring income business, focusing mainly on the development and management of their portfolio of shopping malls and retail business. It's a critical component of Megaworld's three primary business segments, the other two being real estate sales of residential and office developments, and management of its hotel operations.
ADVERTISEMENT - CONTINUE READING BELOW
It's also Megaworld's fastest-growing business segment. In 2015, total leasing income hit Php8.73 billion, up 23.46 percent from 2014's Php7.07 billion. Rentals from offices, mostly business process outsourcing (BPO) companies, contributed about 52 percent of that number, while 42 percent came from merchants in its lifestyle malls. The remaining six percent is from hotels.
Besides overseeing the commercial aspect of the company's expansion into township developments outside Metro Manila, which includes locations in Tagaytay, Laguna, Cavite, Pampanga, Iloilo, Davao, Cebu, Bacolod and others, Tan is also now involved as a consultant for Emperador Distilleries, the liquor unit of Alliance Global that contributed Php43.6 billion or 31 percent to the conglomerate's overall sales in 2015.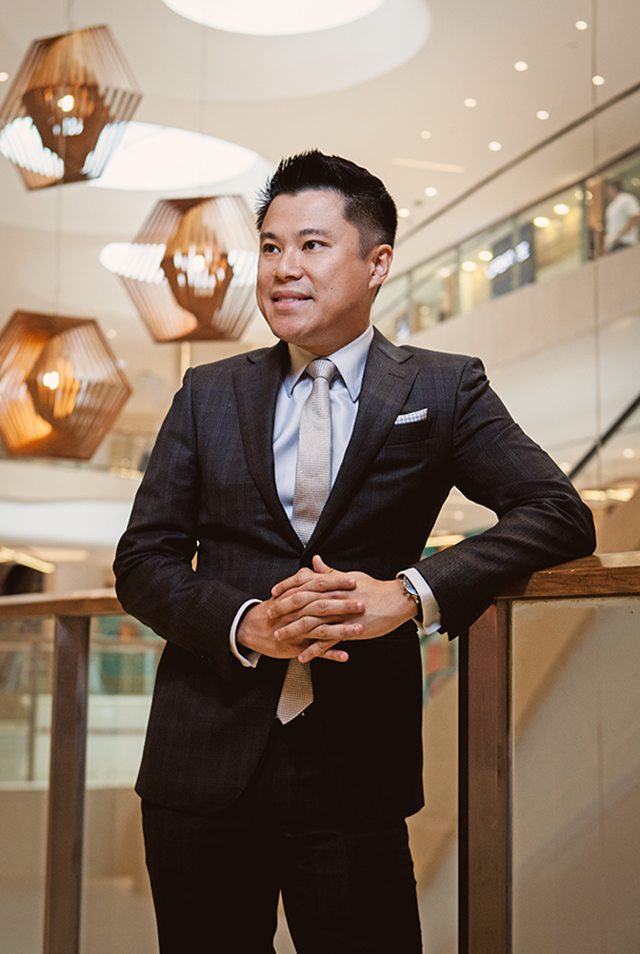 ADVERTISEMENT - CONTINUE READING BELOW
The 37-year-old Tan helped Megaworld grow into one of the country's biggest property development companies 
With its acquisition of British alcoholic beverage company Whyte and Mackay in 2014 and Spanish sherry and brandy company Bodegas Fundador (makers of Fundador brandy) in 2015, Emperador is now the world's largest brandy producer as well as being the country's biggest maker of liquor or distilled beverages.
Tan told Esquire that much of Megaworld's identity as a brand is a reflection his own tastes and choices.
"Our brand has evolved into what it is now because of the things that I personally like as well. It's no secret that I love malling. When I was growing up, I liked to go out. Until now, we still do that regularly. I think a lot of the ideas that we're doing today is a result of my personality."
Tan also talked about developing a family constitution, a set of guidelines that includes plans for succession if and when the time comes. At 64 years old, his father Andrew is one of the youngest in Forbes' list of the Philippines' billionaires. The younger Tan said he expects the family constitution to be finished within the next couple of years.
ADVERTISEMENT - CONTINUE READING BELOW
"Family is the centerpiece of everything we do," he says. "It's what defines us. What I've learned from my father is to always be humble, and that when we work, it's that we're working not just for ourselves but for everybody in the company. We have about 10,000 people that work with us directly. We believe in a legacy, but it's a legacy not for us but for them."
Read the full story in the April issue of Esquire Philippines magazine
*****
Paul John Caña is the managing editor of Entrepreneur PH