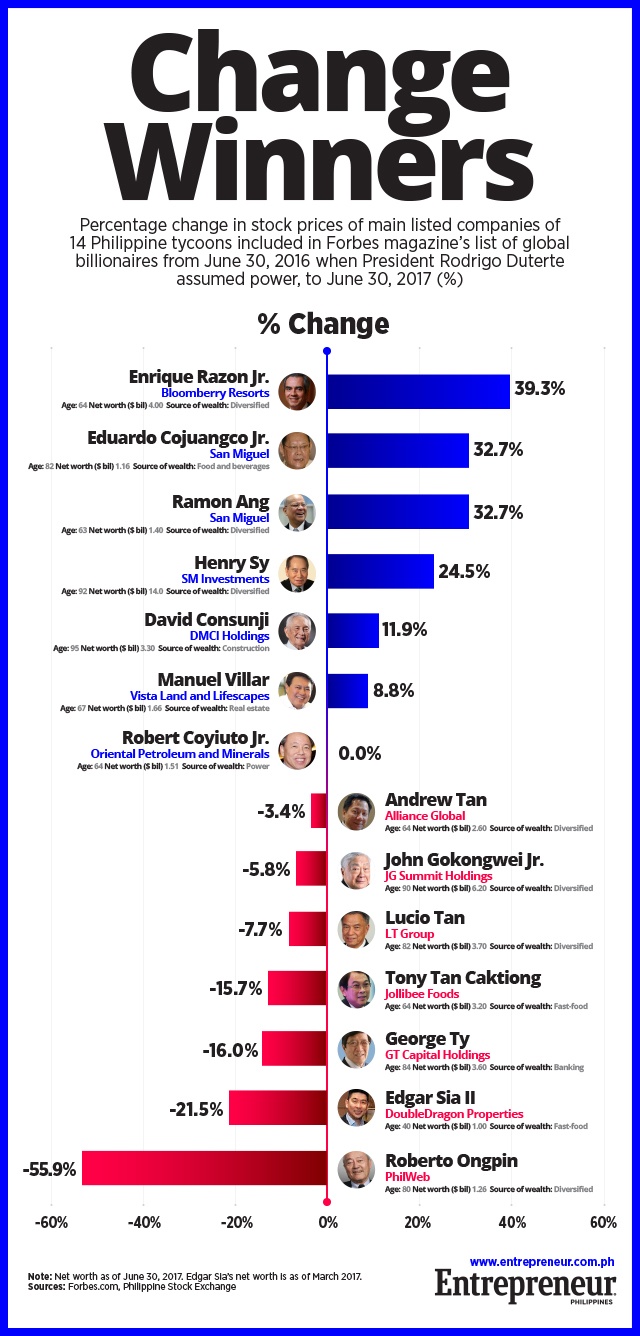 With a new government administration comes new economic policies and priorities that affect how large listed companies, especially those owned or controlled by some of country's richest persons, fare in the market.
Just ask Roberto V. Ongpin, the Marcos-era trade minister turned businessman who was singled out by President Rodrigo Duterte as an "oligarch" he wants "destroyed" in August 2016, two months into the new president's term.
ADVERTISEMENT - CONTINUE READING BELOW
Shortly after, the Philippine Amusement and Gaming Corp. (PAGCOR), the gaming regulator, decided not to renew the license of Ongpin's online gaming company, PhilWeb Corp. The stock lost nearly two-thirds of its market value. Ongpin sold his entire 54 percent stake in the company for only Php2 billion to spare the company from further troubles.
Though PhilWeb's prospects has improved since Ongpin's divestment—it is trying to renew its online gaming license and has announced plans to acquire Internet cafes dedicated to casino games—the company's share price has dropped 54.7 percent since June 30 last year.
But Duterte's anti-oligarch tirades didn't go beyond Ongpin. The rest of the country's dollar billionaires were spared from any attack instigated by the president. In fact, the main listed companies of half of the 14 Philippine tycoons included in Forbes magazine's 2017 listing of global billionaires rose in value in the past year since Duterte came to power.
ADVERTISEMENT - CONTINUE READING BELOW
The biggest gainer was Enrique Razon Jr.'s Bloomberry Resorts, owner of Solaire integrated casino, which went up by 44.3 percent. He was followed by Eduardo Cojuangco Jr. and Ramon Ang, whose San Miguel Corp. rose by 30.9 percent. Henry Sy Sr.'s SM Investments Corp., followed suit, rising by 21.4 percent.
However, several billionaires apart from Ongpin also saw their main listed firms lose value in the past 12 months. These included Edgar Sia II's DoubleDragon Properties, George Ty's GT Capital Holdings and Tony Tan Caktiong's Jollibee Foods.
*****
Lorenzo Kyle Subido is a staff writer of Entrepreneur PH