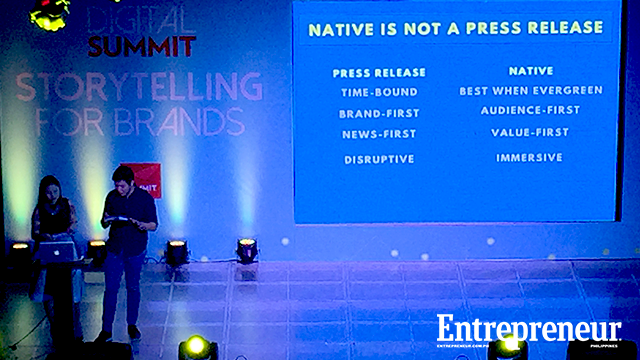 In the age of "the hyperconnected user," keeping a consumer engaged has become a constant journey through the digital maze. There are viral hits, and then some.
"If content is king, context is God," Summit Media president Lisa Gokongwei-Cheng said in her opening remarks at the Digital Summit Storytelling on Tuesday, August 2, quoting social media maven Gary Vaynerchuk. The publishing house, which owns Entrepreneur.com.ph, has spearheaded some of these moves in the digital space on how to better cater to the Filipino consumer through curated and creative content.
The event converged almost a thousand brand marketers, editors and public relations officers for a whole day of discovering the ins and outs of content marketing. Here are some key take-aways:
1. Blend in.
"Hard sell doesn't sell," said Summit Storylabs head Iza Santos and NativeLabs head Mikey Agulto in their talk, "Top 10 things I learned from content marketing for the Pinoy audience." 
ADVERTISEMENT - CONTINUE READING BELOW
Reaching and communicating to the right market means blending in the experience that they have been accustomed to, something that most content marketing materials do best.
"Users don't want their experience to be disrupted," Agulto said. "A good content marketing material informs, educates and entertains."
This may be an article, video or a series of online shows or podcasts, whatever fits and works for the brand and a publishing partner. Unlike press releases which highlight the brand, content marketing champions the audience first.
The sentiment was echoed by vice president for Business Operations of Hearst Magazines Chris Guenther who believes a company's brand values always have to weigh more than what brands can bring in.
"It's good to have revenue, but if the content doesn't match with the brand experience we want, we certainly drop it."
The publisher has worked with Netflix, Revlon and Pantene to name a few, to create marketing materials for their products that seamlessly embed in different websites, like Cosmopolitan and Elle.
2. Audience is king.        
And how does one blend in?  "Talk and join the audience's conversation," Santos said.
Thumb-stopping content is what will keep any user stop the perpetual digital scrolling and pay attention for once.
Related: 5 ways to create more compelling, viral Instagram content
Trends are there for a reason, and if brands want to be relevant, it is best to keep an eye on what is the talk of the town, may it be a new digital platform or a particular social norm.
ADVERTISEMENT - CONTINUE READING BELOW
"When we give audiences the content they want to consume, when and where they want to consume it, then the native will be a hit," Agulto explained.
It can be an informative piece on personal finance and savings, a hair-do tutorial or even a humorous poll. Tugging the hearts of online users are also getting easier with the emerging power of video.
Summit Media director for digital strategy Amina Rillo said video is fast-becoming the next hit content, as they have become more varied in form and lengths.
"Videos can be humorous, helpful, fun but it also has to be played without any sounds," Rillo said. "It has to look like a story more than an ad."
3.  Take care of the audience's trust.
Most brands come to publishers for one reason: they've built a strong following no one has. Magazines and websites have maintained certain brand qualities that its audience has come to love, and it's the brand and the publisher's responsibility to maintain it. 
"Brands come to publishers because they are the voice that consumers trust," Guenther said. "The curated content it has established makes it a viable platform."
While brands would want consumers to recognize their products firsthand, offering something that is of their interest matters, or else it would just be another clickbait that users hate.
"Clickbaits are deceiving posts or headlines that sound interesting but doesn't really match the content of the article," Agulto explained.
It matters to place disclosure before every sponsored ad just so consumers would know what they came in for. But it also does not mean one has to throw its voice out the window just because it's paid.
ADVERTISEMENT - CONTINUE READING BELOW
"There should be a logical connection among content, audience and the brand," Santos said.
4. Use all platforms.
Now that one has established the power of quality, its disseminations matters all the more.
Related: 6 new social media marketing tools
Hearst's Guenther reiterated to make use of every social media platform available to reach as much of the audience as one can. One can post an article on Facebook, pop a shout-out on Twitter or run a story on Snapchat. Each platform can have impact and deliver results with different markets in mind.
"Advertising is becoming more sophisticated. Brands want numbers—how many shares did a post get? How far is its reach?" Guenther said.
5. Success looks like teamwork.
Even a multi-level company like Hearst values the imperatives of co-working and collaboration, with Guenther emphasizing that any campaign's success boils down to teamwork.
ADVERTISEMENT - CONTINUE READING BELOW
"If you work together, you work with [a] clear process. People know what each one's responsibility is and what tasks [are] to be done," Guenther said.
With an established workflow, any team can easily accept and deliver a campaign thrown their way.
For Santos, the spirit of collaboration also applies between a brand and a publishing partner, as with anything, good work takes time.
"One can deliver better results if there [is] more time given to ensure quality," Santos said.
*****
Elyssa Christine Lopez is Entrepreneur.com.ph's staff writer. Follow her on Twitter @elyssalopz.