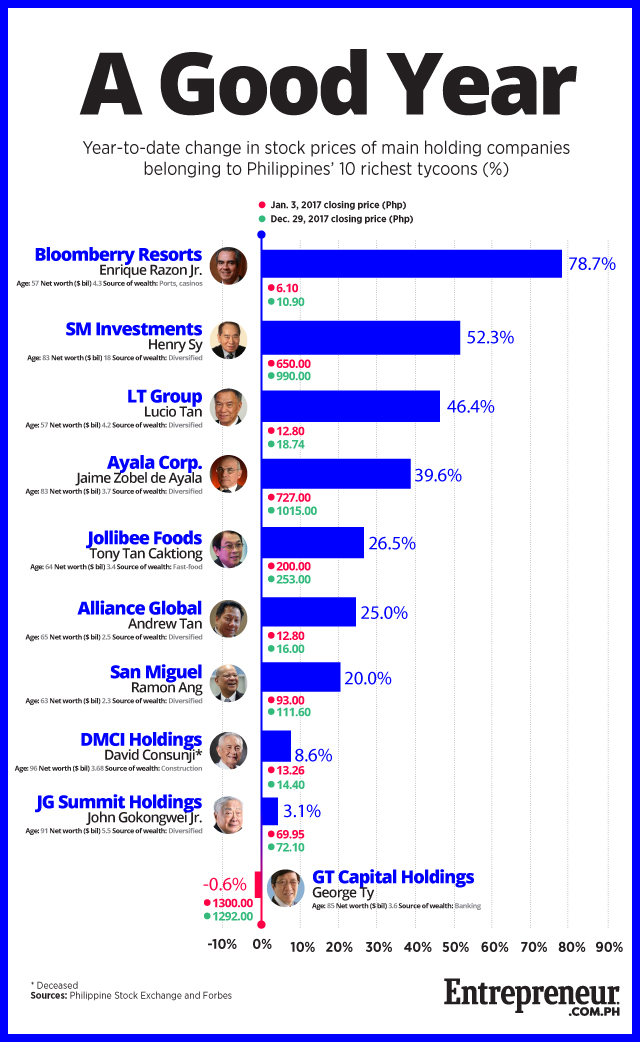 If you had bought shares in the main holding companies of the country's 10 richest tycoons at the start of the year, you'd be celebrating now that 2017 has come to a close. 
More than two-thirds of the stocks climbed over 20 percent over the year, with the highest hitting 78.7 percent. Only one fell in value, and just slightly at 0.6 percent. On average, the 10 stocks rose by 30 percent, well above the benchmark Philippine Stock Exchange index's (PSEi) rise of 22.9 percent.
Of the holding companies belonging to the top 10 richest Filipinos (based on the latest Forbes' annual rich list in September 2017), Bloomberry Resorts of ports and casino magnate Enrique Razon Jr., the country's third richest person, is clearly in the lead. It enjoyed a stock price surge of 78.7 percent from January 3 to December 29, 2017, backed by a 274.9-percent year-on-year growth in net income in the first nine months of 2017.
Bloomberry Resorts is Razon's holding company for Solaire Resort and Casino, one of only four integrated casino resorts operating in the Philippines. It outperformed SM Investments Corp., the holding firm of the country's richest man Henry Sy Sr., which rose by 52.3 percent in 2017.
ADVERTISEMENT - CONTINUE READING BELOW
Lucio Tan's LT Group posted the third highest rise, climbing by 46.4 percent. LT Group's portfolio includes the country's flag carrier, Philippine Airlines, and the dominant player in the local tobacco industry, Philip Morris Fortune Tobacco Corp.
The only holding firm among the exclusive grouping that did not register an increase in stock prices is banking tycoon George Ty's GT Capital Holdings. It runs Toyota Motors Philippines, the country's biggest automobile maker, and Metropolitan Bank and Trust, and one of the country's largest banks. GT Capital saw its stock price drop by 0.6 percent in 2017. While the company's revenue rose by 15.9 percent for the first nine months of 2017, its net income decreased by 13.8 percent in the same period.
Check out the infographic above to see how the billionaires' respective main companies compare with each other.
*****
Lorenzo Kyle Subido is a staff writer of Entrepreneur PH