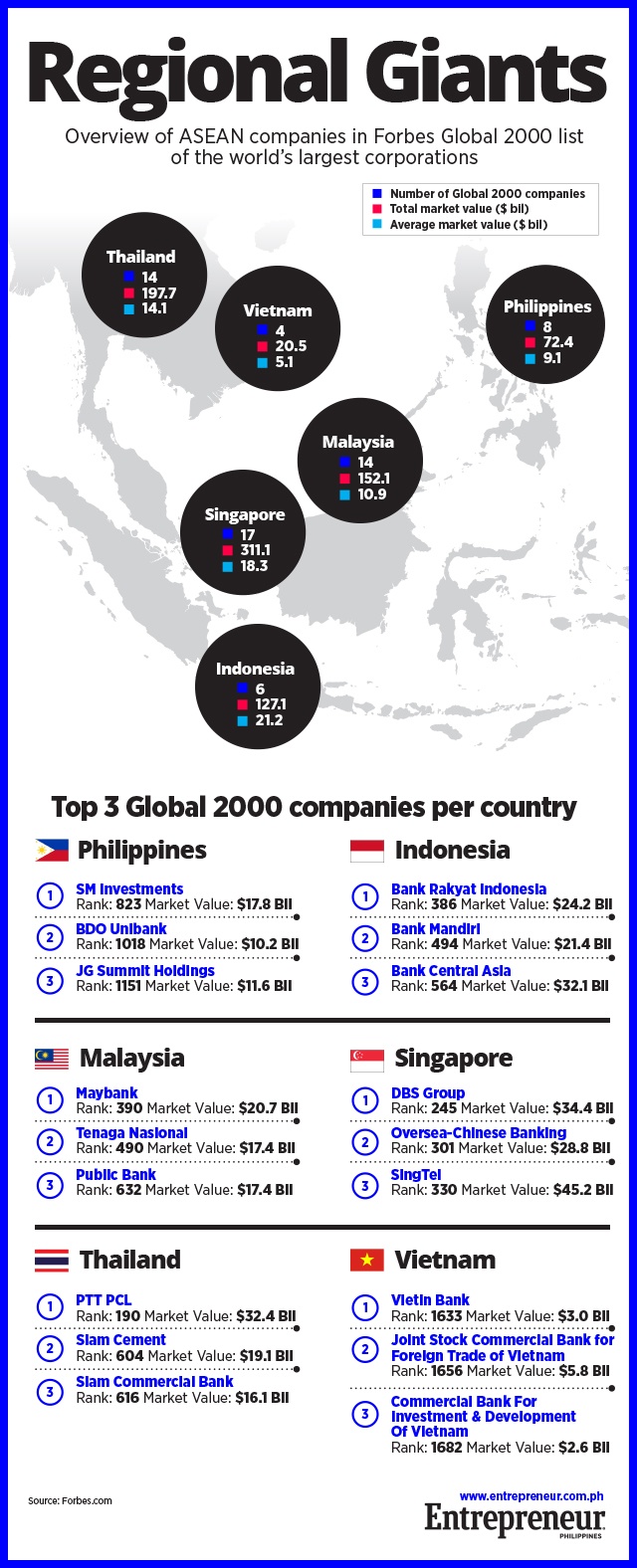 Locally, the Philippines' largest companies dominate some of the most important industries if not the economy as a whole. But how do they compare to their counterparts in other Southeast Asian countries?
A quick answer could be found by looking at the 63 companies from six Southeast Asian countries that made it to US-based magazine Forbes' annual listing of the 2,000 largest public companies in the world—the Global 2000. As of April 7, 2017, these 63 companies have a total market value of $880.9 billion.
ADVERTISEMENT - CONTINUE READING BELOW
Of the 63 companies, only eight came from the Philippines, making up 12.7 percent of the total count. These companies' combined market value of $72.4 billion accounted for only eight percent of the Southeast Asian total, suggesting their average size is much smaller compared to their regional counterparts.
Indeed, the average market value of Philippine companies included in the list reached only $9.1 billion, the second lowest after Vietnam with only $5.1 billion.
Related story: Who's In, Out Among Giant PH Firms in Forbes' Global 2000 List? 
The lion's share of both number of companies and total market value went to Singapore, whose 17 largest companies are worth $311.1 billion or 35 percent of Southeast Asia's total. Thailand and Malaysia both have 14 companies on the list while Indonesia has two less companies than the Philippines. However, Indonesia's six companies exceeded the country's eight in total market value by over $54 billion, and they had the highest average market value at $21.2 billion.
ADVERTISEMENT - CONTINUE READING BELOW
Diversified conglomerate SM Investments Corp., which is the country's highest-ranking company in the Global 2000, is only the 22nd highest in the region. Southeast Asia's top-ranking company in the list was Thai petroleum firm PTT Public Co. Ltd.—its market value stood at $32.4 billion.
Check out the infographic above for more information regarding Southeast Asia's largest companies.
*****
Lorenzo Kyle Subido is a staff writer of Entrepreneur PH