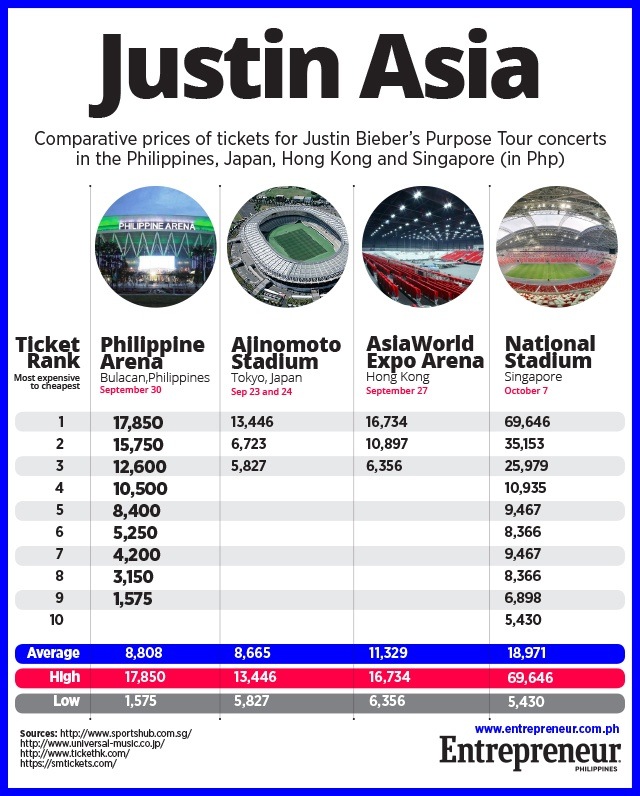 Justin Bieber fans who bought tickets for his September 30 Purpose Tour concert in Manila after event producer MMI Live began selling them last July 9 may be glad to find out they're not paying the costliest prices compared to their counterparts elsewhere in Asia.
Bieber is returning to the country for a one-night only concert at the Philippine Arena in Bulacan six years after his first live show in the Philippines in 2011. The Philippines is the third stop of Bieber's Purpose Tour in Asia, which also includes Hong Kong, Japan and Singapore.
ADVERTISEMENT - CONTINUE READING BELOW
Unlike Britney Spears' concert in Manila last month, VIP tickets for which were the priciest in seven Asian countries, the cost of premium tickets to Bieber's Manila show is lower both in relative and absolute terms.
Related story: Which Asian Country is Paying the Most to See Britney Spears?
Selling for only Php17,850 each, VIP Standing ticket for Bieber's concert at the Philippine Arena in Bulacan is way below the Php28,350 premium ticket for Britney Spears' performance at the Mall of Asia Arena.
It is also just a quarter of the premium ticket for the "Baby" hit maker's concert in Singapore's National Stadium, which costs the equivalent of Php69,646 and includes backstage access privilege. It's also just about half the second priciest ticket in the city state, which sells for Php35,153.
However, Philippine VIP tickets were a bit higher compared to similar tickets at the Hong Kong AsiaWorld Expo Arena (Php16,734) and Japan's Ajinomoto Stadium (Php13,446).
ADVERTISEMENT - CONTINUE READING BELOW
Philippine concertgoers know only too well that prices of tickets for foreign artists' performances tend to be much higher in Manila compared to other Asian countries. The relatively moderate prices for Bieber's concert may be credited to a larger venue and the producer's decision to divide the total number of seats into nine sections.
If Bieber manages to sell out his Philippine show, he will be performing to around 55,000 fans, the maximum seating capacity of Philippine Arena. That's also the capacity of Singapore's National Stadium. Meanwhile, the Ajinomoto Stadium in Japan can accommodate almost 50,000 people and the Asia World Expo Arena in Hong Kong can only hold around 14,000 guests. However, Bieber is performing two shows in Tokyo.
Bieber is only the second Western artist to perform at the Philippine Arena, the country's biggest events venue, after American pop singer Katy Perry. Several Korean pop stars, however, have performed there, including Super Junior, Girls' Generation, Red Velvet and BTOB.
ADVERTISEMENT - CONTINUE READING BELOW
*****
Elyssa Christine Lopez is a staff writer of Entrepreneur PH. Follow her on Twitter @elyssalopz