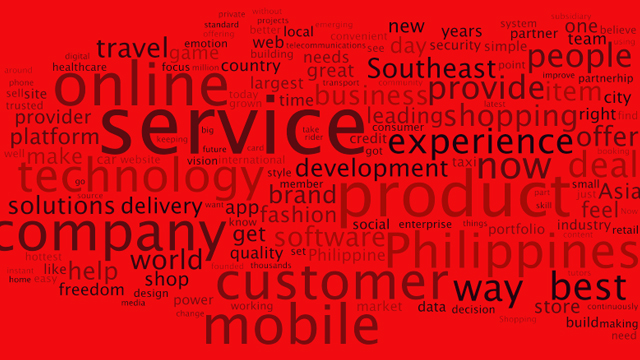 Aside from a good business model and a dedicated team, a startup needs a strong brand identity to differentiate itself from its peers and competitors.
If you're having trouble creating one for your company, maybe you can start by looking at how the country's leading startups describe themselves. Forbes Philippines magazine came up with a list of the Philippines' top 25 startups by revenue in May 2016. The word cloud above represents some of the most common terms that the 25 companies wrote in the "About Us" sections of their websites and Facebook pages.
ADVERTISEMENT - CONTINUE READING BELOW
The biggest words that stand out are "service", "product", "online", "mobile" and "technology", all referring to the types of businesses these startups have to offer. Sharing an equally large space is "customer", indicating that they clearly define the target markets of these respective businesses. Unsurprisingly, the last of the big words is "Philippines" — though many of these startups are international ventures that have established Philippine operations.
Deeper into the word cloud are some self-serving adjectives: "best" stands out, followed by "leading" and "largest". Equally important are words describing what they do: "provide" and "offer" are two of the most commonly used. Other prominent words give an idea of the industries these top startups are in such as "shopping", "deal" and "software", as well as the size of their market, with "Southeast Asia" being mentioned several times.
*****
Lorenzo Kyle Subido is a staff writer of Entrepreneur PH