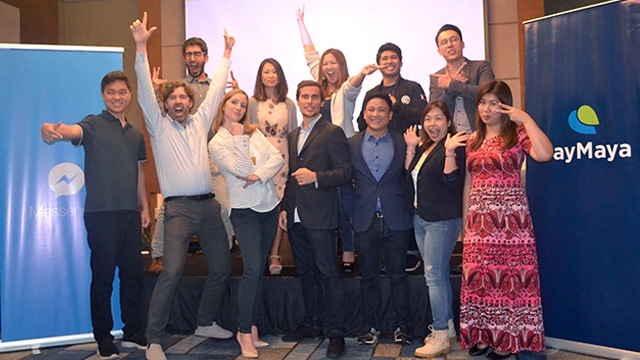 On September 22, Facebook Philippines, together with PayMaya and GCash, announced that Filipinos can now send money to friends, pay bills, and buy mobile load and data using Facebook messenger. 
These groups agree that this is a step towards financial inclusivity for financially underserved Filipinos, including the 70 percent who still don't have formal bank accounts and the 95 percent who don't have access to formal credit or credit cards.
Albert O. Tinio, president and CEO of GCash, said that with this innovation, Filipinos will have access to a digital financial wallet in less than a minute.
"Our vision is to bring down that wall of financial inclusiveness for all Filipinos," he said.
Related story: You Can Now Send Money, Pay Bbills and Buy Load Through Facebook Messenger 
Paolo Azzola, COO of PayMaya Philippines, is also excited that sending money can now be as easy as chatting with your friend.
"Democratizing payments is a channel towards improving the lives of millions of Filipinos," Azzola said.
ADVERTISEMENT - CONTINUE READING BELOW
But exactly how do you use the service?
Confirm your identity using your phone number, 'KYC'
The very first step you have to do is message the GCash or PayMaya page. A chat bot will take you through the process of verification, including encoding your personal phone number. You will receive a verification code via SMS, which you have to type in the message box.
If you're not a GCash or PayMaya user yet, the chat bot will take you to the process. However if you have an existing account, the chat bot will also guide you in connecting that account with your Facebook Messenger.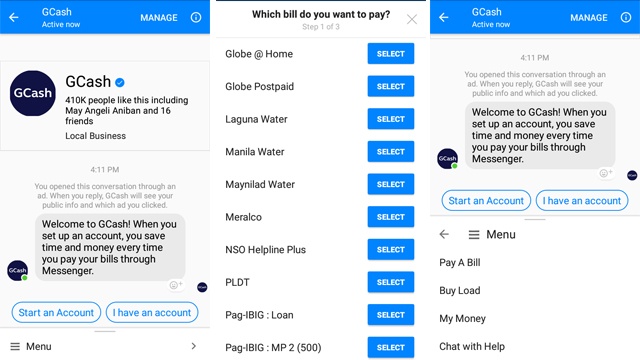 Besides this level of security, Tinio also explains that new GCash users will have limited movement in terms of moving money using their Facebook Messenger.
Similar to their GCash verification system, new users will have to do the KYC (Know Your Customer) where they have to provide information about themselves to confirm their identity. However, if they are not done with this process yet, their movement will be limited.
ADVERTISEMENT - CONTINUE READING BELOW
"The transaction of load will be limited to Php500 per day and you can only buy load for yourself," he said.
Bills can be paid but only the exact amount will be transacted. Money can also be deposited in the account, however, the sending will be limited. This is why he suggests new users to upgrade their account by finishing the KYC.
Azzola also assured their users that there are layers of protection to keep their money safe, in the wake of allegations about Facebook account hacking.
"As a financial institution, we are regulated by the BSP (Bangko Sentral ng Pilipinas). We take security very seriously. Our outmost priority way before enabling people to pay is actually making sure that the system is secure and there are right procedures in place," Azzola told Entrepreneur Philippines.
One example Tinio gave is that in order for someone to execute a transaction with Messenger, it would be password-protected.
Since the transactions within Facebook Messenger using GCash and PayMaya will also be electronic money, Tinio and Azzola both confirmed that they comply with the strict mandate of the BSP that users can only keep a maximum of Php100,000 in their electronic wallets. 
Pay bills, buy load, transfer money to friends with several clicks
Did you know that Filipinos spend an average of 42 minutes for roundtrip transit that would also cost them around Php43 worth of transportation fare just to pay bills? They also have to wait around 25 minutes in line. With Facebook Messenger, you can now pay using only your mobile phone.
ADVERTISEMENT - CONTINUE READING BELOW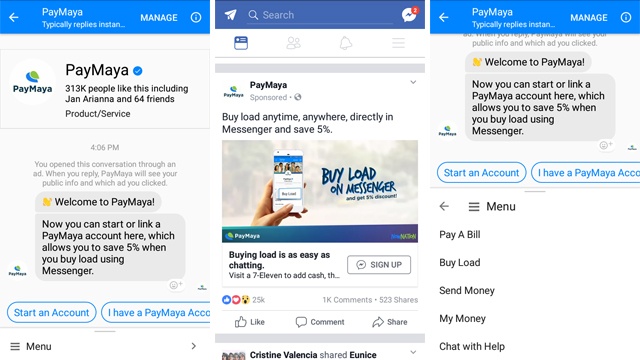 Pay Bill Step 1: Simply select "Pay A Bill" from the PayMaya or GCash bot menu. Select which bills to pay. The number of participating merchants follows the same merchants connected to PayMaya and GCash. For GCash, you can pay your bills for Meralco, Manila Water, Maynilad, Laguna Water, NSO Helpline Plus, PLDT, BIR, Pag-IBIG, SkyCable or Destiny Cable, your Globe bills, and more. For PayMaya, you can also pay your Globe bills, with the addition of Smart bills, bills from Meralco and various power companies, Manila Water, as well as insurance companies like Manulife.
Pay Bill Step 2: After selecting which merchant to pay, simply enter the details for the bill. If you have balance in your account, the payment will post immediately. Then you also have to re-enter your Facebook password to confirm your identity.
Pay Bill Step 3: If there is not enough balance in your account, you will receive a bill pay drop-off code.
ADVERTISEMENT - CONTINUE READING BELOW
Pay Bill Step 4: You can reload your account by going to a nearby Smart Padala (for PayMaya or Globe), Robinsons or Tambunting outlet (for GCash) on or before the bill due date. Give your drop-off code and cash to the retailer. The retailer enters the code in their phone and the money will be sent to the biller.
For buying load, both GCash and PayMaya offer discounted load when you buy directly from Facebook Messenger. The benefits of buying load digitally also include the ease of adding funds to the GCash or PayMaya accounts at local retailers such as 7-Eleven. Whenever you run out of load, you can also use the funds in your account to top-up anytime, no matter where you are. Finally, discounts are also frequently offered by GCash and PayMaya.
Buy Load Step 1: Select "Buy Load" from the GCash or PayMaya bot menu.
Buy Load Step 2: See the available top-up discount and choose an amount.
Buy Load Step 3: Receive the transaction confirmation and be notified of the new account balance.
Sending money to loved ones and friends is also easier with Facebook Messenger. The current consumer journey is usually completed at remittance centers or pawn shops. This often requires filling out lengthy forms, as well as providing additional data such as a friend's phone number, pick up location, or bank account information.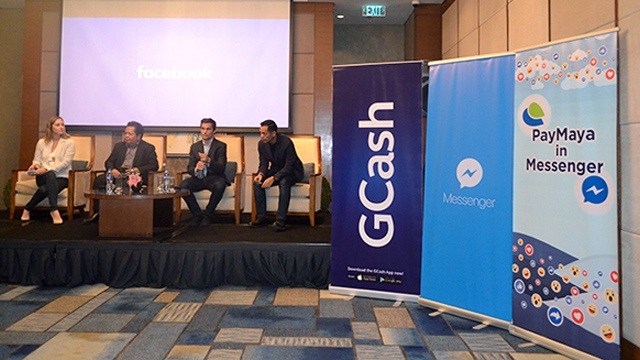 ADVERTISEMENT - CONTINUE READING BELOW
Send Money Step 1: Select "Send Money" from the bot menu. Search and choose the recipient of the money from your friends list.
Send Money Step 2: Confirm your identity with a simple verification process that is done within Messenger.
Send Money Step 3: Enter an amount that you will send. You may even write a note what the money is for. Example: Allowance for the kids.
Send Money Step 4: The recipient will receive a notification of the money transfer. The recipient may click "View Details" to check the amount and message.
Send Money Step 5: The recipient can click "Manage Money" and use the money transferred to transact within Messenger as well, such as buying load or paying bills.
As of now, this feature is only available to local transactions and among contacts or friends. Ginger Baker, product lead of Mobile Financial Services in Facebook, said that other than the Philippines, only the US has a "peer-to-peer service with a similar experience."
Baker also acknowledges that a lot of Filipinos are also SME owners who own business pages and connect with their customers online. She said that they are also looking into the possibility of these customers being able to transact with business pages online using Facebook Messenger.
*****
Nicai is the marketing head of Rising Tide, a technology solutions company. She is also the Manila Bureau Manager of Probe Media Foundation's Mulat Pinoy-Kabataan News Network and a regular contributor for SPOT.ph. Follow her on Twitter, @nicaideguzman, and LinkedIn, https://www.linkedin.com/in/nicaideguzman
ADVERTISEMENT - CONTINUE READING BELOW