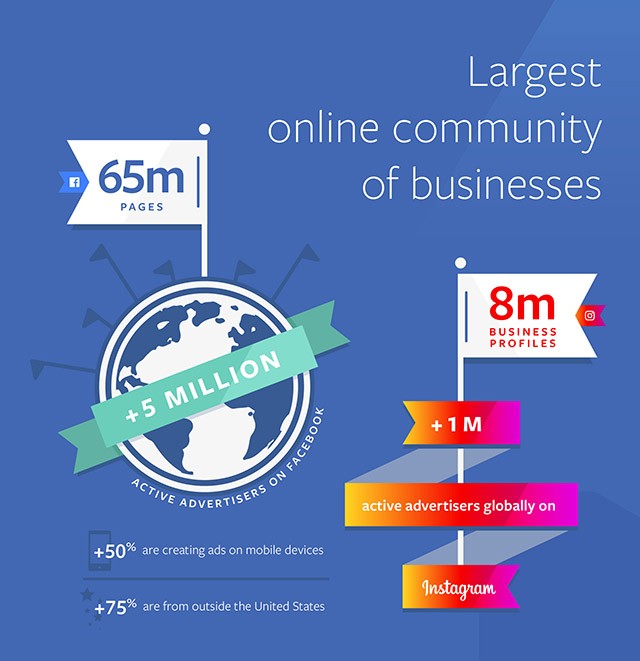 Facebook believes that when small businesses succeed, new communities thrive. The world's biggest social media platform, as well as its photo-sharing subsidiary Instagram, want to help small and medium businesses come up with a strong mobile strategy in an increasingly mobile-first world.
According to Nadia Tan, Facebook head of small and medium business for Southeast Asia, Facebook and Instagram have the largest online community of small and medium businesses, with about 65 million pages on Facebook, and eight million business profiles on Instagram.
ADVERTISEMENT - CONTINUE READING BELOW
"Facebook is committed to help build and empower small communities and this includes small businesses," she said.
With over five million active advertisers on Facebook, here are some solutions that Facebook is now offering to make these businesses connect with more customers.
Save Time Managing Ads and Communities
Gone are the days of clicking a lot of buttons in the Ads Manager tab. The Ads Manager App optimizes business owners' ads and helps them get insights with just a few taps. The app helps you see how your ads are performing in just one snapshot. You can even select ads and compare them side by side.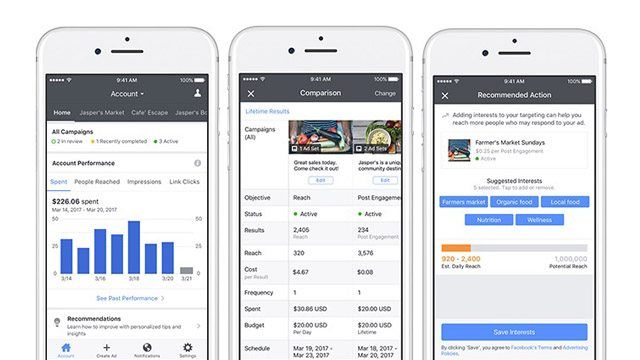 ADVERTISEMENT - CONTINUE READING BELOW
Users can see their ad performance in a snap
This is also good news for agencies or freelancers who are managing various accounts because the Ads Manager App help you switch between accounts more easily. It also recommends actions to increase ad performance like extending a high-performing ad with just one click or including a relevant interest to add to your targeting.
Aside from the Ads Manager App, Facebook also offers the Pages Manager App that collates customer queries and concerns across Facebook, Messenger, and Instagram in a single inbox. The app was launched on mobile in November 2016, but is now also available on desktop starting this month.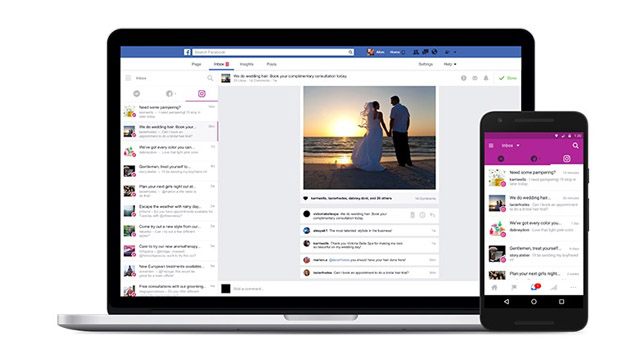 ADVERTISEMENT - CONTINUE READING BELOW
There's now a single inbox to answer customer and follower questions
Improving Ads with Content and Targeting
With more and more businesses boosting posts and running ads on Facebook, big corporations have the advantage, with the help of creative agencies that can create their ads and posts. Of course, Facebook wants to help smaller businesses to have this edge as well and this is why they created Mobile Studio. It is a faster, easier and more cost-efficient way to create content for their page which they can do using only a mobile device.
Mobile Studio helps business owners learn how to do professional-looking posts in minutes which can turn into more efficient ads and engaging posts.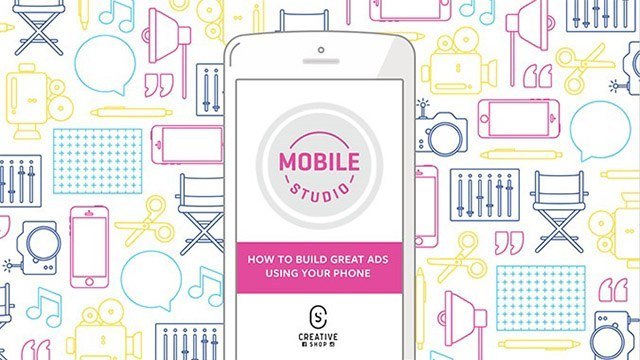 ADVERTISEMENT - CONTINUE READING BELOW
With Mobile Studio, users just need their mobile phone to create professional-looking ads or posts
In terms of targeting for advertisements, brands and businesses can now find customers near and far. Facebook has made it easier to run global campaigns from anywhere. This is good news for local brands who are planning to tap the international market. Aside from Worldwide or Global Region Targeting, ad managers now have the option to target International Lookalikes to help businesses find new people in other countries who are similar in terms of behavior and interests as their best customers.
Aside from these, Facebook will also offer the Country Snapshots and Insights Playbook which can help businesses create customized campaigns in each country.
Learn New Skills From Like-Minded Businesses
Facebook has made running ads and managing pages easy but MSMEs who manage their own pages do not necessarily have marketing or advertising backgrounds. This is why Facebook also wants to educate users to make their ads and posts competitive by offering Blueprint eLearning courses where they can learn the best practices for advertising.
ADVERTISEMENT - CONTINUE READING BELOW
The online education platform is available in 10 languages and today more than one million unique users—half of whom are small businesses—use Blueprint. Some top courses include Facebook Terminology, A/B Testing and Successful Campaigns Best Practices. The company plans to add new courses each month.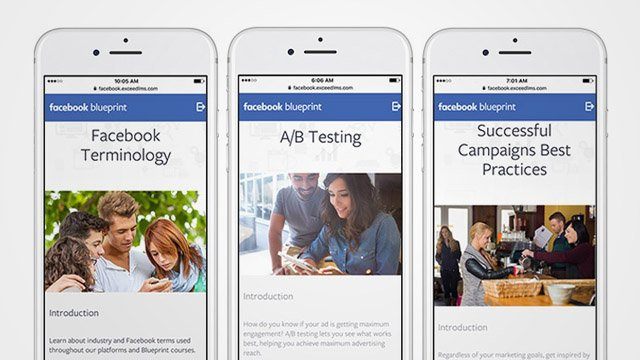 Facebook rolled out Blueprint elearning courses so users can learn best practices for advertising at their own pace
ADVERTISEMENT - CONTINUE READING BELOW
Almost 2.5 million eLearning courses have already been taken by people across more than 150 countries since it rolled out and 50 percent of their total course enrollments are taken by small or medium business owners and employees.
Aside from Blueprint eLearning, there is also a chance to learn from like-minded business owners. Facebook is starting a Small Business Council where business owners can share their stories and advise one another. They have already launched a site dedicated to their US Council and other countries are soon to follow.
For Tan, Facebook can help small businesses in the Philippines become large and local businesses become global.
"We're investing to create simple solutions to help small businesses grow in today's mobile economy," she said.
***** 
Nicai is the marketing head of Rising Tide, a technology solutions company. She is also the Manila Bureau Manager of Probe Media Foundation's Mulat Pinoy-Kabataan News Network and a regular contributor for SPOT.ph. Follow her on Twitter @nicaideguzman, and LinkedIn.
ADVERTISEMENT - CONTINUE READING BELOW