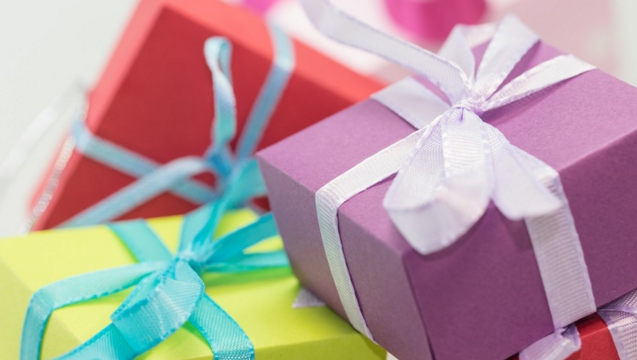 Be it a sumptuous home-cooked Christmas meal, watching New Year's Eve fireworks in the park, or selecting the perfect gift for your loved one, the year-end festive season is a time for celebration for people across Southeast Asia—and an opportunity for businesses big and small to connect with their audiences on Facebook.
ADVERTISEMENT - CONTINUE READING BELOW

Mobile is redefining the festive experience
Across the region, mobile has been the constant festive season companion that many can't leave home without. People share their favorite moments or shop for gifts online while waiting in queues.
On Facebook, people are sharing more during the season and on their preferred device. Compared to the rest of the year, people share 30% more mobile content during the festive period and 75% of posts created were on mobile.
The new festive album
Festive traditions continue to take place across Southeast Asia and these experiences are coming to life on Facebook, where friends and family join the celebrations.
The biggest festive moments are shared on Facebook. Whether it's scribbling New Year resolutions or wrapping Christmas gifts, people share more mobile posts on New Year's Eve (68% more) and Christmas Eve (36% more) compared to the rest of the season.
And it's not only Generation Y—people across demographics are sharing more on Facebook during the season, including youths (19% more), millennials (23% more), parents (17% more) and mums (19% more). Be it a mum sharing her new recipe or millennials crowd-sourcing gift ideas, brands have the opportunity to reach them with relevant messages.
ADVERTISEMENT - CONTINUE READING BELOW
The festive season isn't complete without Christmas messages or a simple word of thanks, and Facebook is becoming the digital greeting card. Across Southeast Asia, Facebook conversations during the period are centered on greetings and festive activities in the Philippines (84% of Facebook chatter), Indonesia (90%) and Singapore (52%).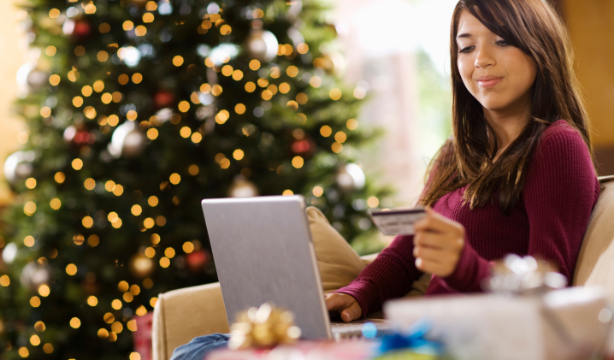 The online shopping cart
ADVERTISEMENT - CONTINUE READING BELOW
The year-end season is synonymous with gifting. People across cultures are not only looking for the perfect present, but also seeking for gift inspiration, finding the best deals, and purchasing most conveniently and quickly.
Shopping starts ramping up in the festive season and peaks in December, when shoppers go into overdrive—retail store check-ins on Facebook spike by 14% compared to the rest of the season, with 39% of check-ins taking place on Saturdays and Sundays.
During the key festive milestones of Christmas Eve, Christmas Day, and New Year's Eve, retail store check-ins see a general spike across the region, revealing that people are shopping more and also finding time to access Facebook on mobile to seek advice or share their purchases.
It's not just shopping in stores—online shopping will increasingly become the shopping portal of choice this year. Over 50% of people in the Philippines, Indonesia, and Thailand said they are intending to shop online more this season, according to Facebook commissioned polls.
ADVERTISEMENT - CONTINUE READING BELOW
Whether in-store or online, Facebook impacts shopping decisions across Southeast Asia. Over 4 out of 5 people in the Philippines (91%), Indonesia (83%), and Thailand (84%) said the social networking site is influential to their shopping during the season. More than 1 in 2 people in the Philippines (63%), Indonesia (56%), and Thailand (52%) also said that the Website is the preferred platform to seek advice about what to buy from others.
People shop on different days during the week on Facebook, which presents opportunities for marketers to heighten their always-on campaigns on days with highest conversion rates through special deals. Mondays are most popular for online shopping in the Philippines, Indonesia, and Thailand, while Vietnamese people prefer Thursdays and Singaporeans prefer Sundays. When it comes to shopping on mobile, Fridays are the most popular day across the region.
And shopping continues even after the New Year countdown. In January, users are shopping online 19% more compared to the festive season on average, which means that many still browse and respond to the best post-Christmas deals to kick off the year.
ADVERTISEMENT - CONTINUE READING BELOW
Key marketer takeaways
•    Bring the festive cheer to mobile. People are using Facebook on mobile to seek gift ideas or share Christmas selfies, so reach out first on mobile. Craft eye-catching ads with concise copy for the small screen. Let people know why they should care about your business and call them to action. Read about more tips for Facebook ads.

•    Maximize sales during the festive season. People are looking for the best gifts, so engage them with targeted creative, driving them to purchase online or in store. Use Custom Audiences to reach people on your contact list and leverage carousel ads to showcase your products and services.

•    Keep customers engaged after Christmas. Shoppers continue hunting for the best gifts and deals into the New Year, so keep reaching out to people who matter. Identify new customers with similar traits to your current ones using Lookalike Audiences. Run ads that define your brand beyond Christmas—consider back to school and New Year messages that will resonate.


ADVERTISEMENT - CONTINUE READING BELOW
The festive season on Facebook in the Philippines  
•    70% of festive season posts were created on mobile

•    Filipinos share 50% more video content and 37% more photo content than the rest of the year

•    Shopping peaks on Christmas Day with 59% more retail store check-ins, and continues into the New Year with 16% more online shopping in January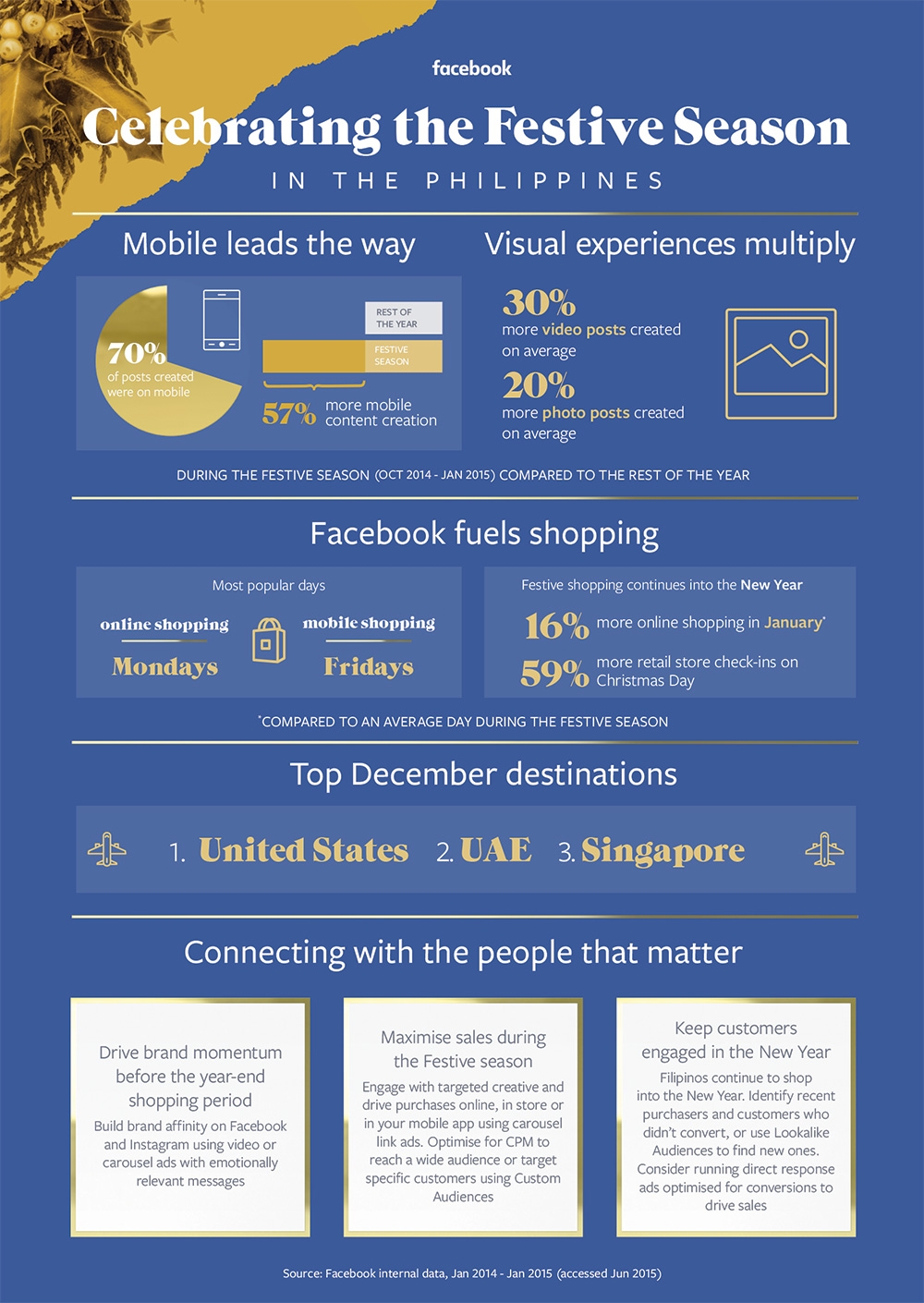 ADVERTISEMENT - CONTINUE READING BELOW
About Facebook
Founded in 2004, Facebook's mission is to give people the power to share and make the world more open and connected. People use Facebook to stay connected with friends and family, to discover what's going on in the world, and to share and express what matters to them.