Panelists at the launch of the Grameen Foundation's CAN program's insights report last April 12
According to the latest report on financial inclusion by the Bangko Sentral ng Pilipinas (BSP), 571 local government units (LGUs) were considered "unbanked" or lack any form of formal banking presence as of June 2017. That represents 34.9 percent of the total LGUs in the country, a marginal improvement from the 37.3-percent figure in 2011.
However, the number of unbanked LGUs goes down to 11 percent if one considers alternative access points to financial services, among which include pawnshops, credit cooperatives, non-government organizations providing microfinance services and several other types of non-bank financial institutions. Adding over 61,000 means for Filipinos to gain access to financial services, the BSP recognizes the importance of these alternative access points to bridge the gap between banks and unbanked communities.
One of the many organizations that are taking advantage of these alternative access points in promoting financial inclusion in the country is the Grameen Foundation, a global nonprofit aiming to empower and enable the poor, with a focus on women, to rise from poverty and hunger through innovative technology. With the support of investment bank JPMorgan Chase & Co. and charity fund provider Tomberg Family Philanthropies, the foundation launched the Community Agent Network or CAN program last 2015 to create new access points within low-income communities by recruiting and training financial agents.
ADVERTISEMENT - CONTINUE READING BELOW
"The goal of the CAN program is to increase the resiliency of Filipino households by building an agent network that delivers technology-enabled financial services to unserved and underserved communities," described Gigi Gatti, Grameen Foundation's regional director for Asia, at the launch of the CAN program's insights report held last April 12.
Running from August 2015 to March 2018, the CAN program recruited a total of 1,896 financial agents across 423 barangays nationwide. And according to Lauren Hendricks, executive vice president at Grameen Foundation, the program has not only added value to the communities but to the agents as well.
"Those who become agents typically see an increase in their income of 20 to 30 percent," revealed Hendricks. Through the CAN program, these individuals are now able to offer various financial services such as load top-up, bills payments and electronic money transfer on top of their established businesses.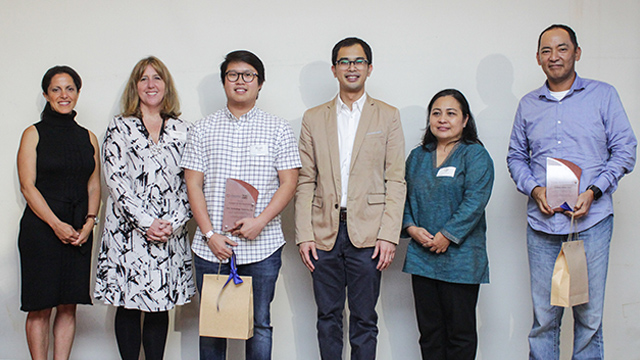 Around two-thirds of these agents are owners or operators of small businesses such as sari-sari stores, beauty parlors and laundry services. Many of these access points are located within neighborhoods and barangays, allowing individuals to transact without needing to go to a bank branch, which are usually in city centers far away from these communities.
ADVERTISEMENT - CONTINUE READING BELOW
"About 91 percent of the agents are within residential areas," said Gatti. "This means that we can really complement the banks who are still clustered in city or town centers." She added that the small businesses that many of these agents own "are the establishments that are deeply rooted within our villages."
These 1,896 agents were able to offer financial services to their communities through Grameen Foundation's two fintech partners. Some agents used the Digipay app, a mobile platform developed by FSG Technology Ventures that provides various digital financial services such as payments, top-up and even microinsurance. But most agents used Pos!ble.net, a point-of-sale device created by Action.Able Inc. enabling individuals to turn their stores into payment centers.
Related story: With Just Php35k, You Can Turn Your Store, Shop or Home into a Payment Center and Earn Thousands from Transaction Fees 
As of January 2018, financial agents recruited through the CAN program have fulfilled over 4.3 million transactions amounting to around Php1.3 billion. While a majority of these transactions involved load top-up and electronic money transfer, agents were also able to offer banking services that connected their customers to formal financial service providers.
Both Hendricks and Gatti also highlighted that three-fourths of the financial agents in the CAN program are women, a departure from the normally male-dominated profession. The Grameen Foundation believes that having female financial agents is more effective in reaching unbanked female end-users and driving financial inclusion among women.
"Encouraging and promoting female mobile money agents is one of those key breakthroughs that we believe can increase digital financial inclusion for women," said Hendricks.
ADVERTISEMENT - CONTINUE READING BELOW
While the Grameen Foundation has finished rolling out the CAN program, the organization hopes that its program and insights report lead to even more projects and efforts promoting financial inclusion within the country. Both Hendricks and Gatti point out that while much has been done not only within their foundation but also in the government and in other private organizations, there is still a lot to do in the overall mission of making financial services accessible to everyone.
"From the time we launched the CAN program to present, the payments space has grown at a really fast pace. We are proud to have been part of that journey but it does not stop there," said Gatti in a statement. "When people start trusting a payments platform, they become curious about what else they can do—and that leads to other opportunities."
*****
Lorenzo Kyle Subido is a staff writer of Entrepreneur PH