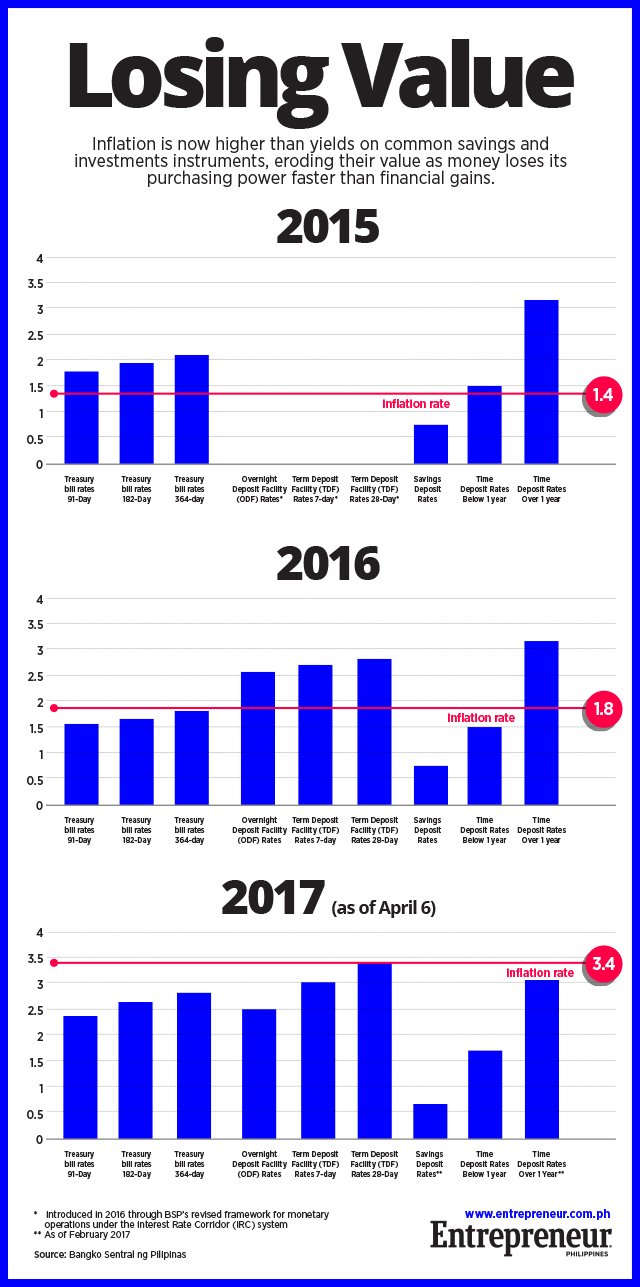 Philippine headline inflation in March hit 3.4 percent, according to the Philippine Statistics Authority, due to the faster pace of increases in prices of consumer goods. This is the highest in 28 months, picking up from the 3.1 percent recorded in February and 1.1 in March last year.
Aside from a decline in the purchasing power of the local currency, one of inflation's adverse impacts is that it erodes the real value of savings. If the inflation rate begins to exceed the yields on common investment instruments, as what seems to be happening now (see infographic), investors actually lose out. That's because the purchasing power of their savings turns out to be lesser when the investment matures.
ADVERTISEMENT - CONTINUE READING BELOW
Related story: How businesses are coping with higher inflation
Until two years ago, the situation was benign for investors. In 2015, most investment instruments (such as Treasury Bills and time deposits of banks) were earning yields higher than the average inflation of 1.4 percent that year. Only savings deposits were earning less than inflation.
Thanks to rising interest rates, real yields (net of inflation) remained positive the following year, 2016, despite the inflation rate climbing to 1.8 percent. Though returns on Treasury Bills and savings and time deposits of less than one year were below the inflation rate, the overnight and term deposit facilities of the BSP as well as banks' time deposits over one year earned above inflation rates.
But things seemed to have made a sudden turn for the worse in March, when inflation rate rose to 3.4 percent, above the yields of the most common fixed-income investment instruments. If the situation persists, holders of these savings and investment assets may lose more from inflation compared to what they gain from interest earnings.
ADVERTISEMENT - CONTINUE READING BELOW
For investors, that could be a signal to shift to higher-yielding but riskier investment instruments.
*****
Pauline Macaraeg is Entrepreneur PH's data journalist. Follow her on Twitter @paulinemacaraeg