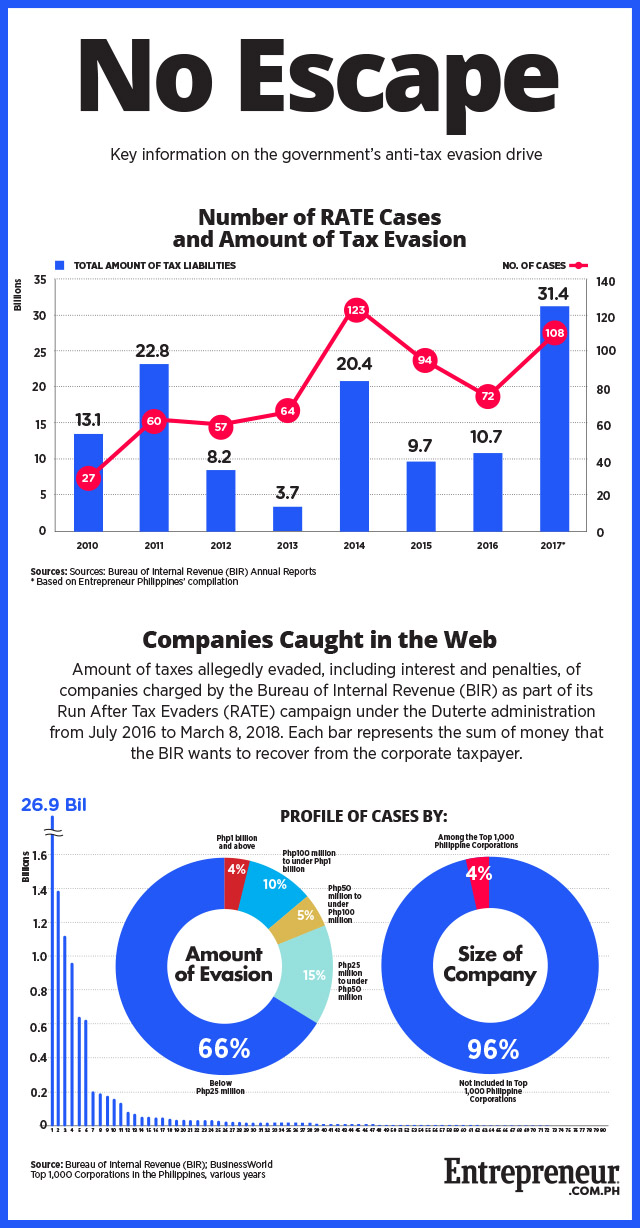 Every now and then, there's a news report about a prominent person or a well-known company being charged by the Bureau of Internal Revenue (BIR) with failing or refusing to pay taxes to the government.
Perhaps this should no longer come as a surprise as the government is serious not just about collecting taxes but also in naming and shaming taxpayers that it suspects are not paying the correct amount of taxes. Since 2005, the BIR has been carrying out a program called Run After Tax Evaders (RATE) to publicize the filing of complaints against suspected tax evaders, in the expectation it would discourage others from following their example.
On average, the BIR has filed an average of 76 cases involving Php15 billion in evaded taxes a year from 2010 to 2017, according to the tax agency's annual reports. All in all, there had been 629 cases involving a total of Php123.1 billion since 2010 until March 8, 2018.
ADVERTISEMENT - CONTINUE READING BELOW
Under the previous administration of former President Benigno Aquino III from July 2010 to June 2016, the BIR filed 492 tax cases under RATE with the Department of Justice.
Since July 2016, when President Rodrigo Duterte came to power, the BIR has filed 141 RATE cases as of the first week of March 2018. Of these, 85 cases were filed against companies and their respective officers while the rest targeted individual taxpayers.
The infographic on this page takes a close look at the profile of companies accused by the BIR of tax evasion. We counted a total of 79 companies (which is lesser than the 85 number of cases as some firms faced multiple cases).
One thing that stands out is that a majority of the cases involved amounts of less than Php25 million, suggesting a vast majority of the accused companies are not the large companies that dominate business and economy. In fact, there were only three cases where the amounts exceeded Php1 billion.
Another characteristic of the list of companies accused under RATE is that only three of them belonged to the top 1,000 corporations in the country, based on annual listings made by the BusinessWorld business newspaper from 2003 to 2016.
Given the wide coverage of the BIR's anti-tax evasion drive, all corporate taxpayers, even those who consider themselves small and low-key, should seriously consider taking part in what tax expert and advocate Raymond Abrea calls Citizen Tax Planning, which aims to help companies pay the right taxes without the burden of unnecessary penalties and compromises.
*****
Pauline Macaraeg is Entrepreneur PH's data journalist. Follow her on Twitter @paulinemacaraeg
ADVERTISEMENT - CONTINUE READING BELOW