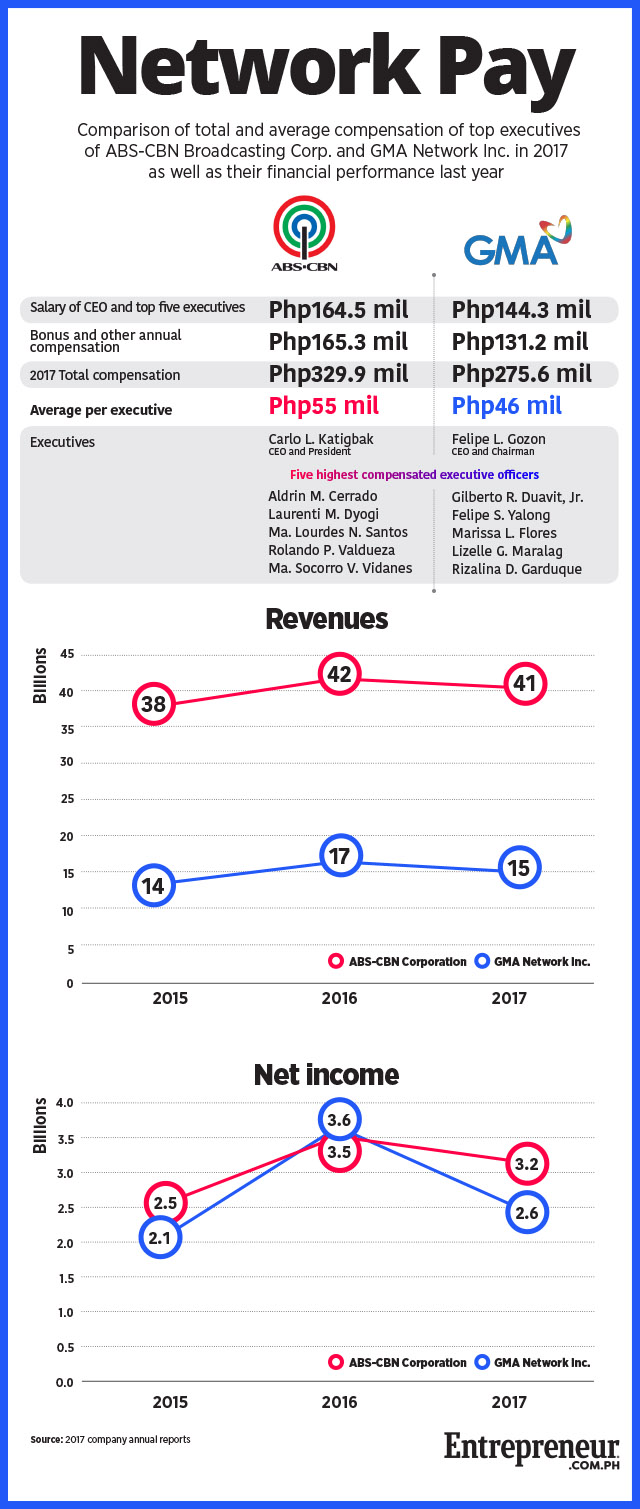 ABS-CBN Corporation and GMA Network Inc., the two biggest broadcasting network stations in the country, spend a lot of money. From the production of shows to advertising and marketing operations, both stations allocate billions of pesos. But one of its biggest expenses is in compensating their executive officials.
Based on their 2017 annual reports, both companies paid millions to their top executives. On average, the highest-paid executives from ABS-CBN Corporation earned 20 percent more than their counterparts from GMA Network in 2017.
The company, which broadcasts on Channel 2 and is owned by the Lopez family, listed Carlo L. Katigbak, Aldrin M. Cerrado, Laurenti M. Dyogi, Ma. Lourdes N. Santos, Rolando P. Valdueza and Ma. Socorro V. Vidanes as its top six most highly compensated executive officers. Collectively, they earned a total of Php329.9 million in salaries, bonuses and other annual compensations in 2017. That's Php55 million each on average.
In comparison, GMA Network, which operates Channel 7, reported that it paid its top six executives a combined annual compensation of Php275.6 million in 2017. On average, that's Php45.9 million each for Felipe L. Gozon, Gilberto R. Duavit, Jr., Felipe S. Yalong, Marissa L. Flores, Lizelle G. Maralag and Rizalina D. Garduque.
ADVERTISEMENT - CONTINUE READING BELOW
The two broadcasting stations can afford to pay their executives this much because they earn a lot, too. Both ABS-CBN Corporation and GMA Network raked in billions in 2017, but both reported declines in earnings from their respective 2016 records.
ABS-CBN earned Php3.2 billion profits from revenues of Php40.7 billion, down 10 percent from the previous year's net income of Php3.5 billion. Its revenues fell by two percent.
Meanwhile, GMA Network's revenues totaled Php15.3 billion in 2017—an eight-percent decrease from 2016. Its profits also declined 30 percent from Php3.6 billion the previous year.
But while ABS-CBN clearly reported almost three times the revenues of its main competitor, GMA Network's net income remains close at Php2.6 billion—an indicator that even though it earned less in sales, it actually spent less than ABS-CBN.
ABS-CBN is the country's 74th biggest listed firm by market capitalization as of the end of first quarter of 2018, while GMA Network ranks 83rd.
*****
Pauline Macaraeg is Entrepreneur PH's data journalisrt. Follow her on Twitter @paulinemacaraeg