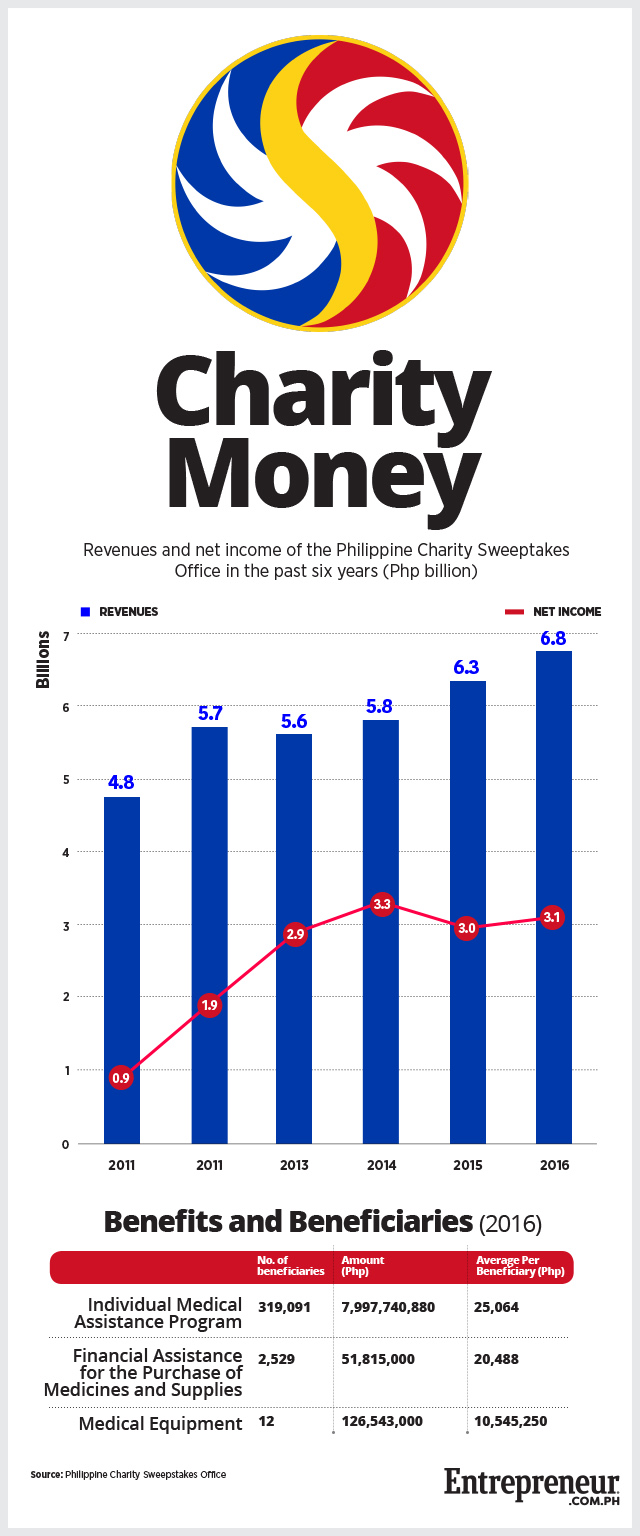 The Philippine Charity Sweepstakes Office (PCSO) hogged headlines last week when the House of Representatives conducted a public hearing on allegations that operators of the illegal numbers game jueteng had practically taken over one of its gaming projects, the Small Town Lottery (STL), in many localities.
While much of the lawmakers' attention was focused on the verbal tussle between the PCSO general manager and his detractors—a PCSO director and a well-known gaming industry player—the bigger question of the agency's continuing relevance remained unanswered.
ADVERTISEMENT - CONTINUE READING BELOW
So, what has the PCSO done of late for the benefit of those needing charity assistance from the government?
In 2016, the PCSO ran a total of 13 charitable projects and spent Php8.2 billion that covered 440,427 beneficiaries, according to its audited financial report. Out of these, three programs accounted for 99 percent of the total expenses: individual medical assistance, financial assistance for medicines and supplies and provision of medical equipment.
The individual medical assistance program spent close to Php8 billion for 319,091 beneficiaries, which comes out as an average of Php25,064 per beneficiary. For financial assistance for the purchase of medicines and supplies, PCSO disbursed Php51.8 million for 2,529 beneficiaries, or an average of Php20,488 per beneficiary. It gave out medical equipment worth Php126.5 million to 12 beneficiaries, likely health care institutions, or the equivalent of Php10.5 million per beneficiary.
While these amounts are quite substantial, the number of beneficiaries seem small considering the huge number of people suffering from extreme poverty: around 12 million people, based on estimates by the Philippine Statistics Authority (PSA).
ADVERTISEMENT - CONTINUE READING BELOW
At least the average amounts given as charitable contributions to individual beneficiaries was much more than what the PCSO spent per employee for its grandiose Christmas party last December that came under severe criticism from one of the agency's newly appointed directors.
Depending on who's speaking, the amount spent for the Christmas party ranged from a low of Php6 million to a high of Php9.8 million. Since around 1,580 employees reportedly attended the Christmas party at a five-star hotel, the average expense per employee came out to only between Php3,797 and Php6,202. These figures are way below the agency's average charitable contributions per beneficiary.
Of course, what makes it possible for PCSO to give hefty charitable contributions as well as hold quite lavish Christmas parties are its steadily rising revenues, which hit Php6.8 billion in 2016, making it the 18th largest state company by revenue. That marked a 42-percent increase from the Php4.8 billion in 2011. Similarly, its net income grew to Php3.1 billion in 2016, 3.5 times more than its profits of Php0.9 billion in 2011.
ADVERTISEMENT - CONTINUE READING BELOW
*****
Pauline Macaraeg is Entrepreneur PH's data journalist. Follow her on Twitter @paulinemacaraeg