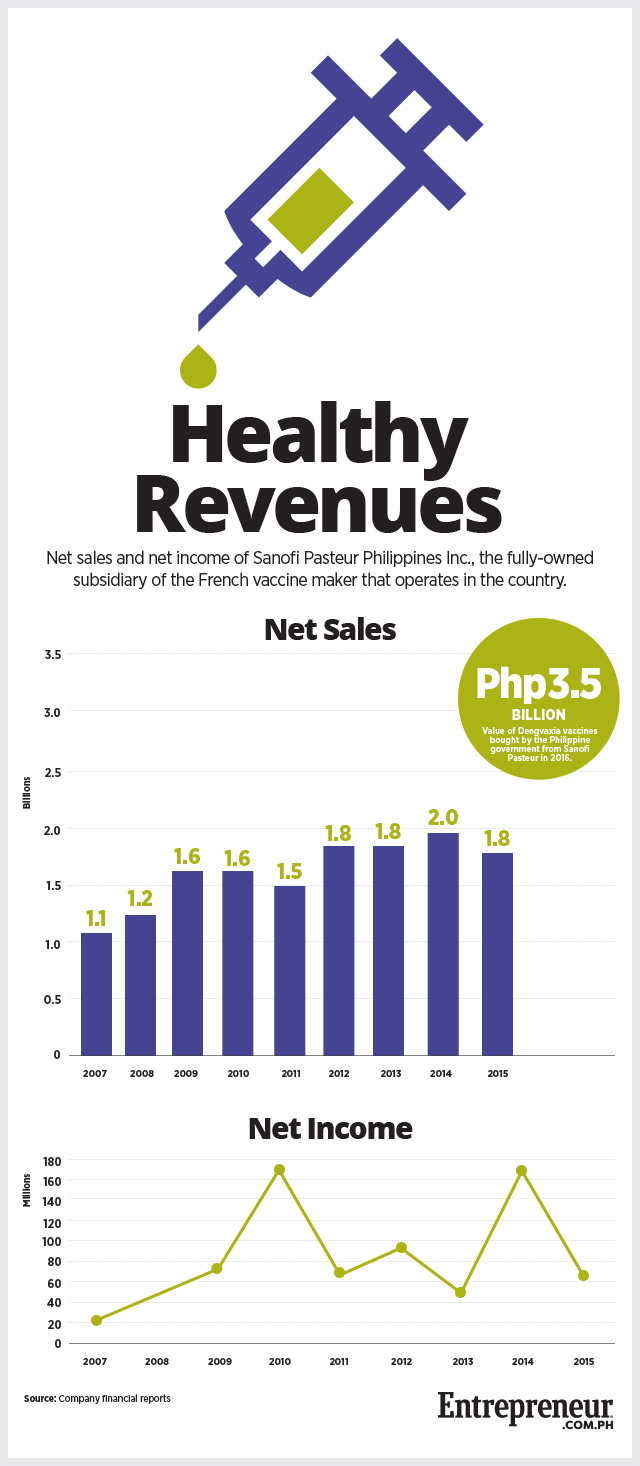 Sanofi S.A. is the world's fifth largest pharmaceutical company in the world by prescription sales and market share as of 2016, according to a report by capital markets research firm Hardman & Co. and market research portal Statista. It is present in over 170 countries and employs over 100,000 employees.
It's also been generating a lot of negative headlines lately, triggered by a belated admission that Dengvaxia, its newly developed vaccine to prevent dengue fever in humans, could cause "severe dengue" if given to people who haven't been previously infected by the dengue virus. That came after almost a million schoolchildren in the Philippines were given the vaccine in 2016 without prior testing if they had dengue or not in the past.
ADVERTISEMENT - CONTINUE READING BELOW
Sanofi Pasteur S.A., the vaccines business unit of Sanofi S.A., is responsible for the manufacturing of Dengvaxia. It has a subsidiary in the Philippines called Sanofi Pasteur Inc., which is responsible for developing, distributing and importing vaccines, as well as conducting experiments including clinical trials in the Philippines.
Based on Sanofi Pasteur Inc.'s financial statements filed with the Philippine Securities and Exchange Commission (SEC), it looks like the business of selling vaccines in the country is a very good one. Revenues have been steadily growing even though net income tends to swing more widely while remaining in positive territory. Latest figures show that the company posted a net income of Php65.6 million on revenues of Php1.8 billion.
The SEC still hasn't publicly released Sanofi Pasteur Inc.'s revenues last year. It remains to be seen how the Php3.5 billion worth of Dengvaxia vaccines sold by Sanofi Pasteur to the Philippine government in 2016 will impact the Philippine subsidiary's revenues last year, if at all. It's possible that all or part of the transaction will be booked by Sanofi Pasteur's parent company in Paris.
ADVERTISEMENT - CONTINUE READING BELOW
In 2016, the Department of Health (DOH) launched its school-based dengue immunization program starting with students in Metro Manila, Central Luzon and Southern Tagalog, areas where the incidence of dengue infection was high. The program was temporarily halted in July 2016 due to concerns that the effects of Dengvaxia weren't thoroughly studied or disclosed.
Sanofi Pasteur released its own findings in November 2017 stating that the vaccine could cause severe dengue if given to people who didn't previously contract the disease. Distribution of Dengvaxia was immediately suspended the next month. By then, DOH said 830,000 students were already vaccinated with Dengvaxia. The agency could not say how many of those vaccinated weren't previously infected and therefore would be at greater risk.
*****
Pauline Macaraeg is Entrerpeneur PH's data journalist. Follow her on Twitter @paulinemacaraeg