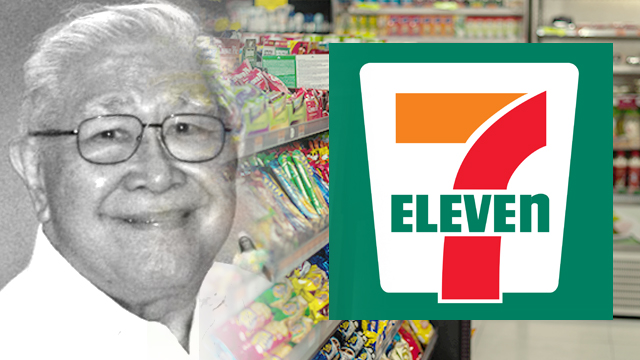 Go to any city in the Philippines and chances are you'll find more than one 7-Eleven branch in the vicinity. With its brightly lit stores that are open 24 hours, the brand is now a name familiar to most Filipino consumers.
But unknown to many, the 36-year-old convenience store chain in the country began as part of the retirement business plan of Victor P. Paterno, a seasoned technocrat, politician and business leader who served under the presidencies of both Ferdinand Marcos and Corazon Aquino.
ADVERTISEMENT - CONTINUE READING BELOW
When he formed Philippine Seven Corp. in 1982, Paterno was 58 years old and a member of the Batasang Pambansa, the country's parliament. He had just resigned two years before, in 1980, as minister of public highways over growing differences with some of the policies of the Marcos regime.
Planning for his nearing departure from Batasang Pambansa, he was looking for a business he could manage and which could provide for his and his family's needs after he leaves government. He was a director in four private companies but directors' fees, which were usually paid for attending meetings, were not going to be enough.
"I was also concerned with providing for their long-term well-being, and kept on the lookout for business that would provide for my family after I retired from commercial activities," he wrote in his autobiography, On My Terms: The Autobiography of Vicente Tirona Paterno, published in 2014. "From being business executive and official in government, I had to succeed as an entrepreneur."
ADVERTISEMENT - CONTINUE READING BELOW
So together with his entrepreneurial brother-in-law Jose "Titoy" Pardo, Paterno looked for a business that was best suited for his needs and situation at that time: 1) that it would require only an affordable amount of capital to start up, 2) that it must not require loans, permits, or licenses from the national government, and 3) that it must begin with a real competitive advantage. In the end, they found retailing to be the most viable venture.
The two set out to pursue the franchise license of 7-Eleven convenience stores from Southland Corporation of Dallas, Texas. Together with Frankie Sibal, another Filipino businessman, they agreed on a three-way partnership and managed to get the Philippine area license for the convenience store chain in October 1982. They put up Php3-million in capital to incorporate Philippine Seven Corp. (PSC) that same year.
The assassination of Benigno "Ninoy" Aquino Jr. the following year, however, caused an impediment to the otherwise steady course of the business.
ADVERTISEMENT - CONTINUE READING BELOW
"We knew the economy would go into a tailspin, and we wanted to pull back on the project. But the die was cast, our investment was irretrievable; the project was past the point of no return, so our ship must persist its course—damn the torpedoes, full speed ahead," Paterno wrote in his autobiography.
True enough, the cold-blooded killing of the most prominent opposition leader not only sparked public outrage but also fuelled the financial crisis that triggered what is perhaps the worst economic contraction the Philippines has gone through since after World War II. The inflation rate rose to record highs months after the incident, the peso sharply depreciated, and annual GDP growth plunged to the negative levels.
Related story: This was How Bad the Economy Got After Aquino was Killed on August 21, 1983
The business environment proved to be tough to weather despite the brother-in-laws' persistence. Worse, even before the company was able to put up its first store, Sibal announced he was selling his shares to leave the company for the US.
ADVERTISEMENT - CONTINUE READING BELOW
The company suffered an unprecedented setback from this, since they were expecting Sibal to oversee the management of the company. "We had counted on our youngest partner to be the manager of our venture. He had received five weeks of training in the US with the five-man team sent for that purpose," Paterno shared.
Thankfully, two new shareholders invested in the fledgling company: Jorge Araneta and Ernesto B. Rufino Jr. The latter also left after a few months, but Araneta remained to be the third partner of the firm. In February 1984, they opened their first store at the corner of EDSA and Kamias Street. That year and the next, the company lost money.
Good thing the company's founders persisted despite the initial setbacks. In 1989, the company finally achieved accounting profits, after it established its ninth store. Other franchisees in Asia required 100 stores before making money.
"Philippine Seven Corporation is the only 7-Eleven area licensee in Asia that began life as a stand-alone company and a 'bootstrap' corporation," Paterno said, comparing it to other licenses in Asia which began as subsidiaries of conglomerates, such as in Japan, Taiwan, Hong Kong, Singapore, Thailand and Malaysia.
ADVERTISEMENT - CONTINUE READING BELOW
Thirty-six years later, the company continues to grow. Today, there are more than 2,287 stores as of December 2017, according to its official website.
*****
Pauline Macaraeg is Entrepreneur PH's data journalist. Follow her on Twitter @paulinemacaraeg