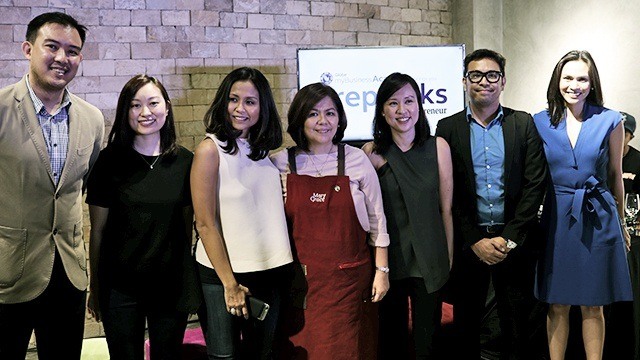 The speakers and hosts of Trep Talks (from left) Niko Frez of Globe myBusiness, Lisa Tantuco of Globe Digital Ventures, Abba Napa of The Moment Group, Mary Grace Dimacali of Mary Grace Cafe, Joanna Manalastas of Spot.ph, PJ Caña of Entrepreneur Philippines, and program host Issa Litton
ADVERTISEMENT - CONTINUE READING BELOW
Nearly 100 business owners and aspiring entrepreneurs gathered at Square One in Bonifacio Global City on Wednesday, March 5 for the first edition of Entrepreneur Philippines' Trep Talks this year.
Organized in partnership with Globe MyBusiness, Trep Talks is an informal forum that provides a venue for founders and industry experts to share stories and practical tips on running and growing their business. 
The participants came to listen and learn from the featured speakers—Abba Napa of the Moment Group and Mary Grace Dimacali of Mary Grace Café—who have made a name for themselves in the local food and restaurant industry.
The two women entrepreneurs emphasized that there's no single formula to a successful business, although they did share the following tips, which may help those looking to get a slice of the huge local food business pie:
1. Understand the market
The Moment Group may have 10 homegrown and international brands in its portfolio, but Napa says the company ensures that each can stand and be distinct on its own. With concepts offering everything from Filipino food to modern Japanese, the Moment Group Founding Partner for Development says the company's constant learning about how the Filipino diner eats help them create brands that can both stir curiosity and maintain a following.
ADVERTISEMENT - CONTINUE READING BELOW
"Food has become a social currency. Your meal has become a symbol of what you aspire for and what you want to be," Napa said. "So understanding the thinking of Filipino diners helps us develop concepts better, and create restaurants that maybe the Filipinos never thought they wanted."
This perspective was one of the reasons why Manam, the Moment Group's take on Filipino food, was born. The restaurant offers local comfort food in serving sizes that can feed from one to six diners, something new for casual dining restaurants that usually offer food for big groups.
As for Mary Grace Dimacali of Mary Grace Café, knowing what her market was helped her to decide where to open a new location next. "Look at the ambiance and see if there's foot traffic there. As for me, they said (Mary Grace Café) was a tita place so I had to see if a certain space has that market," she quipped.
ADVERTISEMENT - CONTINUE READING BELOW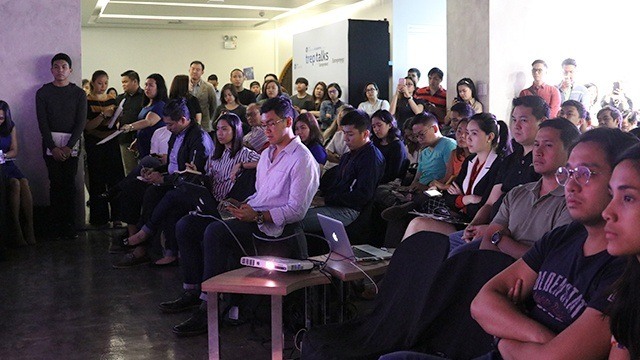 The packed crowd was composed of restaurant owners and aspiring entrepreneurs
2. Be authentic
After understanding the market comes the brainstorming for the original concept that aspiring food entrepreneurs would want to put up. Dimacali recalled how she initially thought she would have to copy the look of a popular American chain of coffee shops to succeed.
ADVERTISEMENT - CONTINUE READING BELOW
"I'm thankful I didn't go to that path because I was able to embrace who I really was and I wanted to create a homey feeling for my customers," Dimacali said. "So for you, be who you are because I'm sure you have your own strengths. You don't need to copy anyone else."
Mary Grace Café first started selling ensaymada and cheese rolls in bazaars in the late 90s, until they were invited to put up a kiosk in Glorietta in 2002. The rest, as they say, was history as the brand now has 15 kiosks all over Metro Manila and 25 restaurant cafes.
The Moment Group, meanwhile, has been aggressively growing in the last five years. Napa says their concepts always "come from a place of authenticity."
"I believe the diner feels when the restaurant is honest so create from your own experience," Napa added. "In the dining scene where people can create a lot of fluff, substance separates you from the rest of the pack."
ADVERTISEMENT - CONTINUE READING BELOW
3. Customer service is king
When a restaurant is finally up and running, the real challenge comes not on the first day you open your doors but in the next weeks, months or even years. How do you keep a customer coming back?
"The holy grail of the restaurant business is the return customer, and the holy grail of that is hospitality," Napa said. "You can easily attract customers to your restaurant with promos and such, but making them come back is where the real challenge lies."
While a business owner may have the heart and soul to bring good food to the table, the tricky part is in looking for people who share the same vision. And like any sports team who wants to bag that championship, teamwork can bring any group to their goals.
"You have to look for people who get a high from making people happy because in some days, that's all you're going to earn: happy feedback," Napa said. "Because you can teach almost everything, but not hospitality, not malasakit. So choose people who have hospitality in their DNA."
ADVERTISEMENT - CONTINUE READING BELOW
For her part, Dimacali believes in treating her employees as part of the family, as a happy management reflects in the service.
"So we don't have contractual workers because I feel if you treat them right from day one, then it would reflect on how they work and treat our customers," Dimacali said. Some of Mary Grace Café's employees have been with them since they started in the early 2000s, as she nurtured her relationship with them through the years. Today, the company has almost a thousand employees running the business.
*****
Elyssa Christine Lopez is a staff writer of Entrepreneur PH.. Follow her on Twitter @elyssalopz