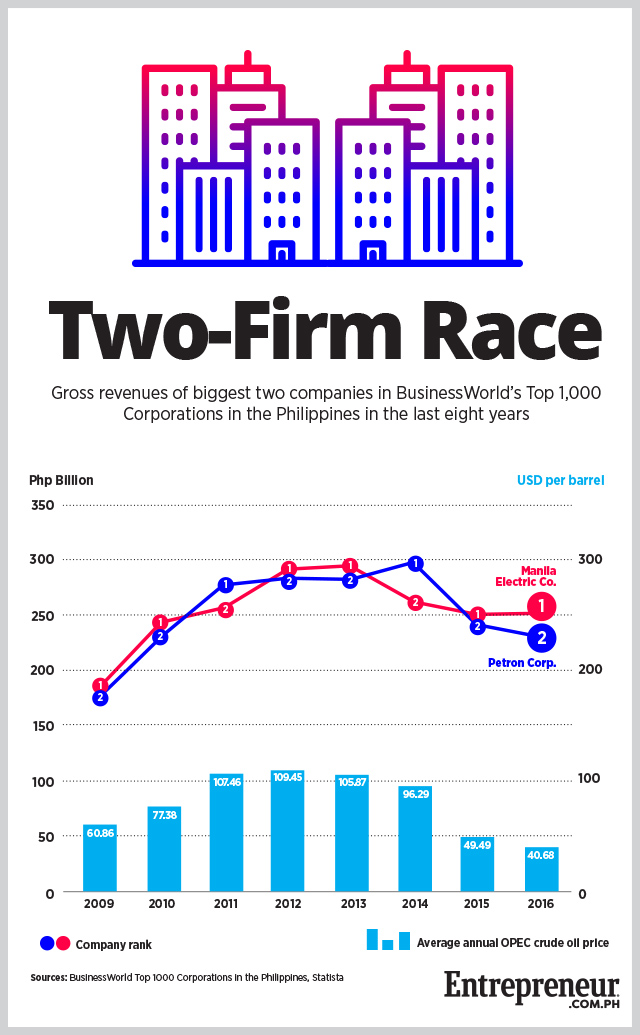 In the past eight years, only two companies have made it to the topmost of BusinessWorld's Top 1,000 Corporations in the Philippines, whose 2017 edition (covering financial numbers in 2016) was released early this month.
Manila Electric Co., the country's biggest electricity distributor, was No. 1 in six years, including 2015 and 2016. Petron Corp., the Philippines' largest petroleum refiner and distributor, was the biggest company in two years.
Understanding why the two companies dominate the corporate race to the top is not hard.
Meralco, as Manila Electric is more popularly known, sells electricity, a commodity that everybody needs. It also enjoys near-monopoly power to retail electricity within its franchise area, which includes Metro Manila, most areas in the Calabarzon region and parts of the Clark Freeport Zone in Pampanga.
The electric utility is owned by the Metro Pacific group led by PLDT Inc. chairman Manuel V. Pangilinan and JG Summit Holdings, the conglomerate owned by the country's second richest man, John Gokongwei Jr.
ADVERTISEMENT - CONTINUE READING BELOW
Though it has only six million customers across a hundred towns and cities (out of the entire Philippines' more 100 million people in 1,500 localities), its franchise area produces about half of the country's GDP. To a large degree, that explains why it has consistently been the country's biggest revenue maker in the country.
Like Meralco, Petron also deals with an essential commodity: petroleum. It also commands a large share of the market though not as big as the electricity retailer. It owns 30.7 percent of the market, thanks to the reach of its over 2,300 retail gasoline stations across the country.
The petroleum refiner, which used to be a government corporation in the late 1980s but is now owned by San Miguel Corp., usually tops the rankings of the country's biggest companies when crude oil prices are high. The years when it was No. 1 in the Top 1,000 list were also the periods when global oil prices peaked in the last eight years.
Another large company, Pilipinas Shell Petroleum Corp., which was consistently the country's third biggest company during the eight-year period except in 2016, follows the same pattern. It also sells petroleum and enjoys a sizeable market share of about 20 percent through its almost 1,000 fueling stations.
Unless these industries become more competitive, one can almost be sure the same corporate giants will continue to dominate the commanding heights of the Philippine economy for years to come.
*****
Lorenzo Kyle Subido is a staff writer of Entrepreneur PH