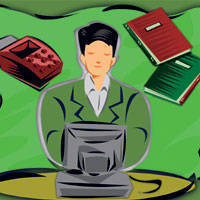 With the rise of sophisticated e-commerce and mobile technologies, tech-savvy consumers expect instant, customized access to a brand's offerings. However, delivering this type of personalized experience can be challenging for brick-and-mortar businesses. HP recently released its ElitePad Mobile Point of Sale (POS) Solution, a POS device that helps retail and hospitality businesses enhance the customer experience and maximize staff productivity.

The HP ElitePad Mobile POS Solution, which is composed of the HP ElitePad plus the HP Retail Jacket for ElitePad, allows businesses to meet customer needs anywhere in the store with mobile POS and assisted selling capabilities. As a retailer, this will allow you to track inventory and process orders without leaving the customer. The mobile solution integrates into a retailer's existing IT infrastructure, saving time and money by allowing them to easily connect to store systems.

"Consumers expect the same personalized experience they get online or on their mobile device in a retailer's brick-and-mortar store," said Christian Charlton, Director, Retail Solutions, Printing and Personal Systems, HP Asia Pacific and Japan. "With the HP ElitePad Mobile POS Solution, store managers and associates are empowered to move the sale from behind the counter, giving them the ability to assist the customer right on the sales floor for immediate customer satisfaction."

Built-in functionality of HP ElitePad Mobile POS Solution includes:
•    1D/2D barcode scanner and three-track encrypted bi-directional magnetic stripe reader (MSR) for a fully integrated design with built-in POS functionality. Companies can easily engage customers on the sales floor with mobile sales tools designed to inform and sell.
•    Integrated detachable hand strap provides enhanced stability and usability. The hand strap comes standard with every unit to steady the mobile POS so employees can focus on sales without worrying about grip fatigue.
•    The optional secondary battery enables the mobile solution to operate for extended hours to increase productivity and help make the most of every sales opportunity.

During the launch, Christian Charlton, director for HP Retail Solutions in Asia Pacific and Japan, talked about how businesses will need to deliver a seamless, consistent brand experience across all channels for clients. This is where omni-channel retailing comes in. Technology is cool but in the end, customers still want service. There must be no disconnect between what a customer would experience inside your store to what they would encounter online. All the channels where your customer interacts with your brand must have one cohesive message. Charlton adds that retailers believe that developing more engaging in-store experience is business critical.

ADVERTISEMENT - CONTINUE READING BELOW