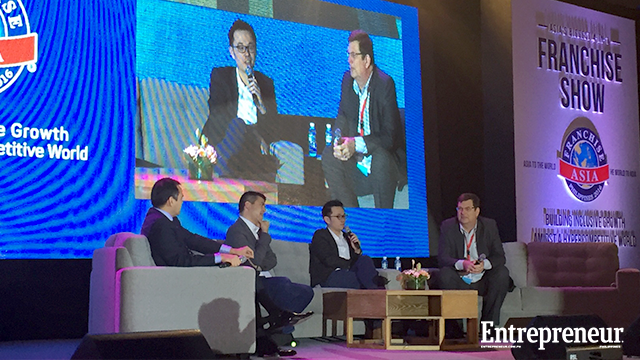 At a time when the next big idea sprouts out of nowhere every day, the early disruptors and poster children of technology startups are on their toes to remain ahead of the pack. And as only less than half of the country's population are online at 47.1 million by the end of 2015, the potential of the market for possibilities that the Internet can offer still remains largely untapped.
ADVERTISEMENT - CONTINUE READING BELOW
For Zalora Philippines co-founder and CEO Paulo Campos and Uber Philippines general manager Laurence Cua, given the swarm of options available, stellar customer service is king.
"Ideas are cheap. How do we stay differentiated? Keeping our eyes, ears down to the ground and making sure we run a tight ship," Cua said.
Related: 5 entrepreneurial lessons from Uber
The two tech companies have put premium on the additional option they provide to the wide-array of traditional choices in their respective industries.
For Uber Philippines, it launched UberPool in June, the app's ride-sharing feature, where users may share a ride with other people who will go to the same destination as theirs at the same time, minimizing cars used on the road in the process.
"You may have a good idea, but 90 percent of it is execution," Cua added.
Campos echoes the sentiment, especially with Zalora Philippines' growing reach. The fashion site has to work doubly hard to ensure simplified and seamless customer experience.
ADVERTISEMENT - CONTINUE READING BELOW
"If you are able to win customers and make them love you, that's when you continue to be disruptive overtime. It's easy to have a good idea but it's hard to make people fall in love with the brand," Campos explained.
The Zalora executive said the fashion site reached its highest number of visits onsite on the second week of July at 225,000 a day—signifying it is only "the start of a digital revolution."
Part of such is the increasing power of customers in the business arena. A single bad experience with a certain establishment can spread virally with one sentiment shared on Twitter or Facebook. Such irate voices have made tech companies more meticulous on keeping their customer service at the highest level.
"In Uber, users are encouraged to rate their drivers, and drivers love to see those ratings because it pushes you to be in your best behavior," Cua said.
ADVERTISEMENT - CONTINUE READING BELOW
Meanwhile, Zalora also enables customers to return goods they ordered within a 30-day period, much longer than what most brick-and-mortar establishments offer at 7 days.
"It's important to have every aspect of customer device to go smoothly. Our drivers compose more than half of our total workforce of 500, so from them alone, we need to ensure they are providing the service we want to offer," Campos added.
But even with the warm reception Uber and Zalora receive today, the executives believe that much can still be done to grow the market. For example, changes in the modes of payment on a wider scale across the country, such as a looming greater shift towards cashless transactions, can surely affect consumption.
"Seventy percent of our transactions are still cash-on-delivery, and with all of the Filipinos online, there are only six to eight million with credit cards. There are ways to progress the market," Campos said.
ADVERTISEMENT - CONTINUE READING BELOW
Related: How PH banking will look like in 2020
Nurturing the trust, confidence and convenience of using money online is a key enabler for e-commerce's boom but Uber's Cua understands the market may not yet be ready to embrace the idea.
"In Cebu, we have added an option of cash payments for fares, so in that case we adjust to the market. Cua said. "But really the challenge for Uber is to let people get their own credit card and be comfortable going cashless."
*****
Elyssa Christine Lopez is Entrepreneur.com.ph's staff writer. Follow her on Twitter @elyssalopz