Press Release
December 11, 2013



From previously unranked, Huawei Device is now amongst the top three smartphone vendors according to the 3rd quarter 2013 IDC market research report.

"Nothing is impossible. We see possibilities all over the world, says local chief executive of global ICT company. "Huawei can be on top in the next 2-3 years."

Huawei is set to invest in building the brand locally to make great technology available to all Filipino consumers, at a price that is right for them, through easily accessible channels.

In 2012, Huawei Device transformed from a traditionally B2B to B2C company, from a non-branded original design manufacturer to a Huawei brand OEM, from producing mainly feature phones to offering various high-end products.

"Building our own brand and putting our name on our products for consumers is the way forward as we grow to offer a range of products that include smartphones, mobile broadband devices, home devices, clouds, and consumer chipsets," said Al Dimapilis, marketing head for Huawei consumer devices.

Recently, the company teamed up with Ms. Jasmine Curtis-Smith, the company's first brand ambassador in the Philippines. Huawei believes that her young and optimistic image can boost the company's image and core values. She will also work with Huawei's "Make it Possible" brand campaign deals with creating new opportunities using innovations in technology.

The young wonder girl revealed her excitement about the partnership, "I am very happy to be the first ambassador of Huawei in the Philippines. This will be an opportunity for me to bring to our youth and young professionals a complete new experience and excitement in Huawei's devices."

Capitalizing on the growing demand for smart devices, Huawei releases new devices this Christmas for the connected generation. Leading the pack of these new devices are the limited edition Pink Huawei Ascend P6, four Ascend dual sim phones, two 7-inch phablets, LTE mobile WiFi, and the Huawei WiFi repeater/extender.
ADVERTISEMENT - CONTINUE READING BELOW
Huawei Ascend P6 Limited Kitty Pink Edition
The limited edition Kitty Pink Huawei Ascend P6 makes ultimate slimness and best camera features possible in an all pink metallic body. One can make and share stunning and beautiful selfies with 5MP front camera and ImageSmart features such as the 10 levels of face beautification, object tracing focus, and auto scene recognition.

Also available in Alps white and Carbon Black, Ascend P6 is the 2013-2014 European Imaging and Sound Association (EISA) Best Consumer Smartphone Product.
Huawei Ascend Premium Dual Sim phones
Filipinos can enjoy being connected with loved ones with bigger screen and faster processor in a Dual SIM Dual standby Android phones that last longer. Huawei brings the new 5-inch quadcore Ascend G610, 4.5-inch quadcore Ascend G525, 4.0 dual core Ascend Y320, and 3.5 dual core Ascend Y220. Suggested retail price starts at Php2,850.
ADVERTISEMENT - CONTINUE READING BELOW
Huawei Media Pad 7" Vogue, MediaPad 7" Youth 3G/WiFi phablets, and MediaPad 10 Link
The 7-inch family siblings of MediaPad 10" Link – a 10" premium multimedia powerhouse tablet, MediaPad 7" Vogue and 7" Youth are call-enabled tablets or phablets with world-class entertainment capabilities and long-lasting battery power. The two 7-inch phablets boast a built-in receiver for direct calling capability that removes the need for headphones. These phablets features a powerful quad-core 1.2GHz processor for 7" Vogue and dual-core 1.2GHz for 7" Youth.
Huawei WiFi Repeater/Extender WS322
Boost the WiFi connectivity in black spot areas without WiFi connectivity like your room, kitchen, and garden through Huawei WiFi Repeater WS322. This Wireless Range Extender is a plug-in unit that picks up a faint WiFi signal and boosts it.

Priced at Php1,890, the WS322 can serve as a router that provides a WiFi access point and as a repeater to extend the wireless signal coverage, or as a wireless network adapter. It provides wireless transmission speeds of up to 300Mbps.
ADVERTISEMENT - CONTINUE READING BELOW
Huawei Mobile WiFi E5372 LTE
Techie people will surely love this mobile WiFi that can hold up to 150 Mbps of downlink speed of fastest LTE CAT4. It is stunningly design for portability and high quality experience with good quality materials.

In line with launching new products this yuletide season, Huawei pioneered a global holiday online competition dubbed, "Unlock Possibilities" and is now running in 48 countries including the Philippines. This free competition provides the chance to win a line-up of goodies, culminating in two grand prize Mercedes-Benz Sports Coupes. The 'Unlock Possibilities' competition further demonstrates Huawei's aspiration to become one of the leading mobile phone brands globally by bringing quality, innovative and fashionable products within reach for more people. With a focus on the HUAWEI Ascend P6, 'Unlock Possibilities' is set to excite a global audience including Filipinos as Huawei continues to build its leadership in the smartphone industry.

"While our number three ranking for smartphone shipments last quarter shows the increasing demand for our flagship handsets including the HUAWEI Ascend P6, we still have a long way to go to build the Huawei brand among consumers globally," said Colin Giles, Executive Vice President, Huawei Consumer Business Group. "The 'Unlock Possibilities' competition not only delivers our promise to create extraordinary experiences, but also provides an opportunity for more people to join us as we bring the joy of technology to more people around the world.

To take part, visit the Huawei Device Philippines Facebook page or the official mobile site unlockpossibilities.moi from December 1, 2013 to January 4, 2014.

ADVERTISEMENT - CONTINUE READING BELOW
December 11 marks a breakthrough celebration as Huawei introduced their first brand ambassador in the Philippines along with the launch of 12 new gadgets and an exciting online game. Photo shows from L-R: Huawei Technologies Philippines Marketing Manager Al Dimapilis, CEO and President Dr. Gavin Dai, COO Kelvin Xie, and PR Manager Andy Bai with Ms. Jasmine Curtis-Smith, Huawei's first brand ambassador.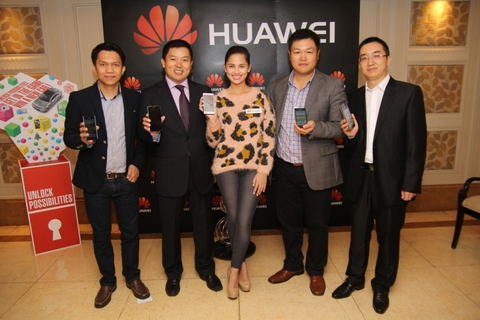 ADVERTISEMENT - CONTINUE READING BELOW