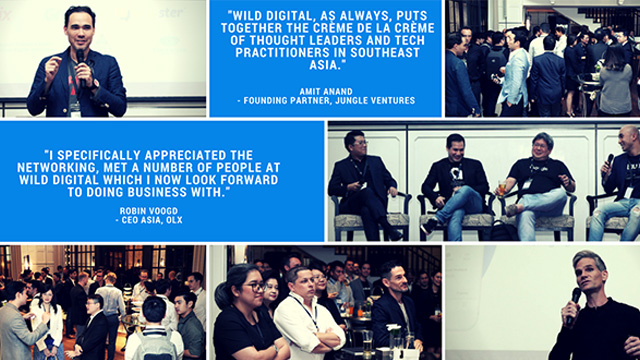 Wild Digital, an organizer of startup events and conferences across Asia, will be holding a Networking Event in the Philippines on Thursday, March 22, at the Shangri-La at the Fort in Bonifacio Global City. This marks the first time Wild Digital will be holding an event in the country and the company's first event for 2018.
ADVERTISEMENT - CONTINUE READING BELOW
The Wild Digital Networking Event will have around 100 attendees, all of which represent key parts of the local startup ecosystem. These include founders and executives of startups across various stages; mentors and investors from different venture capital firms; experts and leaders in the technology industry; and representatives from the public sector.
"Our goal is to provide excellent exposure, along with unprecedented networking opportunities to connect with some of the best minds in the digital ecosystem—all whilst having a great time," wrote Wild Digital in a press release.
Heading the event is Patrick Grove, the group CEO of Catcha Group, a Southeast Asian group of internet and media companies that Wild Digital is part of. The most recognizable brand among its portfolio is iflix, an online video streaming service that operates in 25 markets across Asia and Africa, including the Philippines.
Since Grove co-founded iflix in 2015, it has raised almost $300 million in funding from various investors, one of which is local telco firm PLDT Inc. That contributes a bulk of his $440-million net worth, which makes him the 37th richest person in Malaysia, according to business magazine Forbes.
ADVERTISEMENT - CONTINUE READING BELOW
Apart from a dedicated space to network with different people from the startup community, Wild Digital will also organize informative panels and presentations during the event.
Sherwin Dela Cruz, the country manager of iflix in the Philippines, will moderate a panel on the current tech and investment landscape in the Philippines. Speaking in this panel will be Monchito Ibrahim, undersecretary of the Department of Information and Communication Technology; Enrique Gonzalez, CEO of local internet and financial services firm IP Ventures Inc.; Manuel Ayala, managing director of global nonprofit business organization Endeavor Philippines.
John Rubio, country director of Facebook for the Philippines, will talk about how to grow a business in an increasingly mobile-centric market. As well, Franco Varona, CEO of JCash, will moderate a fireside chat with Januario Jesus Atencio, the former president and CEO of property developer 8990 Holdings who now runs Original Pitch Venture Capital, which invests in local small businesses.
ADVERTISEMENT - CONTINUE READING BELOW
Interested attendees can find out more about the event on Wild Digital's official website. Entrepreneur Philippines is a media partner at the event.
*****
Lorenzo Kyle Subido is a staff writer of Entrepreneur PH