The final session at the ASEAN Business Advisory Council's (BAC) Prosperity for All Summit on April 28 in Manila was titled "Initiating ASEAN Mentorship for Entrepreneurs Network (AMEN)".
Appropriately, the heads of the Philippines' two biggest conglomerates who took part in the panel discussion didn't just expound on the importance of the program but delved right into mentoring by sharing some lessons on entrepreneurship with the delegates to the summit held at the City of Dreams casino.
In the course of the 54-minute discussion, Manuel V. Pangilinan, chairman of Metro Pacific Investments Corp. and PLDT Inc., and Teresita Sy-Coson, vice chairperson of the SM Investments Corp., imparted business insights that many in the regional audience found valuable.
Perhaps, most thought-provoking was Pangilinan's advice for traditional businesses to commit corporate "suicide" and disrupt themselves rather than wait for a digital counterpart to do it for them.
Talking about how digital technologies are upending incumbent businesses, the chairman of the country's largest telecommunications company said: "If you don't adjust to it or, in fact, if you don't promote it, if you don't disrupt yourself, somebody else will disrupt your business. Somebody else will do that, so you might as well – my favorite term is, you might as well commit suicide – because somebody else will do it for you."
ADVERTISEMENT - CONTINUE READING BELOW
Pangilinan knows painfully well how it is to be disrupted by a more digitally agile competitor. PLDT suffered a decline in service revenue for the second straight year in 2016 as competition with rival Globe Telecom intensified amid a massive shift to digital services. Its net income has been going down for the past five years. "All of these disruptions that are happening in our business particularly is all very, very painful," he told the audience attending the ASEAN BAC summit.
He also urged young people to try to either work or do business outside the Philippines. "If you have the chance to go abroad, go do it. You are young enough to fail. You are young enough to learn what's out there," said the PLDT chairman. "It's important for you, whether you're a millennial or not, to know what's out there in world. If you're so engrossed with things that are entirely domestic, you will never know what competition is like in the world."
ADVERTISEMENT - CONTINUE READING BELOW
Sy-Coson told entrepreneurs to consciously learn from their experiences as well as the environment. She recalled that their father, Henry Sy Sr., the Philippines' richest person who grew SM group from a small shoe store into the country's most valuable conglomerate today, didn't really formally teach her and her siblings how to manage the business.
"It starts by being exposed to the conversation during dining time and it's also mentoring by just observing," said the chairperson of BDO Unibank, the country's biggest bank that is part of the SM Group. "In our family, we observe a lot and that's how we digest what's happening. I think exposure, observing, working, working hard would lead to you to a better place sometime in the future."
Asked who else mentored her apart from her father, she said: "Everyone of us is developed by the environment, by experience. So, you can always learn from everyone."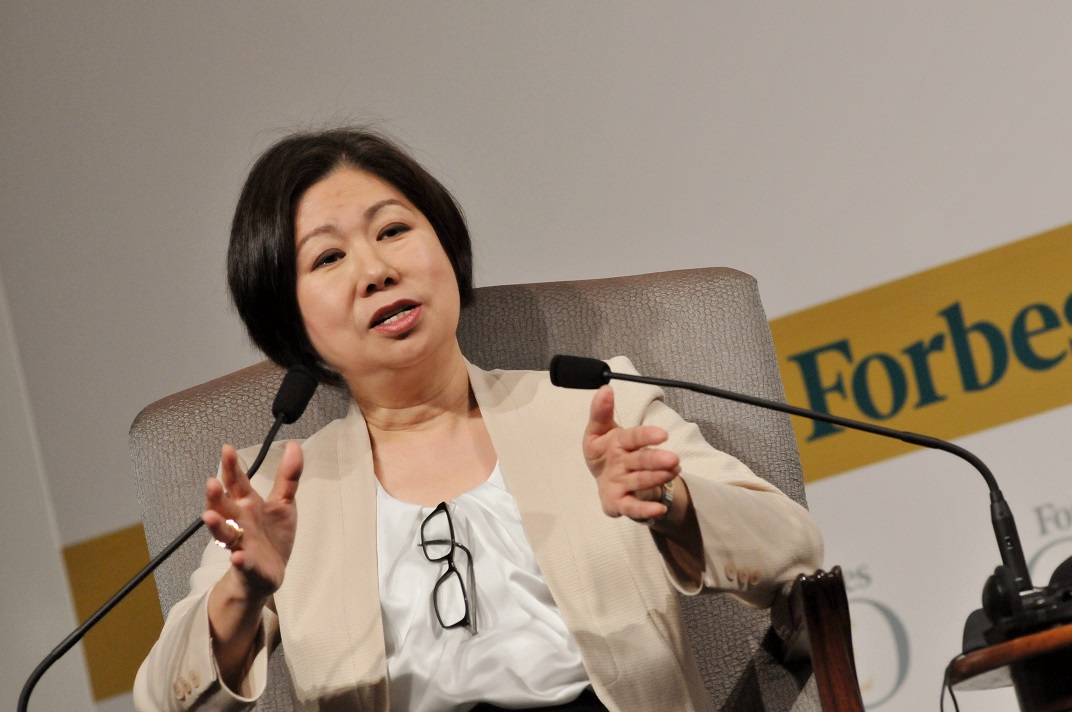 ADVERTISEMENT - CONTINUE READING BELOW
She also encouraged entrepreneurs to be on the lookout for learning opportunities when they arise spontaneously. "If we're alert, there's this natural mentorship that you can get from many people. Yes, my parents developed us well, gave us some basic values. But, you know, these values are also strengthened by the environment and experience."
Sy-Coson also has some words for millennials, and that is for them to learn to develop social empathy alongside their superior intelligence arising from access to digital technology. "The millennials are actually more knowledgeable than many of us because of their exposure to the information in the digital space," she said. "The only thing is because of their accelerated knowledge, they think they know a lot and sometimes some of them have very low EQ (emotional quotient) although in IQ (intelligence quotient), many of them are very high. So, I think it takes a while for the balancing of their EQ and IQ."
The ASEAN entrepreneur mentorship network is a flagship program of the ASEAN BAC to be launched in November 2017 in time for the 31st ASEAN Summit in Manila. It was initiated by Jose "Joey" A. Concepcion, CEO of RFM Corp., and chairman of ASEAN BAC Philippines, which holds the chairmanship of the ASEAN BAC this year. The program aims to tap at least a hundred mentors from each of the 10 regional grouping's member states.
"The idea of AMEN is to build a mentorship network," said Concepcion. "Right now we have 150 mentors. That's not even enough to run the mentorship program of DTI (Department of Trade and Industry) and DA (Department of Agriculture). What we need are mentors in agriculture. We used to be the teachers. Now, we're the student. So we have to learn from Vietnam, Thailand, Malaysia." –With additional reporting by Elyssa Christine Lopez
ADVERTISEMENT - CONTINUE READING BELOW
*****
Roel Landingin is the editor-in-chief of Entrepreneur.com.ph and Glen Concio is the website's art director.