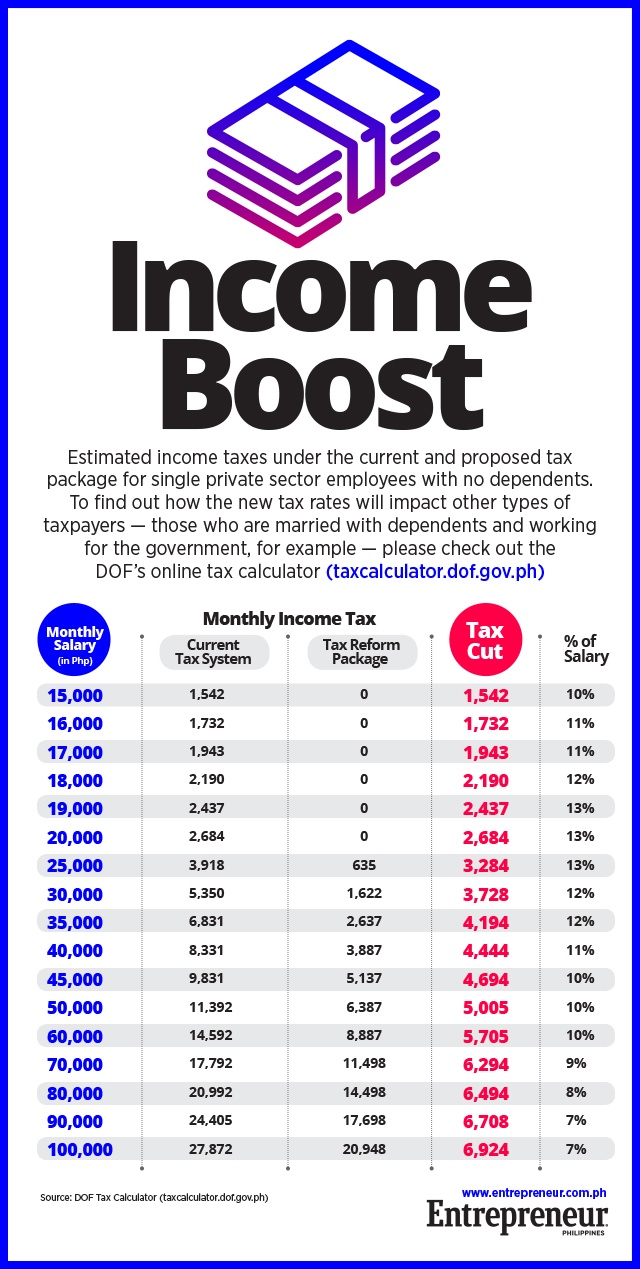 As part of its efforts to raise public awareness about the Duterte administration's proposed tax reforms, the Department of Finance (DOF) launched an online tax calculator that allows taxpayers to find out exactly how much income taxes they'll be paying under the new tax system compared to the current one.
ADVERTISEMENT - CONTINUE READING BELOW
Called Tax Reform Acceleration and Inclusion (TRAIN) program, the proposed tax package will exempt taxpayers earning a taxable income of Php250,000 a year or less from paying personal income taxes. At present, only minimum wage workers are exempted from income taxes.
Related: Zero Tax on Php21K Monthly Pay? Here are Jobs Likely to Benefit
In addition, the new tax package would also cut the income tax rates for most taxpayers. Currently, those earning a yearly taxable income of at least Php500,000 are subject to the highest marginal tax rate of 32 percent. Under the new package, the same taxpayers will pay a marginal tax rate of only 25 percent so long as their taxable income does not exceed Php800,000.
The impact of the new income tax rates would depend on the taxpayers' income level, marital status and number of dependents. Whether they work in the private sector or the government matters too because deductions for social security and health insurance vary. The DOF's online tax calculator takes all these into account when estimating your taxes under the current and proposed systems.
ADVERTISEMENT - CONTINUE READING BELOW
To illustrate the impact of the new tax package on a large segment of taxpayers – private sector employees who are single with no dependents and earn between Php10,000 and Php100,000 a month – we used the DOF tax calculator and summarized the results in the infographic on this page.
The results show that the proportional tax cuts from the lower income tax rates are substantial, reaching up to 13 percent of the employees' salary for those earning between Php20,000 and Php25,000 a month. That represents a direct and hefty boost to their incomes that they could use either to add to their savings or spend as they see fit.
To offset the impact of lower income tax rates, the DOF is also proposing to increase excise taxes on motor vehicles and fuel products as well as to reduce tax exemptions and incentives for selected sectors and economic activities. It is also proposed to impose a tax on sugary drinks.
ADVERTISEMENT - CONTINUE READING BELOW
The House of Representatives' Ways and Means Committee has approved the package as of May 3, 2017. It will be submitted to the House plenary for deliberations in the next few months.
*****
Pauline Macaraeg is Entrepreneur PH's data journalist. Follow her on Twitter @paulinemacaraeg.