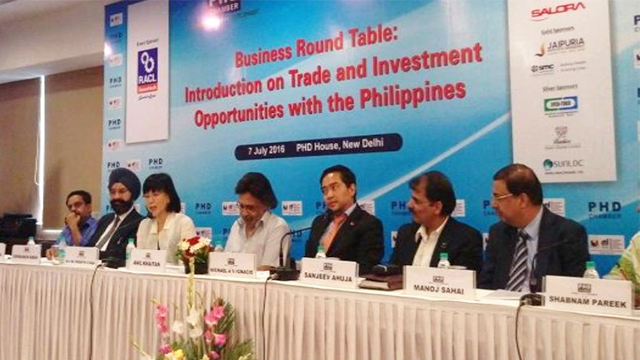 Companies from India are exploring more trade and investment opportunities in the Philippines, according to the Department of Trade and Industry's Philippine Trade and Investment Center (PTIC) – New Delhi, which recently conducted a business round table discussion with top Indian firms.


At least 70 Indian businessmen and key industry players participated in the talks held early this month in New Delhi, jointly organized by DTI with the PHD Chamber of Commerce and Industry, a multi-state grassroots organization which aims to explore more business opportunities between India and the Philippines. It is considered as one of the most important Indian Chambers of Commerce.
ADVERTISEMENT - CONTINUE READING BELOW
The group focuses on key sectors such as information communication technology, automotive, agriculture, energy and chemicals. Some emerging sectors such as pharmaceuticals, electronics and high-end furniture were also highlighted during the discussion.
Among the speakers who delivered successful case studies and testimonials about Philippine-India joint ventures were Sandeep Tewari, vice president of Field Fresh Pvt. Ltd, a leading food and fruit juice processing company in India having a joint venture with Del Monte Philippines and Manoj Sahai, general manager for strategic sales of the global multinational Tata Consultancy Services (TCS).
Sahai emphasized the promotion of the Philippines as a top destination for Indian IT companies for those thinking to establish alternative delivery centers. Tata Consultancy Services is India's number one IT services firm with a revenue turn-over of US$16.4 billion in 2016 and a market capitalization of US$ 80 billion. TCS operates global delivery centers in the Philippines with about 4,500 employees.
ADVERTISEMENT - CONTINUE READING BELOW
Information technology and business process management (IT-BPM) and automotive are two sectors that most Indian executives are interested in, according to PTIC-New Delhi. 
With positive feedback from the business sector in India, there is a positive outlook in terms of trade and investments with Indian companies and plans are already being discussed between private companies, DTI reported.
*****
Photo courtesy of the Department of Foreign Affairs