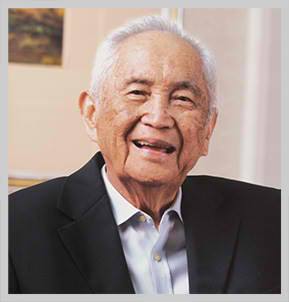 David Consunji, founding chairman of publicly listed DMCI Holdings Inc. and the sixth richest man in the Philippines acccording to Forbes magazine, has died. He was 95 years old.
Consunji started DMCI as a construction firm in 1954. It is considered one of the pioneers of the local construction industry, having built some of the country's largest and most important government and private buildings.  It literally created today's Makati Central Business and Ortigas Center financial districts, constructing the headquarters of many of the country's biggest banks and companies. Outside the Philippines, DMCI built the Sultan of Brunei's residential palace.
ADVERTISEMENT - CONTINUE READING BELOW
Under his leadership, the company expanded its interests into power generation, real estate and infrastructure. It is also engaged in mining through Semirara Mining Corp. and DMCI Mining Corp. as well as water distribution through a 25 percent stake in Maynilad Water Services Inc.
He stepped down as chairman in 2014. His son Isidro is the current chairman and president of DMCI Holdings.
Consunji was born on October 18, 1921 in Bataan province. He studied civil engineering at the University of the Philippines and graduated in 1946. He first worked as a concrete inspector for the company Kuenzle and Streiff before founding DMCI. The company was listed on the Philippine Stock Exchange in December 1995. It reported total assets of over Php158 billion in 2016. Forbes estimated Consunji's fortune at $3.6 billion as of August 2017.
Consunji served as secretary of the Department of Public Works, Transportation and Communications under the Marcos regime from 1970 to 1975.
Consunji is survived by his wife Fredesvinda and their eight children.
ADVERTISEMENT - CONTINUE READING BELOW
*****
Paul John Caña is the managing editor of Entrepreneur PH