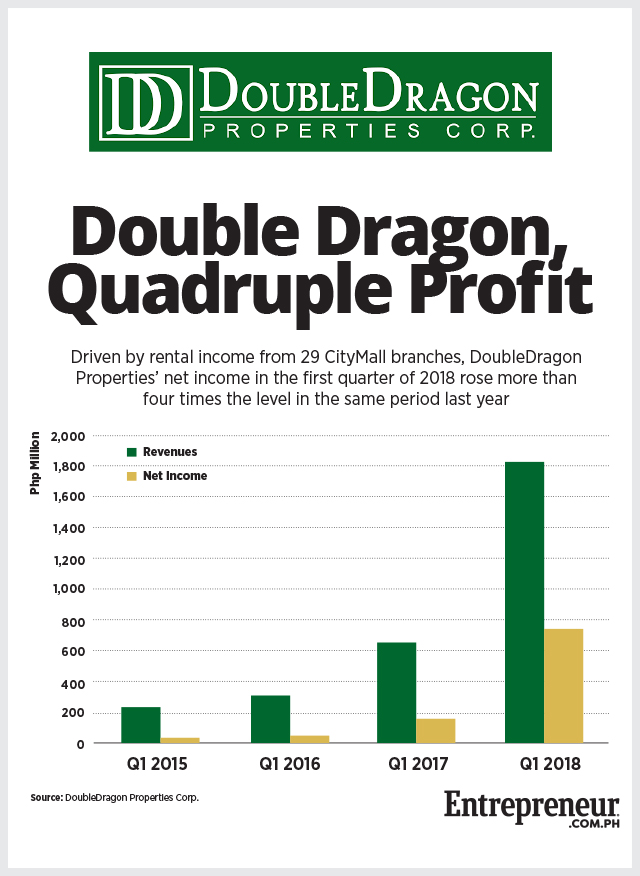 DoubleDragon Properties Corp., the listed real estate firm of billionaires Edgar "Injap" Sia II and Jollibee founder Tony Tan Caktiong, reported a 349-percent increase in net income for the first quarter of 2018, the company reported on May 15.
In a press release, DoubleDragon said its net income in the first three months of the year rose to Php744.6 million, more than four times than its profit of Php165.7 million during the same period last year.
ADVERTISEMENT - CONTINUE READING BELOW
Related: (LOOK) DoubleDragon Properties Just Moved to its Own Brand-New Building. Here's an Exclusive Tour
The company's robust growth was driven by its rental income as it grew by 291.9 percent to Php409.7 million for the first quarter of the year in contrast to last year's Php104.5 million.
As of March 2018, its 29 CityMall branches have posted an average of 95 percent occupancy rate.
"This quarter is quite significant for DoubleDragon as it is the first time we have exceeded Php500 Million in recurring revenue in just three months-time, marking the beginning of the realization of the projects we have been building," said Sia, DoubleDragon's chairman. "The Company is now starting to harvest the capital investments we have deployed in the last three years. The cash flow that our current projects are now generating will be reinvested into further growing our leasable portfolio as originally intended."
This uptrend may continue for DoubleDragon with its expected rental income from four office towers at the DoubleDragon Plaza, the first phase of DD Meridian Park in Pasay City, now 98.2 percent leased out. The company launched the flagship office and retail space on the first week of May.
ADVERTISEMENT - CONTINUE READING BELOW
Related: (Look) Completion of DoubleDragon Plaza is Testament to Potential of Small Businesses, says Injap Sia
By 2020, the company is targeting to have completed a leasable portfolio of 1.2 million square meters drawn from 100 CityMalls, its office projects in DD Meridian park and Jollibee Tower, 5,000 hotel spaces in Hotel101 and JinJiang Inn, and industrial space from eight Central Hub sites nationwide.
*****
Elyssa Christine Lopez is a staff writer of Entrepreneur.com.ph.