<>Globe-trotters would be the first to know about Lotus Biscoff's caramelized biscuits. Known as 'The In-Flight Treat' with more than 90 million Biscoff Cookies consumed last year in the U.S. alone, Lotus Biscoff finally lands in Manila all the way from Europe, offering a truly first class experience.
Take a bite of the deliciously crunchy Lotus Biscoff caramelized biscuits and we know what you'll be craving for next–a sip of hot, freshly-brewed coffee. There's no other way to enjoy your cup than with a bite of this original Belgian specialty. Since 1932, Biscoff cookies have been Europe's coffee break favorite.  It is baked in the small Belgium town of Lembeke, in the same location where its founders, the Boone brothers, opened their first bakery.
Once the cookies were packed, the brothers would drive around town in their trademark red truck to deliver these prized treats. Eight decades later, the recipe still remains. It was in the 1950s when Lotus introduced pairing these cookies with coffee, which then became a routine in Belgian hotels, restaurants, and coffee shops. Soon, Lotus Biscoff became 'Europe's Favorite Cookie with Coffee.'  
Unique, in-flight treat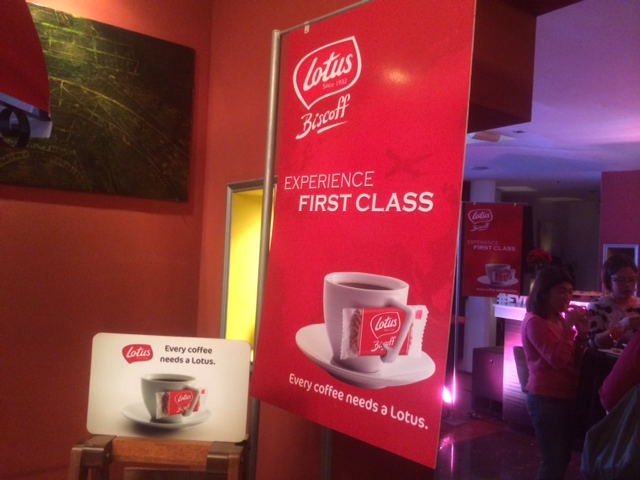 In 1985, Europe's favorite cookie with coffee became America's favorite cookie with air travel. Lotus Biscoff introduced Biscoff cookies as an in-flight treat through the exhausting, intense experience of long flights, multiple connections, or simply just being away from loved ones. It became a welcome mid-flight break that reminded fliers of the comforts of home and helped them relax. Lotus is still offered in Delta Air Lines (US), Brussels Airlines (Belgium), Middle East Airlines (Lebanon), and El Al (Israel).
The unique taste comes from sugar's caramelization during the baking process. A hint of cinnamon and other spices add that special twist to Lotus Biscoff. If these crunchy biscuits do not satisfy your craving, then you wouldn't be able to resist Lotus Biscoff spread. The sweet, creamy, European spread is an alternative to nut butters and chocolate spreads. It is the only spread made with original Biscoff cookies. Have it straight from the jar, lather it on toast, mix it with fruit slices, or add it as a secret ingredient to your favorite recipes. Both the cookies and the spread are made with no artificial color or preservatives, zero grams trans-fat per serving and zero cholesterol. It has no nuts and is completely non-GMO. Lotus Biscoff cookies and spreads are just the perfect treat for the timeout that you deserve.
Stylish landing in Manila
Manila's truly first class experience was set at the red and posh Society Lounge in Makati last November 19 (Wednesday). Airline counters manned by attendants greeted the guests for check-in. Overflowing coffee was served by Allegro Beverage Corporation. Renowned French Chef Patrice of Society Lounge served a delicious array of dishes infused with Biscoff biscuits and spreads. Another highlight of the event was the Biscoff Creations, which showcased Tiny Kitchen's very own Vicky Veloso's interpretation of the Lotus Biscoff biscuits and spread including Mini Biscoff Cinnamon Rolls, Mini Biscoff Cupcakes, and Crazy Biscoff Parfait. And finally, setting the mood to this first class experience was the gorgeous Daphne Osena-Paez as host.
In Manila, Lotus Biscoff will be exclusively distributed by Fly Ace Corporation. For more than 40 years, Fly Ace Corporation has been bringing to Filipino homes well-loved brands such as Old Orchard, Welch's, Mott's, Crumpy, Franzia, and Concha Y Toro among others, and house brands such as Jolly, Dona Elena, Al Dente, and Jolly Cow. Lotus Biscoff will soon make its way to supermarkets, restaurants, and specialty stores, for everyone to discover the unique taste of Biscoff. Choose from the following Lotus Biscoff products: Lotus Biscoff Original Caramelized Biscuit in 125g, 250g, 1.875kg, 156g, 124g, 500g and Lotus Biscoff Original Caramelized Biscuit Twin pack Innerbox 20x25g. Lotus Biscoff Spread Smooth 400g and Crunchy 380g will also be available in the Philippine market.
ADVERTISEMENT - CONTINUE READING BELOW