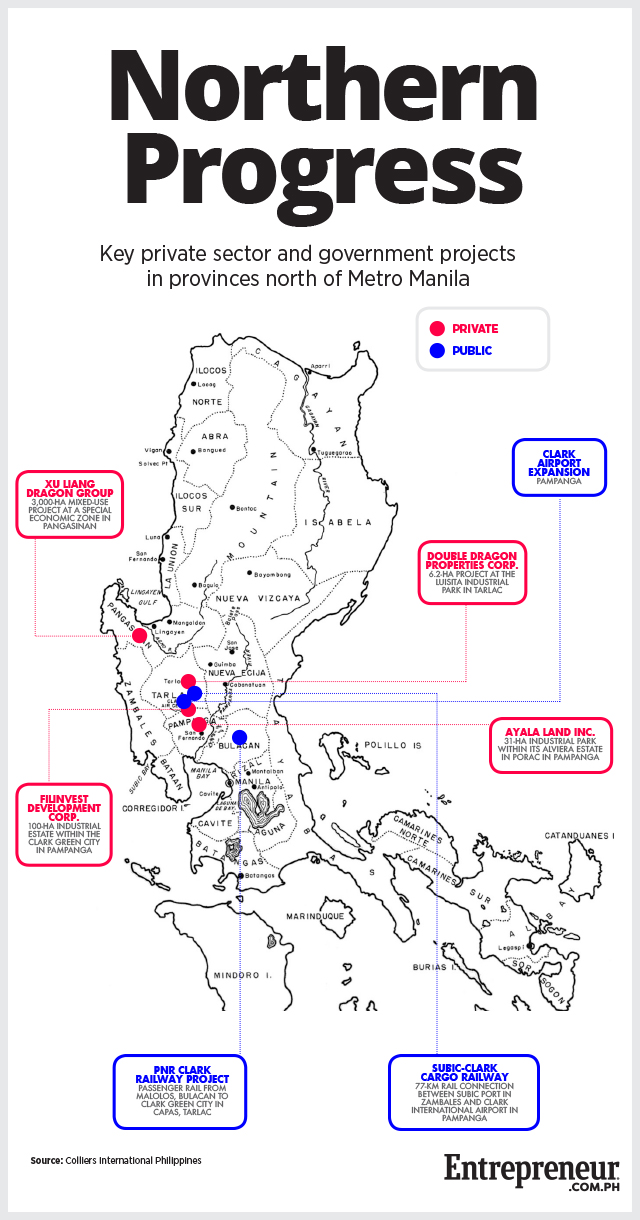 In its fourth quarter 2017 report, property consultancy firm Colliers International Philippines notes that the industrial sector has started to expand to the Northern and Central Luzon due to the significant decline in vacancy rates in the country's primary industrial hub of Cavite-Batangas-Laguna.
In the second half of 2017 alone, the total vacancy rates in the three provinces decreased to 7.9 percent from 9.3 percent in the first half of the year. Cavite posted the biggest decline, which went from 10.6 percent to 7.3 percent. Likewise, Laguna's vacancy rates dropped to 5 percent from 6.3 percent, while Batangas' fell to a modest 10.1 percent from 10.2 percent.
ADVERTISEMENT - CONTINUE READING BELOW
The decline in vacancy rates signifies that supply of suitable spaces for industrial purposes is running out in the Southern Tagalog area.
Though the Cavite-Batangas-Laguna region remains a competitive location, Colliers said developers have now started to expand to Northern and Central Luzon mainly because of the surge in investments by both local and foreign manufacturers, as well as the big-ticket infrastructure projects of the government in the pipeline.
"We're actually seeing it now," said Joey Roi Bondoc, Colliers' research manager, during the firm's fourth quarter property market briefing Thursday, February 8. He mentioned some of the country's major developers such as Filinvest Land, Ayala Land and DoubleDragon Properties to be the first ones to build industrial parks in Pampanga and Tarlac.
"Of course for these integrated communities, they're actually developing these industrial estates alongside residential," explained Bondoc. "For us it's really a good, sound decision to build industrial estates within integrated communities because they sustain economic viability of these townships."
ADVERTISEMENT - CONTINUE READING BELOW
Colliers said the development of industrial hubs and parks in the region will also make way for more residential projects, such as condominiums and house and lots. For investors, Bondoc suggests to be on the lookout for these properties as early as now, especially because their prices are still low.
"Now, prices are relatively cheaper compared to the developments in Metro Manila. But once the infrastructure projects are completed, once these people see that the infrastructure projects are up and running, we might see a faster acceleration of prices," Bondoc explained.
Bondoc mentioned the Metro Manila Skyway Stage 3 and the PNR Clark Railway project to be "really beneficial" to those investing early in Central and Northern Luzon.
"In the next [years] we will see more business activities there so more people might be traveling all the way from Manila to Pampanga. Or, like in my case I'm from Pampanga, I might just stay in Pampanga and work there, perhaps buy my own condo," he added.
ADVERTISEMENT - CONTINUE READING BELOW
*****
Pauline Macaraeg is Entrepreneur PH's data journalist. Follow her on Twitter @paulinemacaraeg