Airbnb, a popular online aggregator of hospitality services for rent such as apartments, condominium rooms, guesthouses and more, has thoroughly disrupted the hotel industry. Since its founding in 2008, the California-based tech company has offered fierce competition to hotels, forcing the industry to change the way they do business to cope with the online platform.
ADVERTISEMENT - CONTINUE READING BELOW
Since becoming quite popular in the Philippines, can Airbnb also disrupt motels in the country?
Motels, short for "motor/motorist's hotels," are types of hotels that are usually found along road networks for easy in-and-out access in the US and other countries. They more or less have the same basic amenities provided by hotels, only that most motels have "drive in" entryways where motorists can easily get in and out of the premises without the need to go to a lobby or a common parking lot.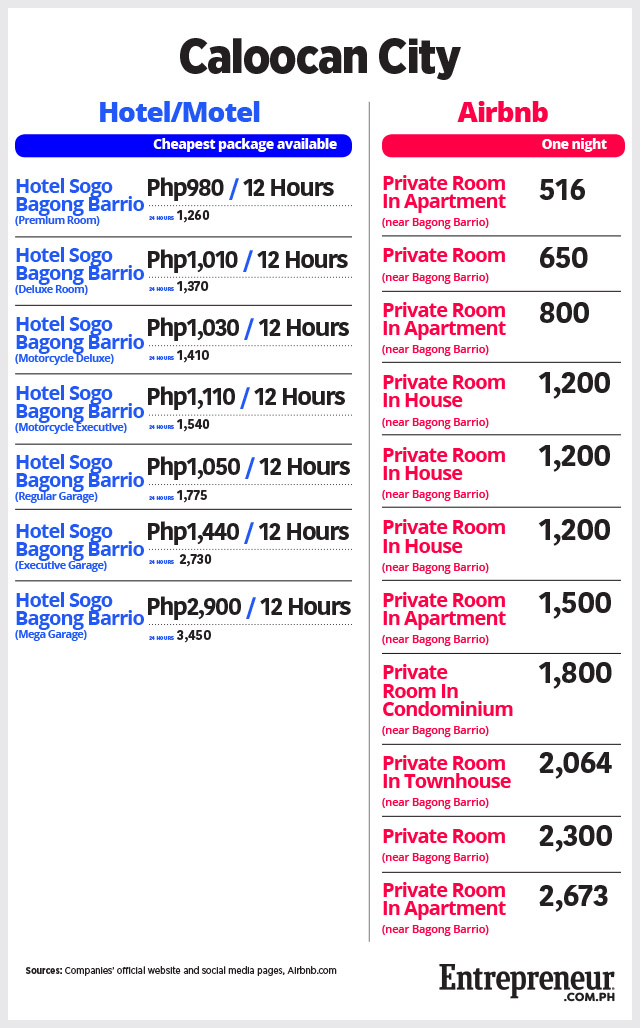 ADVERTISEMENT - CONTINUE READING BELOW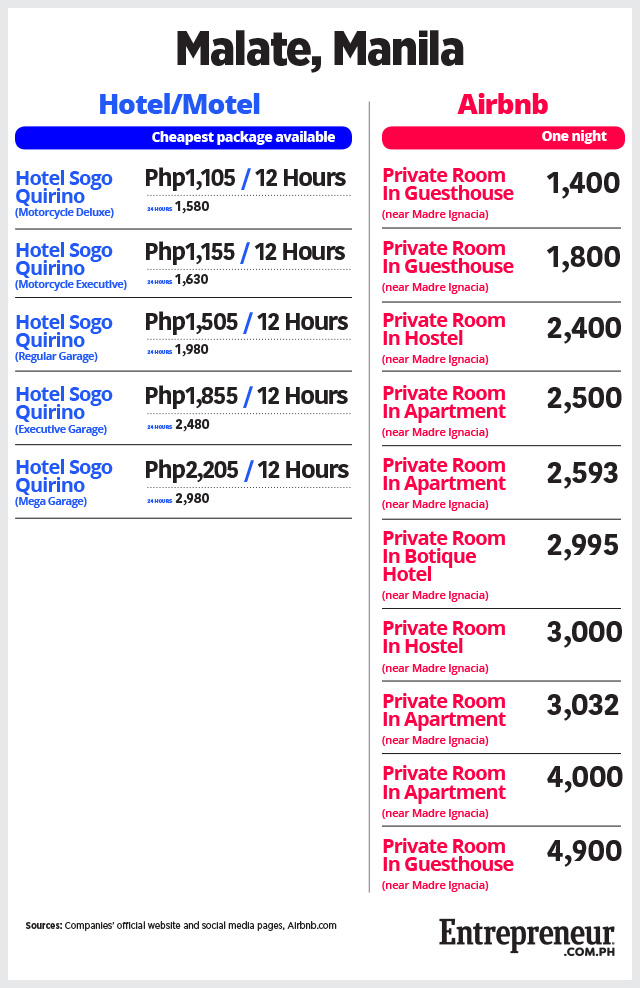 In the Philippines, motels have emerged as a popular destination for couples looking for quick and affordable accommodation to spend intimate moments together. Unlike regular hotels where the minimum package is a whole day or night, motels allow stays for as short as three hours. Not surprisingly, motels are said to be one of the businesses that do well on Valentine's Day.
ADVERTISEMENT - CONTINUE READING BELOW
So how do the room rates of the popular motel chains compare with those in Airbnb? In the infographic on this page, we list the room rates of three motel chains and compared them to available Airbnb listings for Feb. 14, 2018 in the Pasay, Malate, Pasig and Caloocan areas.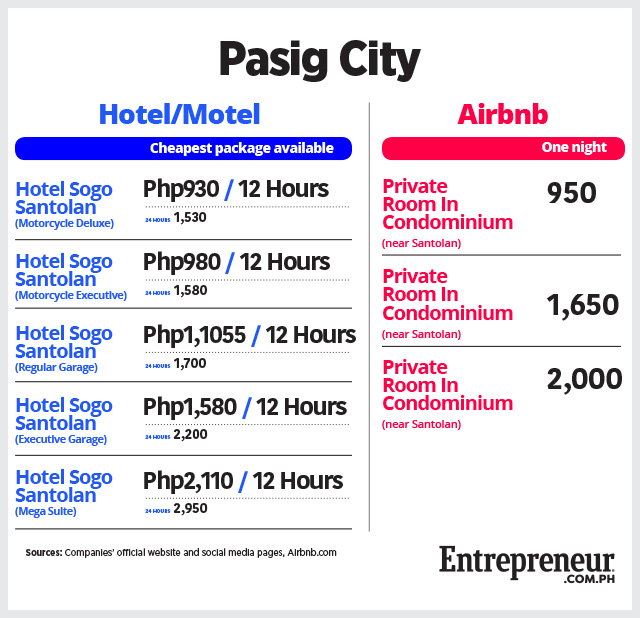 For those interested in only a few hours' stay, motels are still far more affordable than any of the rooms available on Airbnb. The online platform becomes more competitive compared with motel rooms when one is looking to stay for at least 12 hours or a whole day or night.
ADVERTISEMENT - CONTINUE READING BELOW
To be sure, Airbnb, which requires the use of one's social media accounts or even credit or debit cards, cannot match the motels' guarantee of absolute anonymity, especially those with drive-in garages. It remains to be seen if that will remain the motel industry's key differentiator.
*****
Pauline Macaraeg is Entrepreneur PH's data journalist. Follow her on Twitter @paulinemacaraeg. With additional research by Elyssa Christine Lopez and Lorenzo Kyle Subido