As temperatures and humidity rise amid the peak of the dry season, who wouldn't like to spend a day (or two) in some of the country's most luxurious and exclusive beach resorts?
Before, the only way to enjoy places such as Pico de Loro, Movenpick in Mactan Cebu or Nasugbu, Batangas would be to book a room at the resort or hotel, which could cost at arm and a leg especially for a large family or group of friends.
Thanks to Airbnb, a more affordable alternative has emerged: renting a unit in a residential property right within the vicinity of the resort. Of course, the option is only available for resorts that include residential units, usually a condominium or villa.
For these places, we compare the cost of getting a room in the beach hotel or resort with just renting a unit via Airbnb in a nearby residential property. To make the comparison fair, we also provide information on admission or access fees that resorts charge non-residents or club members for access to the beach and other facilities.
ADVERTISEMENT - CONTINUE READING BELOW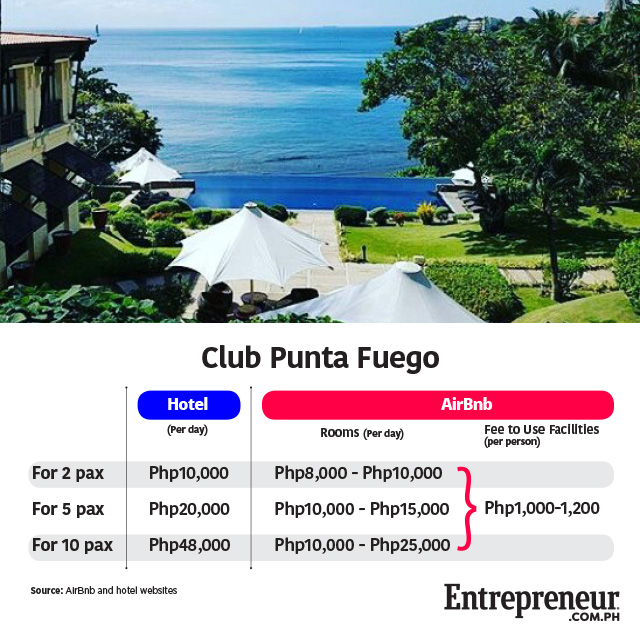 Club Punta Fuego
Location: Nasugbu, Batangas
The first residential resort in the country, Club Punta Fuego in Nasugbu, Batangas is the flagship project of Landco Pacific Corp. For members, the club's facilities go way past the clubhouse nestled in the 88-hectare residential community, Peninsula de Punta Fuego. Club members are also entitled to free access to the facilities of Terrazas de Punta Fuego, a 61-hectare property nearby Peninsula de Punta Fuego and the Punta Fuego Yacht Club. All three destinations are located in Nasugbu, Batangas with each possessing a beach cove of its own.
ADVERTISEMENT - CONTINUE READING BELOW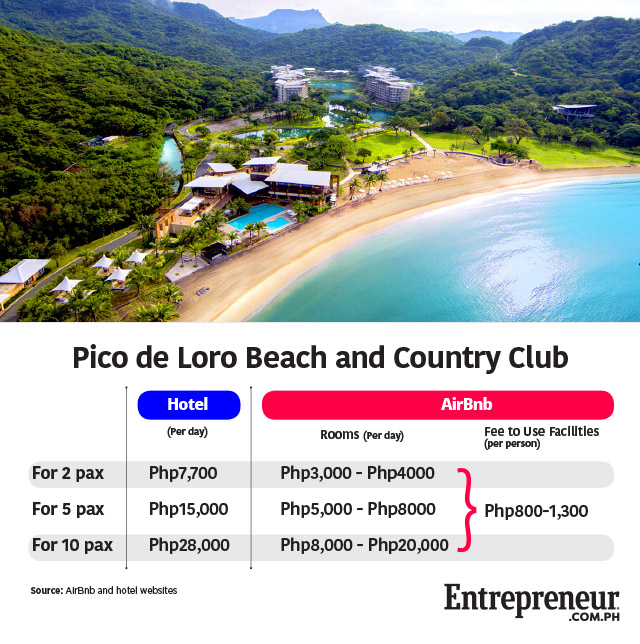 Pico de Loro Beach and Country Club
Location: Nasugbu, Batangas
The first development to be completed in the 5,700-hectare Hamilo Coast in Nasugbu, Batangas, Pico de Loro Beach and Country Club is SM Prime's first resort property. The 38-hectare resort boasts eight residential condominiums and a 154-room full service hotel, which is also open for non-members.
ADVERTISEMENT - CONTINUE READING BELOW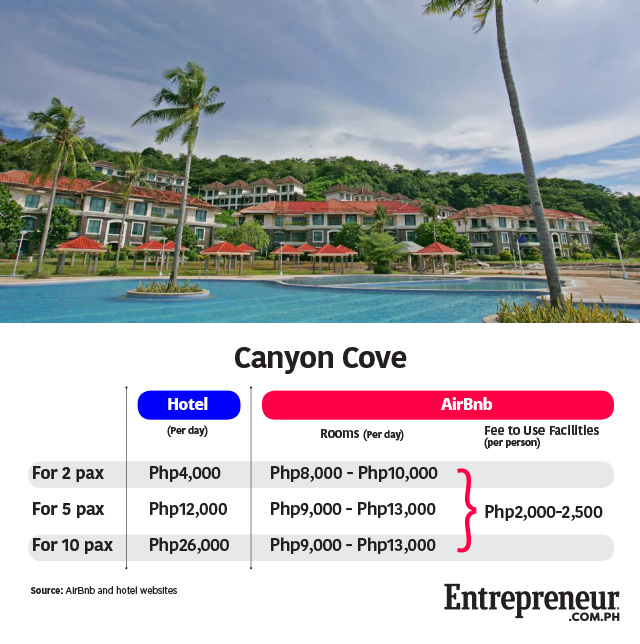 Canyon Cove
Location: Nasugbu Batangas
Initially launched exclusively as a resort, Canyon Cove first made a name as one of the go-to destinations for a quick trip to the beach for Manila dwellers. It was only in late 2000s when its developers forayed into properties, as they built condominium towers inside the resort complex.
ADVERTISEMENT - CONTINUE READING BELOW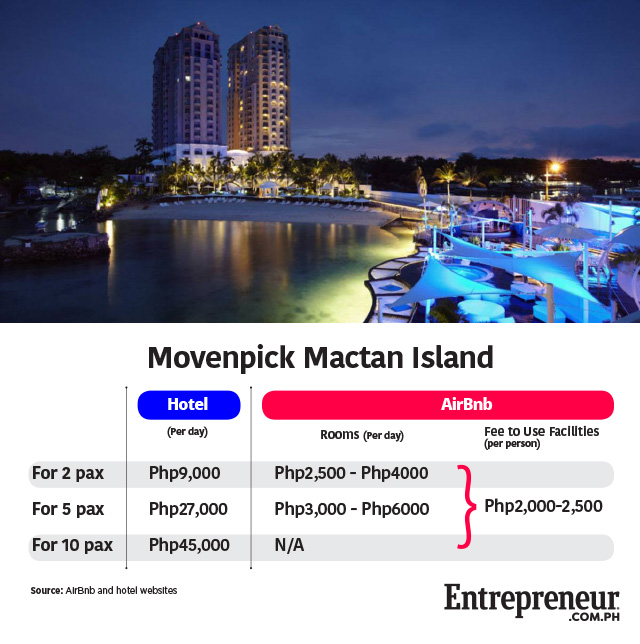 Movenpick Cebu Resort and Towers
Location: Mactan, Cebu
The flagship project of global hotel brand Movenpick Hotel and Resorts group in the Philippines, Movenpick Mactan boasts more than 240 hotel units and some residential units. The property is one of the first luxury residential resort destinations in the country.
ADVERTISEMENT - CONTINUE READING BELOW
*****
Elyssa Christine Lopez is a staff writer of Entrepreneur.com.ph