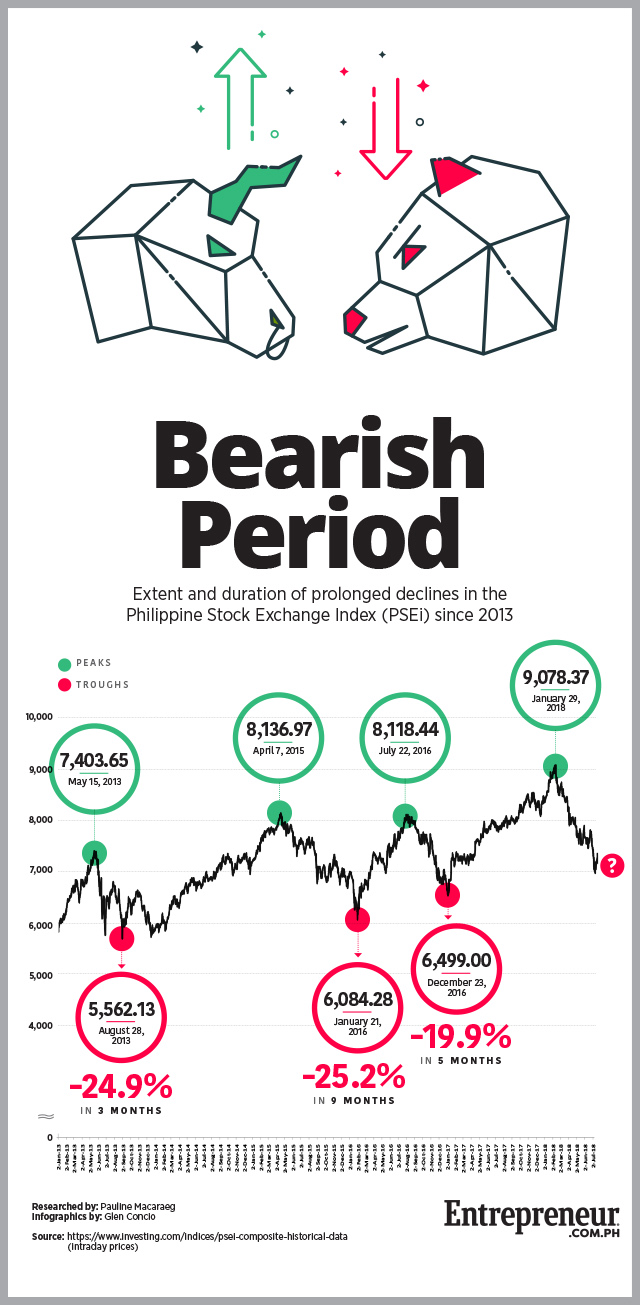 The Philippine Stock Exchange Index (PSEi), the benchmark for local share prices, has recovered slightly since falling by more than 20 percent to the year's lowest in late June.
Since June 26, when it hit 6,926.86, the lowest for 2018 so far, the PSEi has risen 6.11 percent when it closed on July 12, at 7,350.58.
ADVERTISEMENT - CONTINUE READING BELOW
It remains to be seen if the recovery will continue or if the market suddenly falls to fresh lows again.
What is clear, however, is that the bearish market that began after the PSEi reached an all-time high in late January, and running for at least five months, is about to match the second longest slump since 2013. It lasted five months from July to December 2016, and dragged down share prices by 19.9 percent.
It was preceded by a shorter slump lasting only three months from May to August 2013, which pushed the PSEi down by 24.9 percent.
The longest market decline since 2013 lasted nine months from April 2015 to January 2016, dragging the market down by 25.2 percent. Many analysts and investors are crossing their fingers the current bear market does not last as long.
*****
Pauline Macaraeg is Entrepreneur PH's data journalist. Follow her on Twitter @paulinemcaraeg